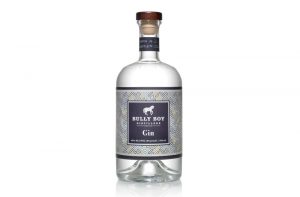 Bully Boy Distillers announces the launch of the Bully Boy Distillers Gin, a bright and exotic spirit carefully crafted to capture the essence of today's adventurous and innovative craft gins. With a nuanced flavor profile, the innovative new gin will join the award-winning distillery's extensive line of premium small–batch spirits.
Cane Based Gin 
While most gins are typically crafted with a neutral grain base, Bully Boy draws inspiration for its Gin from its acclaimed White Rum by using a cane base. This provides the spirit with a mild tropical and honeysuckle undertone, which is then enhanced by a collection of carefully selected herbs and botanicals, including Italian Juniper, fresh ginger, blueberry and grapefruit. To add complexity, the gin also features flavors of coriander, cardamom, chamomile and cinnamon, which provide a unique herbal balance.
"Our gin portfolio, which also includes the Estate Gin released in 2016, allows us to continually experiment and push the envelope when it to comes to crafting unique, compelling spirits," says Dave Willis, co-founder and head distiller of Bully Boy Distillers. "After opening our second production facility and tasting room last year, we turned our original distillery into a gin-specific innovation area, so we've had the ability to try new things, push boundaries, and ultimately figure out what works and what doesn't. The new Gin represents the best of what we've discovered, and we're proud to add it to the lineup."
Bully Boy Gin Details
Priced at $29.99 for a 750ml bottle, Bully Boy Gin is 45% alcohol by volume and joins Bully Boy's portfolio of handcrafted spirits at retailers, restaurants and bars throughout Massachusetts, Rhode Island, New Hampshire, Maine and Connecticut in May 2018.