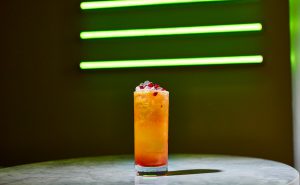 Ingredients:
1.5 oz Santa Teresa Claro Rum
.75 oz Liber & Co. Passionfruit Syrup
.75 oz Lemon Juice
1 Barspoon Becherovka
1 oz Lazy Day Lager
Dash Monin Pomegranate Syrup
Pomegranate Seeds
Directions:
Combine Rum, Passion Fruit Syrup, Lemon Juice, and Becherovka into a shaker with ice and lightly shake. Strain into a collins or pilsner glass and then add cubed ice. Next, top with Lazy Day Lager and a small scoop of crushed ice. Dash Pomegranate syrup over the top of the ice and top with Pomegranate Seeds.
Courtesy of Russell Davis at Academia in Austin, TX