At the heart of Mexico's culinary heritage is a single ingredient: corn. The grain traces back thousands of years as both a cornerstone of civilization and a cultural symbol woven into the country's identity. And now, one of Mexico's oldest ancestral grains has been used to create something entirely new. Introducing Nixta Licor De Elote, the world's first corn liqueur. Made by Destilería y Bodega Abasolo with non-GMO Cacahuazintle corn, this silky liqueur honors the country's signature ingredient with a blend of umami and sweet flavors that will provide a unique addition to everything from cocktails to desserts to coffee.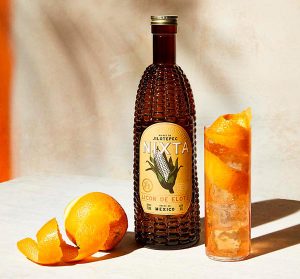 Destilería y Bodega Abasolo had been experimenting with elevating Mexican ancestral corn through the creation of Abasolo Whisky, a whisky made from 100% Cacahuazintle corn. Nixta was born from this process; after experimenting with Abasolo's clear, unaged base the distillers discovered that they could produce a velvety liqueur that reflected the purest flavor of corn. Nixta starts with a blend of ancestral Cacahuazintle maíz, harvested during a very short season from the high valleys and foothills of the Nevado de Toluca volcano. Half of the batch is roasted, while the second half is kept in its raw, tender state. The mix is then macerated in the raw distillate, after which it is combined with the "base madre," a blend of nixtamalized Cacahuazintle corn, water and piloncillo, a form of unrefined cane sugar traditional to Mexico and Latin America.
Like Abasolo Whisky, Nixta utilizes an ancient process to unlock the full flavor potential of its corn. After harvest, the Cacahuazintle kernels undergo nixtamalization, 4,000-year-old Mesoamerican culinary process in which the corn is soaked and cooked in an alkaline solution (usually limewater) to make it more pliable and unlock the full potential of the non-GMO, sustainably grown kernels, which contain higher starch and less fat content than common varieties. The resulting liquid translates into a rich, creamy raw material that infuses the spirit with hints of sugar and umami. When you sip Nixta, you will taste hints of roasted corn, caramel, and vanilla, along with sweetness from both the corn and the piloncillo.
It was the spirit of experimentation that led to the creation of this first-of-its-kind liqueur, and the distillers hope this creative energy trickles down to consumers. "We wanted to create something truly unique and innovative, while still staying true to our mission of elevating Mexico's raw materials and cultural processes to the broader world through spirits," said Master Distiller Ivan Saldaña. "We believe we have achieved that with Nixta and I'm excited to see how people decide to use and experiment with it."
Use it as the sweet component in a Maíz Margarita (1 oz. Nixta, 1.5 oz. Reposado Tequila, .75 oz. Lime juice, .25 oz. Agave, pinch of salt), try out a Corn Colada (1 oz. Abasolo Whisky, 1 oz Light Rum, 1.5 oz Cream of Coconut, 0.75 oz pineapple juice, 0.75 Nixta, 0.5 Lime juice), or simply pour into coffee for a Mexican twist on the Carajillo. The Licor de Elote also works beautifully in cooking, especially for the aspiring pastry chef. Reduce it down and pour over a panna cotta, flan or piece of cake, or simply pour over vanilla ice cream for an elevated end to a meal.
"With Nixta, we're able to offer something that's at once a fully modern creation but one that is also firmly rooted in traditional flavors and experiences of this region," says National Ambassador Cesar Sandoval. "It's delicate, but adds a great deal of character to any drink or dish that I think both bartenders and chefs will appreciate. Much like how we innovated to create Nixta, we're excited to see how people incorporate it into their lives – beyond just the bar."
Nixta can be purchased for $31.99 from an array of retailers, such as Astor Wine & Spirits.