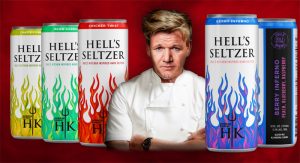 Award-winning chef and television personality, Gordon Ramsay announced the upcoming launch of Hell's Seltzer, his first line of hard seltzers hitting shelves early 2021. Known for his discerning palate and high standards, Ramsay created four hard seltzers for the initial launch. Brew Pipeline was tapped to bring this beverage to life in partnership with Global Brews of London.
"Gordon's team and Brew Pipeline put flavor first when developing Hell's Seltzer," says Steve Kwapil, CEO and co-founder of Brew Pipeline. "That's always been Gordon's goal, and we think he nailed it. We're looking forward to sharing these bold seltzers with fans across the nation."
Hell's Seltzer features unapologetically bold flavors with premium drinkability, crafted by Gordon Ramsay. Each recipe is inspired by popular menu items from Gordon Ramsay's Hell's Kitchen restaurants across the U.S. Each was tested and approved by the chef and reflects his knack for delivering recipes that put flavor first. Hell's Seltzer is gluten-free and uses all-natural flavors.

Hell's Seltzer will be sold in 12-pack variety packs, featuring three of each can. Product specs include:
● ABV: 5.5%
● 12 oz cans
● Suggested retail price: $15.99-17.99
● Flavors:
Berry Inferno – peach, blueberry, raspberry
Knicker Twist – passionfruit, pineapple, orange
Mean Green – kiwi, lime, mint, pineapple
That's Forked – Key Lime, vanilla, graham
Hell's Seltzer is distributed by Brew Pipeline's distributor network and will be available
nationwide. Retailers can request to be first on the release list.