When worlds collide, amazing things can happen. And amazing did happen with a Brewer-Distiller Alliance partnership between an Iowa distillery and brewery. Collaborating with Peace Tree Brewing Company, based in Knoxville, Iowa, on a spirit inspired by the company's Blonde Fatale Blonde Ale beer, Foundry Distilling Company is proud to announce the upcoming release of the Blonde Fatale Whiskey on March 27, 2021.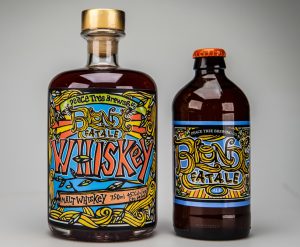 Distilled and bottled at the Foundry Distilling Company, this one-of-a-kind single malt whiskey was crafted from the mash bill of Peace Tree's ever-popular Blonde Fatale Ale beer. Aged in 30-gallon charred American oak barrels, the collaboration produced 1,000 bottles total.
Blonde Fatale Whiskey is a bold 100-proof spirit with notes of earthy, black tea, and sweet bread aromas. Staying true to the enticing allure of the Blonde Fatale Ale, one sip of this whiskey and the flavors of malt, bread, and light banana–with a beer-malt finish–are sure to draw drinkers of this spirit back in for more.
"All of us here at Foundry Distilling and our Brewer-Distiller partners at Peace Tree Brewing are truly excited to share this unique whiskey with the world," said Scott Bush, owner of Foundry Distilling Company. "We've set out to work with the best breweries and create whiskies that are exceptionally interesting, and the Blonde Fatale Whiskey hits the mark."
For those looking to get their hands on this latest creation of the Brewer-Distiller Alliance, the Blonde Fatale Whiskey will only be sold in limited quantities at the Foundry distillery in Wes Des Moines, Iowa. Foundry Distilling is hosting a Blonde Fatal release event on March 27th, opening its doors at 10:00 am to the public. The first 100 people in line at this event will receive a free branded tumbler. Interested parties can also reserve a bottle for themselves by visiting BrewerDistillerAlliance.com.
Spearheaded by Foundry Distilling Company, the Brewer-Distiller Alliance is a unified initiative to work with outstanding breweries across the nation to produce remarkable, distinctive whiskies from their beer recipes. The breweries produce the wort using their recipes, and Foundry then distills and barrel ages the spirit to create whiskey. Foundry Distilling Company and its partners have generated a diverse collection of exclusive whiskies.
"The Brewer-Distiller Alliance continues to be a great success," added Bush. "Peace Tree is a great brewery to collaborate with, and we are glad to have had the opportunity to do so."