One of the most popular drink ordered in bars for decades has been a vodka soda splash of cranberry, otherwise known as a  "Rosemary Clooney." This cocktail adds floral and botanical elements to this classic. The vodka base of this cocktail uses Hanger 1 Rosé flavored Vodka and bubbles come from a Sparkling Rosé split with Q Soda Water.  Adding Pomp & Whimsy Gin Liqueur and OM Vanilla & Rose Liqueur bring the floral and botanical notes.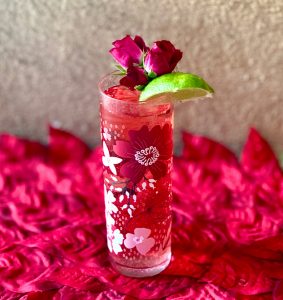 Ingredients:
5 oz Hanger 1 Rosé Vodka
5 oz Pomp & Whimsy Gin Liqueur
25 oz OM Vanilla & Rose Liqueur
25 oz Lime
3 oz Nomadica Sparkling Rosé
2 oz Q Soda Water
Directions:
Build in the glass. Add the Vodka, Liqueurs and Lime to a Highball glass. Add ice and top with Sparkling Rosé and Soda Water. garnish with a Lime wedge.
Recipe courtesy of Claire Mallett, Catch One (Los Angeles).