DeKuyper, the market leader in cordial and cocktail liqueurs, officially announces the launch of DeKuyper® Classic Ol' Fashion.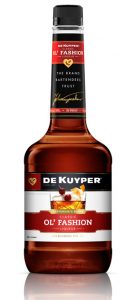 The brand's newest liqueur provides a nearly effortless way for at-home cocktail makers and bartenders to make a classic Old Fashioned. The new offering includes flavors of tart citrus balanced by bitter notes and a touch of sweetness, followed by hints of orange and bakery spice. The aromas of the liqueur include a blend of orange peel and aromatic spices.
"The Old Fashioned has experienced significant growth in popularity over the last few years, yet it is often deemed too complicated to make at home," says Ivan Hidalgo, Senior Marketing Director of Commercial Brands at Beam Suntory. "DeKuyper Classic Ol' Fashion offers a two-step solution for cocktail lovers of all skill level to craft a delicious cocktail that can be replicated to perfection every time."
Those looking to mix a Classic Ol' Fashion can use the two-step process that includes combining DeKuyper Ol' Fashion Liqueur in a glass with bourbon, stirring and enjoying. The new, 30 proof product is available in stores nationwide and online through Drizly and Reserve Bar with a suggested retail price of $12.99 per 750 ml bottle.
After entering the U.S. market nearly 100 years ago in 1933, DeKuyper quickly became a leading cordial brand that bartenders trust, with the family company defining the American cordial market today. The brand offers a wide variety of taste combinations and "one pour" solutions for professionals and home bartenders.