Benriach Distillery, located in Scotland's Speyside region, has revealed a distinctive flavor-forward portfolio of Single Malts and a new look inspired by the distillery's creative heritage. Four unpeated and peated expressions of the core range arrive on US shelves in October displaying the diversity and versatility of Benriach's orchard fruit-laden style: The Original Ten, The Original Twelve, The Smoky Ten and The Smoky Twelve.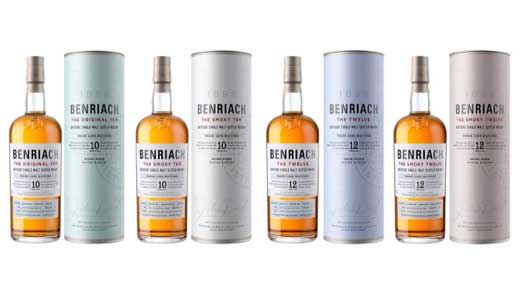 The distillery looked at its history for inspiration in developing the new core range, which was artistically crafted by Master Blender Rachel Barrie and her team. The result spans the full spectrum of whisky flavor while keeping with its long-standing tradition of distilling classic, peated and triple distilled whisky and drawing from its vast eclectic cask inventory sourced from around the world.
Inspired by the 1994 bottling of the Original Ten with its fruit-laden complexity and smooth, rounded taste, the new range re-imagines the 1898 origins of Benriach, brought to life in the 21st century through fusing distilling styles with extraordinary casks. It also features a new recipe for Benriach's richly sherried 12 year-old whisky, including port and bourbon casks married for seamless smooth complexity.
The extraordinarily sweet smoky whisky distilled in the distillery's smoke season features in the new Smoky Ten and Smoky Twelve expressions. Both have their own flavor palate, created by selecting and maturing in bespoke oak casks, interwoven with Benriach's hallmark sweet smoke.
The updated packaging is reminiscent of the very first Benriach single malt released over two decades ago, with the portfolio color palette taking inspiration from Speyside's natural environment in which the distillery sits.
The Original Ten
Three cask matured: Bourbon, Sherry, Virgin Oak
43% ABV, $53.99 (750ml)
Tasting Notes
Color: Summer Gold
Nose: Rich orchard fruit, honey and toasted oak
Palate: Ripe pear, nectarine and malt sweetness
Finish: Almond and spiced vanilla
Smoke: Trace
The Smoky Ten
Three cask matured: Bourbon, Jamaican Rum, Toasted Virgin Oak
46% ABV, $59.99 (750ml)
Tasting Notes
Color: Bright gold
Nose: Ripe orchard fruit syrup, smoked honey glaze and oak spice
Palate: Smoked applewood, honey maple and spiced pear
Finish: Lingering fruit and smoked oak
Smoke: High
The Original Twelve
Three cask matured: Sherry, Bourbon, Port
46% ABV, $59.99 (750ml)
Tasting Notes
Color: Golden bronze
Nose: Maple honey, cocoa and baked forest fruit
Palate: Maraschino cherry, baked orange and hazelnut
Finish: Lingering raisins and spiced mocha
Smoke: None
The Smoky Twelve
Three cask matured: Bourbon, Sherry, Marsala Wine
46% ABV, $64.99 (750ml)
Tasting Notes
Color: Burnished gold
Nose: Smoked vanilla, charred orange and toasted almond
Palate: Dark chocolate, fruit peel, brown sugar and smoked oak
Finish: Cocoa and orange smoke
Smoke: High
"The new range perfectly marries tradition and innovation that is central to Benriach's story," said Rachel Barrie, Benriach Master Blender. "In the new Original Ten, a savory, rounded malt character might be discerned, whilst The Twelve balances richly sherried malt with added layers of fruit complexity, reaching a pinnacle at 12 years old. The new Smoky Ten and Smoky Twelve explore the sweet smokiness of Benriach, enriched through innovative combinations of rum, virgin oak and Marsala cask mingled with more traditional bourbon and sherry."
"The new Benriach range is for those open to new possibilities, building on a wealth of experience and tradition. I invite the drinker to join me on this creative journey, as we explore the lush rewards of single malt whisky."
A premium selection of Twenty One, Twenty Five, and Thirty Year Old Single Malts will debut on U.S. shores in 2021 and bring an extremely rare opportunity to discover the exquisite integration of flavor resulting from decades of maturation. Matured in a diverse selection of highly distinctive oak casks, and combined with complex layers of refined and mellow smoke, each aged expression has been meticulously composed for aromatic finesse, sumptuous richness, and deep mellow maturity.
Over 120 years since it was established, Benriach is also expected to unveil its first official visitor center to the public later this year, allowing visitors from around the world to explore this Speyside whisky gem.