COVID-19 has led to many changes in bars and restaurants, but none are so visible as the physical barriers many owners have put up to enforce social distancing.
"Creating distance and separation between guests is one of the most simplest and most effective steps that restaurants and bars can take during the re-entry phase," says Kana Ahn, senior interior designer at CetraRuddy, an architecture and interior design firm.
When deciding on barriers, the first thing to consider is whether they're the best solution for your establishment.
"This mainly depends on the types of seating within the establishment. For instance, one client had built-in booths for 75% of their seating. For them it was easiest to look into the dividers between booths so they could utilize those seats," says David Rader, AIA, senior project manager at Dyer Brown, which offers full architectural and interior design services to bars, restaurants, and entertainment venues. "Other clients tend to have mostly loose tables and chairs, which could be shifted to achieve social distancing guidelines and barriers were not required. Although some clients did add barriers between tables where space was tight."
How barriers affect the ambiance of your venue also comes into play. "Who are you, and why do people come to your bar? If it is for the intimate drink and light conversation, then the barrier might be an impediment," says Joshua Zinder, AIA, managing partner of integrated design firm JZA+D. "If it is a lounge or table setting, then an experienced designer should be able to integrate barriers and dividers without disturbing the vibe."
Consider whether you want a long- or short-term solution. "We have seen temporary plastic barriers with pass-through working successfully on a part-time basis, though cleaning is a big issue with these," says Zinder. "On a more permanent basis, one could investigate millwork structures with glass, creating spaces like a classic teller window or a fishbowl bar."
The location of barriers is paramount to ensuring they work effectively. "I think barriers are best used on the backs of booths. Those seem like a natural solution to extend the back to ensure patrons' safety," says Rader. "Barriers at bars are also a good idea when used to separate patrons at the bar or similar to how they are used at a transaction counter to separate the staff from the patrons. I think when space in the establishment is tight, it is good to have freestanding barriers between tables to try and maximize the seat count to meet the allowable occupancy per jurisdiction and safety between patrons."
Travis Crivaro, owner of Ultimate Bars, which offers custom mobile bars, agrees. "Dividers/barriers are best used in areas that separate the general public from areas at the bar that could be contaminated with the proximity of the guest," he says, citing taps and beverage prep locations, the hostess stand, between booths, and at beverage stations.
As for types of barriers, plexiglass, a clear acrylic sheet, has been a popular option. "Most clients have chosen to use plexiglass as a divider due to it's transparent nature; it does not disrupt or block views through the bar or restaurant" says Rader. "I have worked with clients on simple solutions to provide clear plexiglass dividers between booths that clip into place so as not to damage or modify the existing booths. I have helped other clients with freestanding plexiglass solutions between tables."
Ultimate Bars expanded its line of products this year to include Ultimate Shield and
Ultimate Guard, which are portable, clear acrylic shields for desks, counters, or any type of work areas to provide separation and to help maintain social distancing. Ultimate Rails hold the acrylic sheets and can be customized to any length, height, and color. "We also created shields for our portable bars," says Crivaro. "Satellite bars will be key in promoting social distancing and maximizing liquor sales to help boost the bottom line."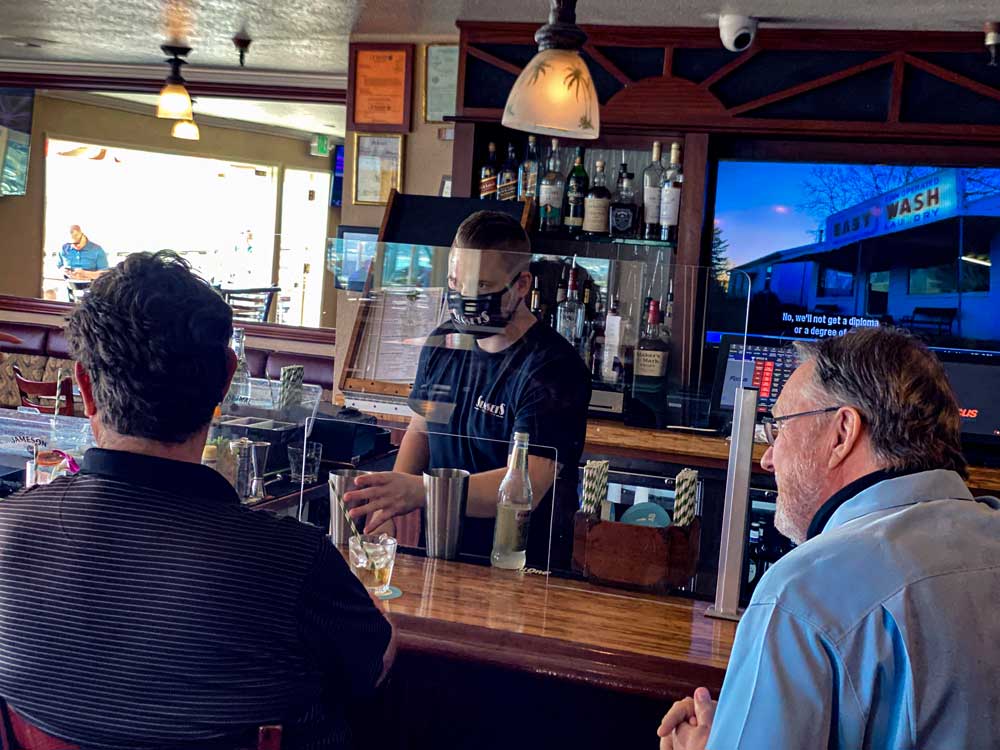 If plexiglass barriers don't appeal to a bar, there are other options. EverBlock Systems—a creator of modular building blocks, wall panels, and partition screens—has found its products in high demand. Not only can the products be used as barriers, they can also create an entirely new room/layout, which is ideal for bars setting up new outdoor areas.
"We have the ability to come into a raw space with our blocks, our panels, and our dividers, build it out, and all of a sudden you have this really cool finished space," says Arnon Rosan, president, EverBlock Systems. "And the beauty is when they're done, they can just pack it back up on a pallet and move it back indoors."
EverBlock Systems' line of products include its staple EverBlock®, which are oversized building blocks available in 16 colors that can be used to create modular bars, furniture, walls, and more.
EverPanel® is a system of interlocking wall panels for building a temporary room.
EverShield™ is a portable, standing partition that's clear at the top and opaque at the bottom. "That's really good between tables in a restaurant because the lower half offers some privacy and the upper half keeps that open feeling," says Rosan.
EverScreen™ is a portable screening and partitioning system ideal for tabletops and long communal tables.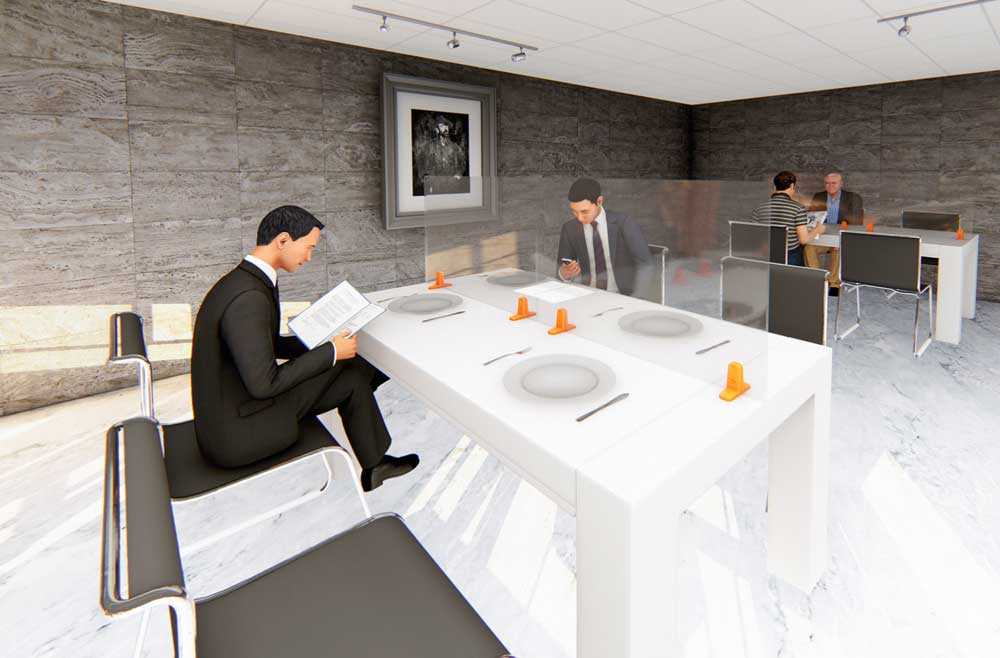 EverBlock Systems also offers interlocking, portable flooring systems, which are being used in outdoor areas to keep tables off the ground if it's raining.
Since the outbreak of COVID-19, Rosan says he's seen bars/restaurants mostly using a combination of EverShield and EverScreen. In addition to being able to set these products up in minutes, Rosan says they are also easy to clean, meet fire retardant standards, and can even be customized to whatever look a bar/restaurant owner needs. For example, on the EverBlocks, clients have attached decals, stickers, and even adhesive-backed wallpaper to help the partitions better fit in with a bar/restaurant's design.
And for bars that hope to cultivate a certain customer experience through their design, getting these barriers to blend in can be a big concern. Owners with existing plexiglass barriers have some options for customization. "There are many ways to help integrate these protective shields and not lose the luster of the establishment. One way would be to add branding to the acrylic pieces," says Crivaro. "[Or] changing the color of the "arms" to fit the color scheme of the restaurant/bar."
Dyer Brown recently entered a winning prototype restaurant design for an ideas competition of what a modern restaurant could look like during and after COVID-19. The design included wood and glass screening elements that separated the booths; a point source negative pressure venting system to help exhaust the air from the center of a table; and underbar lighting and table lamps placed at the bar to show which seats were still available. Materials with antimicrobial properties brought the design together.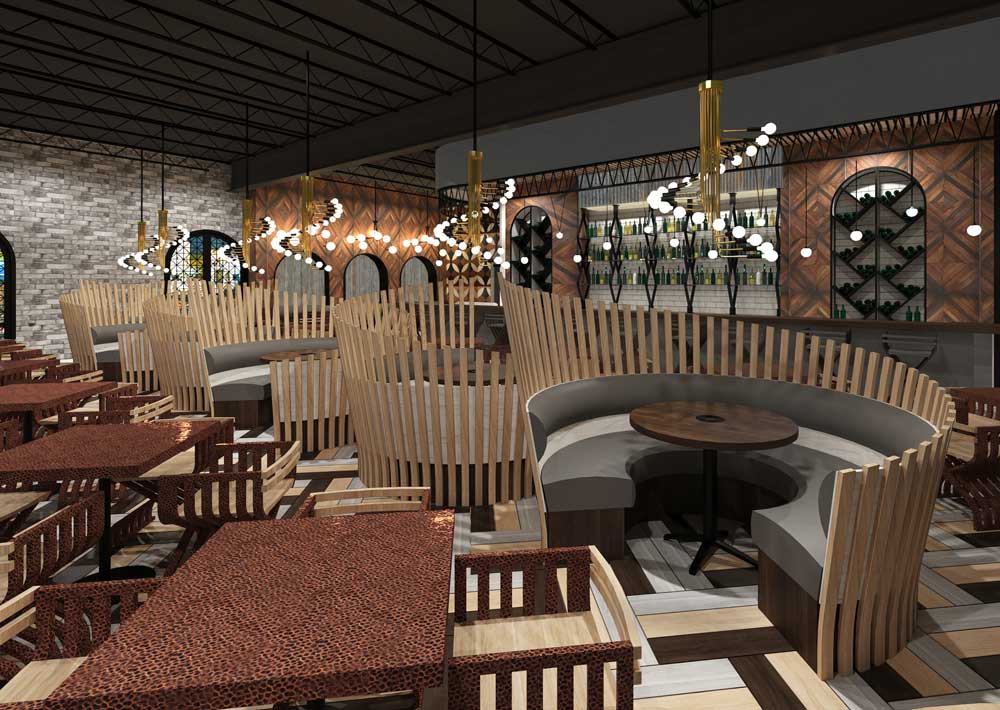 Ahn recommends looking to the natural world for barrier inspiration. "Our advice is to think about incorporating biophilic design principles," she says, "such as vegetation and greenery that can serve as natural physical distancing elements. These biophilic approaches have been shown to reduce stress and anxiety while promoting wellbeing, which is something we all need right now."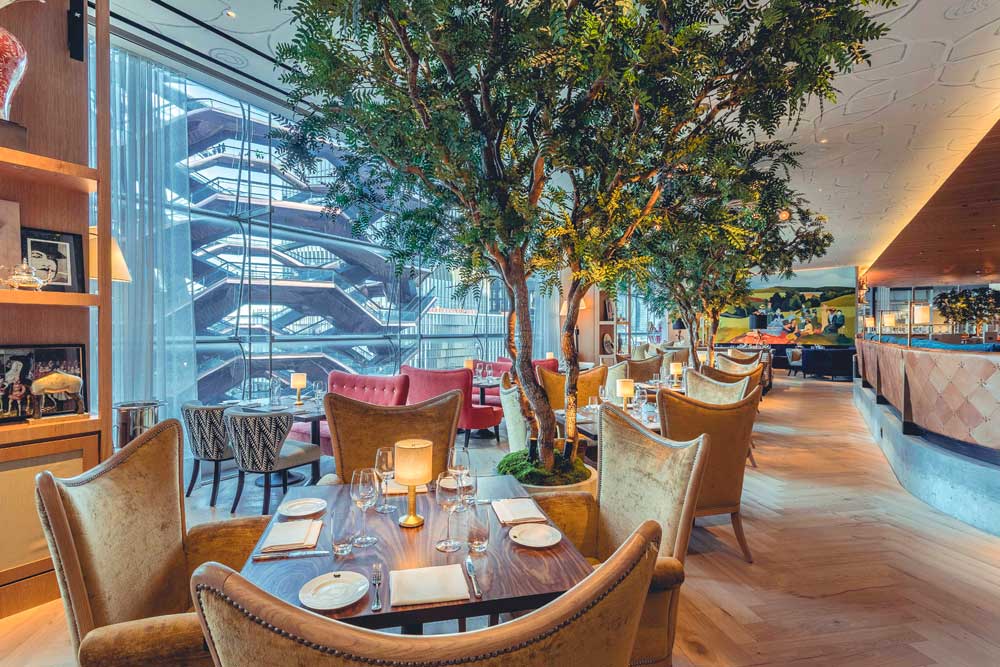 Safety via elevated design is something that Elite Hospitality, a division of Elite Modern, had in mind when it launched its Vanguard collection Smart Partition Systems (SPS). The idea behind SPS was to create a response to the pandemic that felt more personal than typical safety panels by incorporating details like graphics, signage, photography, upholstery, planters, metal, wood finishes, and company branding. "We wanted something that would be an uplifting distraction from its purpose, while still being sensitive to the absolute need for these panels," says Elite's National Sales Director John Williams.
SPS's flexible design allows for mobile (castors) or stationary bases as well as easily changeable, add-on components such as chalkboards, magnet boards, trays with hooks, planter boxes, and booth extensions. These add-ons provide the barriers with additional value as they can be repurposed as modular systems, directional signage, stations for marketing and promotional materials, valet stations, and more. The barriers can be used indoors and outdoors, and come fully assembled in a variety of sizes, in addition to the Public Health Department standards.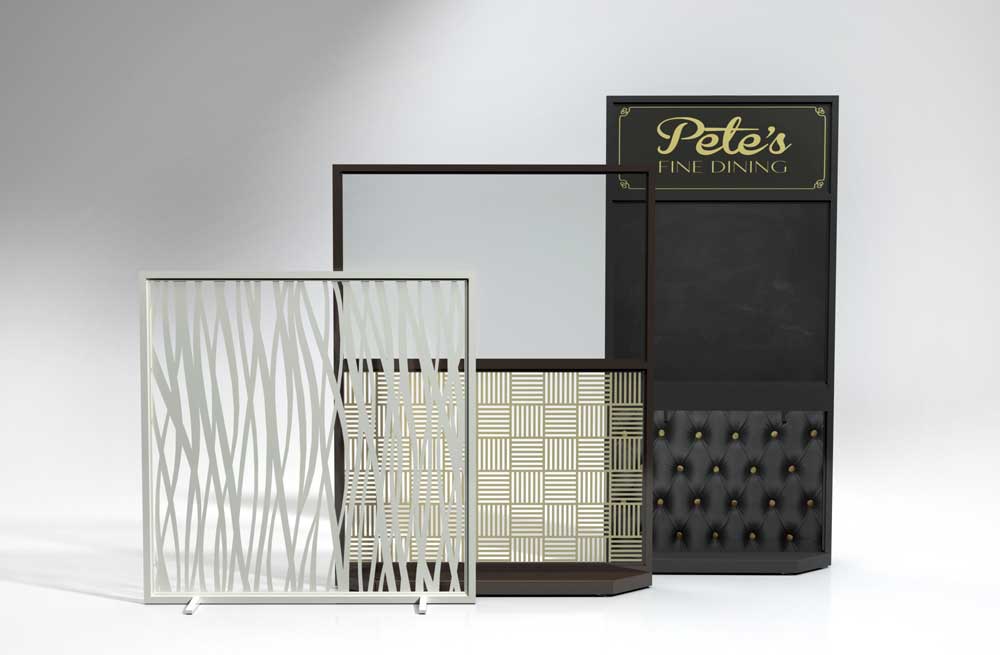 For clients looking for a customized look, Elite Hospitality offers the design services of SANDdesign, a hospitality firm intent on fostering an improved design experience.
The SPS panels were recently installed at Monty's Steak House in Woodland Hills, California. (View a video of Monty's Steak House installed the panels here.) "I can maintain compliance and bring peace of mind to customers, and do so with a look that honors the Monty's brand," said Michael Levine, owner of Monty's, in a press release. "In my mind, the casters are a must. I can reconfigure a protected dining area in a heartbeat."
By Ashley Bray