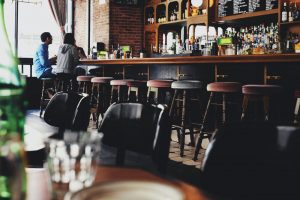 The sixth wave of the weekly study on consumer perceptions during COVID-19 by AMC Global, an international custom market research firm specializing in launch strategies and brand tracking, and OpinionRoute, a leader in insights process management, was recently released. This week's research focused in part on timing estimates for what businesses will be visited by consumers once restrictions are lifted.
As many states begin to lift or loosen restrictions, the study conducted the week of May 4 examined business patronage after restrictions are lifted, specifically for returning to bars and restaurants.
The study, which surveyed 400 U.S. consumers over the age of 21, found that customers plan to return to businesses in phases. For dining in at a restaurant, 48% of respondents said they will return within the first month of restrictions being lifted. 25% said they will wait at least two months, and 27% said they plan to wait three or more months before returning.
For bars, consumers are even more hesitant. 36% said they plan to return to bars in the first month and 25% said they plan to wait two months before returning. However, the majority of respondents, 39%, said they plan to wait three months or more before returning to bars.
The study asked participants what their biggest concerns for visiting bars and restaurants were, and the responses focused around social distancing concerns and a potential second wave of a COVID-19 outbreak. A few of the responses included:
"That individual businesses don't follow proper sanitation guidelines or set up their seating areas to provide better space to the customers."
"Too many people in a confined space and the virus may start back up."
"Just following social distancing and hoping others will do the same. I am also very concerned with the idea of a second wave."
"Social distancing, possible exposure."
Bar owners have a few takeaways from this study. For one, it seems consumers are wary of what bars are doing to keep their patrons safe. Bar owners should make it a priority to promote their sanitation practices, new floor/seating layouts and social distancing plans, and anything else they are planning to do to combat the spread of COVID-19. Putting patrons at ease will be key in the weeks ahead.
Also, delivery/takeout options may continue to be important to profit margins, and bar owners should keep these options available to customers.