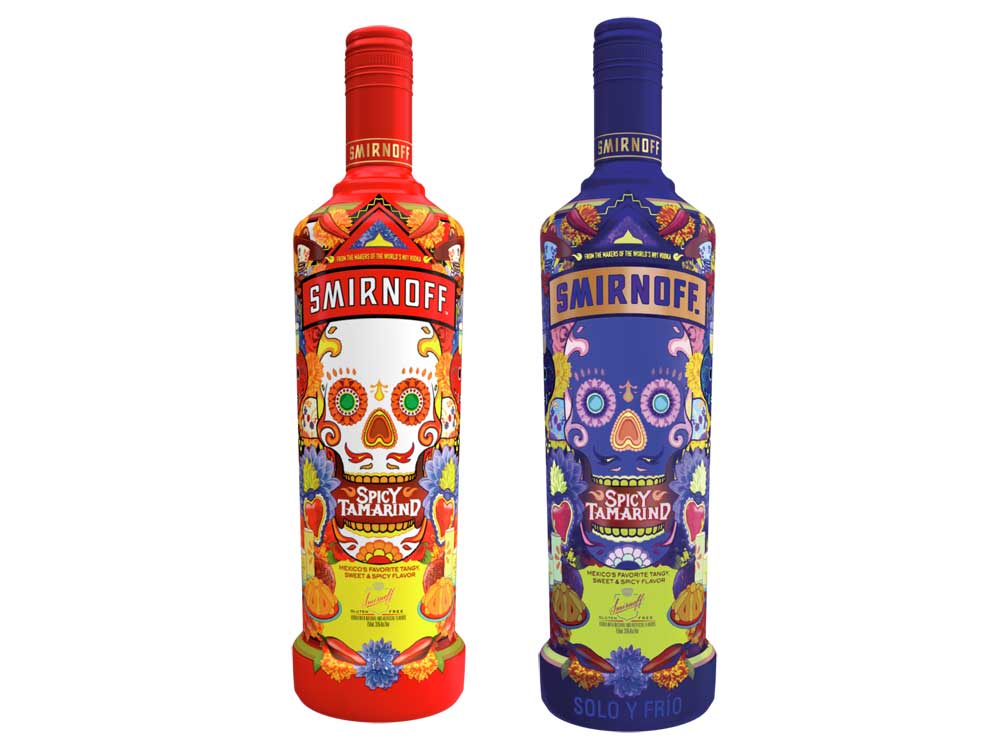 Proudly sweet, shamelessly spicy! In celebration of Día De Los Muertos, Smirnoff Vodka, the makers of the world's No. 1 vodka, are bringing back the iconic Spicy Tamarind to select markets in the United States. The bottle is fitted in a new colorful, Día De Los Muertos-inspired glow-in-the-dark under blacklight design.
Originally made popular in Mexico, the variant combines a bold combination of authentic Mexican flavors – sweet tamarind mixed with spicy Mexican Chillies, notes of lime, and a hint of salt. The vodka is perfect to be enjoyed as a chilled shot or as an ingredient to bring some sweet and spice to any simple cocktail.
Featuring a Calavera at the center surrounded by cempasúchiles (marigolds) and chiles, the new glow-in-the-dark packaging gives a nod to the vibrancy of Mexican culture, combining traditional and modern themes. The bottle also packs a fun and functional surprise, displaying "Solo Y Frio" under blacklight when chilled, so you know it's ready to drink.
The Spicy Tamarind will retail for $12.99 for a 750mL bottle.
Try the Spicy Tamarind in one of these recipes courtesy of Smirnoff:
Spicy Tamarind Paloma
Ingredients:
1.5 oz Smirnoff Spicy Tamarind
4 oz grapefruit soda
large ice cubes
chili lime salt
lime wheel
Directions:
Rim a glass with chili lime salt. Fill the glass with large ice cubes. Pour in Smirnoff Spicy Tamarind. Top with the grapefruit soda. Garnish with a lime wheel and enjoy!
Chilled Spicy Tamarind Shot
Ingredients:
1.5 oz Smirnoff Spicy Tamarind
Tajín
Directions:
Rim a shot glass with Tajín. Pour Smirnoff Spicy Tamarind into shot glass. Enjoy!