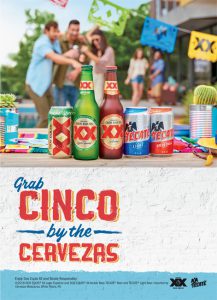 Combining two powerhouse Mexican Import brands in one festive promotion, HEINEKEN USA's Dos Equis® and Tecate® are supporting the idea that Cinco is more than just one day on the calendar; it's a mind-set for having fun and celebrating. Cinco de Mayo, ranked a Top 5 dollar-volume holiday, is the perfect opportunity for retailers to partner with HEINEKEN USA and 'Grab Cinco by the Cervezas'.
"We know that consumers are enjoying Mexican Imports at home or with friends, within the week before and the week of Cinco de Mayo[1]," said David Smith, Dos Equis Brand Manager at Heineken USA. "We want beer drinkers to have everything they need to make this their best Cinco yet. Draught features on-premise and displays off-premise will help retailers sell beer and give consumers a compelling reason to celebrate," continued Smith. "Off-premise, Dos Equis® buyers make more trips and spend more dollars on beer per year, compared to the average beer buyer[2] and Tecate® yields 30% greater dollar lift versus the Import segment when on display[3]. On-premise, Dos Equis® is the #2 fastest growing Mexican draught brand in both dollars and volume,and Tecate® is the #1 performing Mexican Import during Cinco de Mayo[4]," said Gustavo Guerra, Tecate Brand Director at Heineken USA.
This year's program invites consumers to enjoy Mexico's finest. To drive awareness, social media templates will advertise Cinco de Mayo features, specials, and holiday events while thematic, channel-specific POS and saleables will bring the promotion to life on- and off-premise. High-impact retail theater dresses up Dos Equis® and Tecate® displays and drives shopper takeaway. A partnership between Dos Equis®, Jose Cuervo® and Clamato® facilitates cross-merchandising. In addition, IRC and MIR offers (where legal) will provide retailers with secondary display opportunities. On-premise, brand ambassadors will be on hand to sample patrons (where legal) and to distribute thematic premiums, fuel the festivities and enhance the customer experience.
Off- and On-premise operators can have confidence that supporting the Dos Equis® and Tecate® Cinco program will build their business while offering shoppers a compelling reason for choosing these brands.
[1] Nielsen Article: "American's Spice Up Flavor Palates & Beverages for Cinco de Mayo Consumer", 5/3/17.
[2] InfoScout Panel L52 weeks, 2017, 199 and 201 indices.
[3] Nielsen L24 w/e 8/12/17.
[4] Nielsen CGA L4 w/e 5/20/17, Nielsen Consumer Survey Panel, April-May 2017.