By Ashley Bray
Welcome to the first installment in our series on the rapidly growing ready-to-drink (RTD) market. RTDs include packaged beverages—in our industry's case "spiked" and "hard" versions—that are ready to consume immediately. RTDs can include spiked seltzers, hard coffee drinks, and canned cocktails.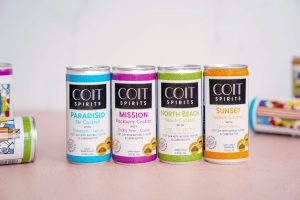 According to a recent study by Grand View Research, the global canned alcoholic beverages market size was valued at USD 4.9 billion in 2020 and is expected to expand at a compound annual growth rate of 13.3% from 2021 to 2028.
The COVID-19 pandemic added fuel to that fire of growth as consumers shifted to off-premise options in the last year and a half. However, RTDs have proven they do have a place in the on-premise either as a base for a cocktail or as an easy beverage solution in this time of labor-strapped businesses.
With new options entering the RTD market seemingly daily, brands have begun finding ways to differentiate themselves from a sea of competitors to catch the eye of bar owners and food and beverage directors.
Coit Spirits—the Napa Valley-based producers of three varieties of gin and a bourbon whiskey—recently entered the RTD space with a line of bar-quality canned cocktails in four flavors.
The differentiator here is that the cocktails are also bar strength at 15.5% ABV—higher than the 4-7% ABV typically found in this category. For this reason, Distiller Gerry Rowland shies away from the term "RTD," saying Coit's canned cocktails are filling a gap and a demand in the market for a true cocktail in a can—in this case, a gin-based cocktail.
All four flavors of the canned gin cocktails are made with the spirit base of Coit's Cape Gin. "The gin itself isn't as forefront as a flavor, but it's very important because it's 15% of the alcohol source, so it's really carrying the other flavors," explains Rowland. "We found that Cape Gin, since it's a little fruity within itself, with the pepper notes and passionfruit, it lends itself very well to other fruit bases to make the cocktails."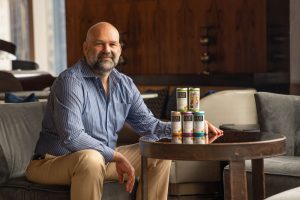 As for fruit bases, Coit's first two were the common and popular peach and pineapple. Peach is used in the North Beach gin cocktail, which combines the flavors of peach, lime, ginger beer, passionfruit, orgeat, and mint. The pineapple base is used for the Paradisio Tiki cocktail, which features pineapple, lemon, orgeat, passionfruit, coconut, and ginger.
In the second round of flavors, Rowland decided to branch out into less common flavor profiles and chose a lychee base for his Sunset cocktail, combining lychee, lemon, Tupelo honey, kiwi, pear, and macademia nut. Blackberry was the last flavor base for the Mission cocktail, which uses blackberry, prickly pear, guava, hibiscus, and hazelnut.
With all of the flavors, Rowland said he was trying to reproduce a real, handmade cocktail from a bar—something with a compound, nuanced flavor.
"They're all a version of a Tiki cocktail," says Rowland. It's a blend of three fruit juices, and then we're using a nut flavor or a nut component to finish out the back of the pallet, and that always gives it length. Whether it be the orgeat with the Paradisio and North Beach, or the macadamia nut with the lychee, or the roasted hazelnut with the blackberry. It goes back to my wine making, where if you have a really good wine or cocktail, it has a front, middle, and finish."
Determining the right alcohol by volume also played into getting the flavors right. "It was a matter of finding out what's the right amount of alcohol for our product and our style of cocktail—that you can put it on ice and, yes, it's going to dilute a little bit, but you're going to enjoy it without worrying about it," says Rowland. "We found below 15% there was a little too much dilution. On the flip side, when you're at 16% or 18%, you don't want to have more than one drink because you're starting to get too much alcohol for most people."
Rowland settled on the middle ground of 15.5% ABV, nearly equivalent to a glass of red wine. The cocktails are also low carb to prevent a cloying, sugary finish, and Rowland chose to use monk fruit as a natural sweetener versus sugar. "There's no sugar behind it, it's purely a protein," he says. "That protein gives you that sweetness and is closest to mimicking sugar."
The final component to nailing the flavors was the carbonation, which Rowland says most producers mistakenly overlook by simply opting for a standard level of carbonation. "We spent a lot of time with each of our products trying to work up the right carbonation level that gave it brightness and popped the fruit a little bit but didn't go overly bubbly. We really wanted small bubbles or mousse—the term is actually perlage," says Rowland. "It actually becomes tactile to the palate. That's what you look for in champagne, so we spent a lot of time trying to achieve that. On the North Beach, we run with that [carbonation] a little more because it has ginger beer as the base so we wanted that to be a little brighter and a nice summery drink.
"With the others, they have so much body and flavor to them, we wanted to use a little lower carbonation level just to sort of brighten them but not make them too bright."
Coit was first driven into the canned cocktail/RTD market by a desire to diversify into the growing off-premise channel. Gin has a heavy concentration in the on-premise, and COVID-19 had decimated that market.
Still, Rowland said Coit's canned cocktails are not just a fit for the off-premise—they fit well in the on-premise world as well. For one, the cans are perfect for outdoor settings like bar patios or pool bars. They also lend themselves well to venues struggling with staff, as they can be simply served in the can.
For those venues looking to scale up the experience, the cocktails can be dressed up in a glass.
"On the Paradisio, we do a little bit of grated nutmeg. On the Mission, we do a sangria treatment, with the cocktail on ice, a little cinnamon stick, orange peel, or there could be some spice in there," says Rowland. "It's very easy for restaurants that maybe can't get someone to make a cocktail, but they can deliver something that is unique by just popping the can and putting a garnish with it."
All photos: Margaret Pattillo.