Over four years in the making, Castle & Key Distillery is proud to announce the launch of its Small Batch Bourbon Whiskey Batch #1, the first-ever bourbon to be released by the Castle & Key team since restoring the Old Taylor Distillery in 2014. Batch #1 will be available starting on March 26th at Castle & Key Distillery for $50.00 and will be followed by the release of Batch #2, which will be available in early May. Both batches will be sold throughout the states of Arizona, Colorado, Connecticut, Florida, Georgia, Illinois, Indiana, Kentucky, Louisiana, New Jersey, New York, Oklahoma, South Carolina, Tennessee, Texas, Washington, and Wisconsin.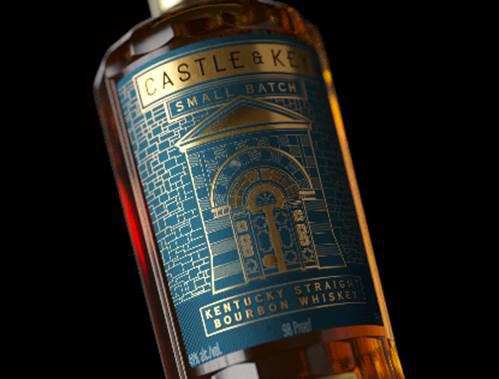 "We're thrilled to announce the release of Castle & Key's first bourbon," says Will Arvin, Co-Founder and Owner of Castle & Key Distillery. "We believe this debut stays true to our commitment of reimagining Kentucky spirits by identifying the best barrels for production each year based on quality, not consistency of flavor."
"From grain to glass, our team is thorough and thoughtful while producing our spirits, and the bourbon is no different," says Castle & Key's Research and Development Manager, Jon Brown. "With a smooth and memorable profile, and in the making for over four years, our Small Batch Bourbon Whiskey batches are each blended to flavor with a sweet mash process of carefully selected grains."
TASTING NOTES:
Each batch enters the barrels at 107 proof, then is column distilled to 125 proof and followed by continuous pot still distillation to 135 proof.
Small Batch Bourbon Whiskey 2022 Batch #1
Aroma: Honey, Golden Raisin, Brown Butter, Orange Blossom, Baked Nutmeg, and Stone Fruit
Taste: Toffee, Bread Dough, Dates, Baking Spice, and Toasted Almonds
Finish: Cinnamon and Allspice
Size: 80 Barrels
Age: 4 years
Proof: 98 (49% ABV)
Small Batch Bourbon Whiskey 2022 Batch #2
Aroma: Rye Bread, Dry Cinnamon, Pine Resin, Red Apple Peel, and Barn Wood
Taste: Burnt Sugar, Dried Fig, Cracked Pepper, and Cherry Wood
Finish: Charred Oak and Molasses
Size: 80 Barrels
Age: 4 years
Proof: 99 (49.5% ABV)