Award-winning, non-alcoholic craft beer brand, Partake Brewing, announced its new
limited-edition release, Hazy IPA.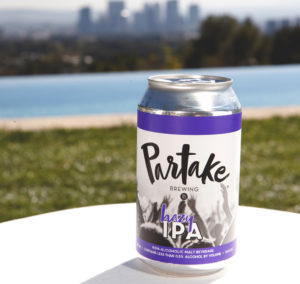 Hazy IPA bursts with flavor, offering a generously dry-hopped taste while low on bitterness. Each sip is juicy and smooth with notes of ripe apricot, sweet mango, and luscious berries. Hazy IPA is fit for everyday enjoyment with only 25 calories, 4g carbs, and 0g sugar.
"We are excited to further expand upon our range of offerings with the introduction of the limited-edition Hazy IPA," said Ted Fleming, Partake Brewing Founder and CEO. "The goal of every Partake beer that we craft is to create an inclusive drinking experience that offers a truly great-tasting beer you can enjoy for any social occasion. We hope to delight beer lovers with this new launch and continue to surprise them with a string of delicious flavors to come throughout the year."
Hazy IPA joins Partake's non-alcoholic beer lineup of Pale, IPA, Blonde, Red, Dark, Peach Gose, and limited editions Radler & Lime. Consumers consistently seek out Partake for its exceptional taste, unmatched calorie count (10-30 calories per can), and vegan all-natural
ingredients.
Hazy IPA is available in a 12-can pack for $29.99 as well as a 24-can pack for $55.
Hazy IPA will be available exclusively online at drinkpartake.com, available for pre-order beginning March 3rd with the official launch the week of March 7th. The Hazy IPA will also be included as part of the Everyday Variety pack for $19.99, which will be available in select retailers come April.
At Partake, we're on a mission to prove that alcohol doesn't have a monopoly on good times. Taking a break from beer shouldn't mean sacrificing the social connection that comes with it. Brewed by beer lovers for beer lovers, Partake is the non-alcoholic beer
you can proudly drink on any occasion. Partake Brewing has become a leader in non-alcoholic beer in North America. The distribution continues to grow in major retailers across Canada, and the U.S. Partake is praised for its authentically crafted beer flavor
and its broad selection and game-changing low-calorie counts. Making more responsible decisions has never tasted this good, so raise a can of Partake and say "Cheers To Adulting."