We've got one more entry in our Women's History Month series! The women of Death & Co / Gin & Luck share with us a cocktail or dish they're most proud of in their careers.
Detailed below are creations from Death & Co Co-Owner Devon Tarby, Gin & Luck Head of Creative Development & Programming (and Nitecap alum) Lauren Corriveau, and bartenders Alex Jump and Tiffany Nahm.
Devon Tarby – Gin & Luck VP of Food & Beverage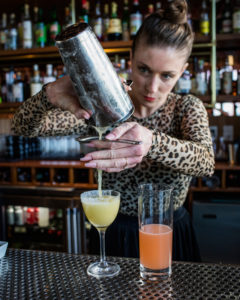 This was the first drink I ever created, while I was at The Varnish. Louis Anderman came in with a batch of his new Miracle Mile chocolate mole bitters (recipe in beta) and asked me to taste and come up with something on the fly. I totally panicked, then remembered the golden rule of falling back on a core cocktail family. I then reasoned that chocolate mole would probably pair well with the cinnamon and cola notes of Ramazzotti, and landed on a simple old fashioned variation. The touch of Demerara was a departure from the way I learned to make old fashioneds that use liqueurs as the sweetener, but was necessary to round the sharp edges of the mole spice. Louis liked it, so I took that to mean that I passed my "pop quiz." I'll always be super proud of this one.
Pop Quiz
Ingredients: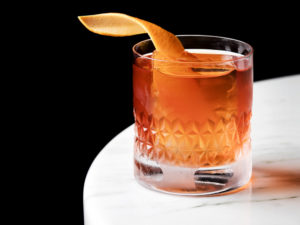 2 oz Elijah Craig Small Batch Bourbon
1/2 oz Ramazzotti
1 tsp Simple Syrup
2 dashes Bittermens Xocolatl Mole Bitters
Directions:
Stir all the ingredients over ice, then strain into an Old Fashioned glass over 1 large ice cube. Express the orange twist over the drink, then gently rub it around the rim of the glass and place it into the drink.
Lauren Corriveau – Gin & Luck Head of Creative Development & Programming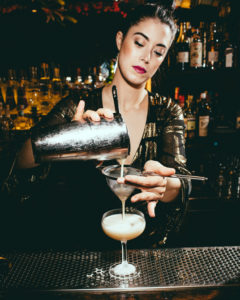 This cocktail is from Nitecap menu Edition 12, which was fruit & vegetable themed. I knew I wanted to challenge myself by incorporating mushroom, an ingredient I'm personally not very fond of. The goal was to find harmony in the juxtaposition of earthy, savory shiitake mushroom and bright, floral fruit. There was a lot of skepticism during the development phase whether the combination would be effective, but I'm proud to say it became a best seller that season (and one that I enjoyed as well). It has a fun little flavor journey that builds and evolves as you sip—I love that element of surprise!
Seven Rays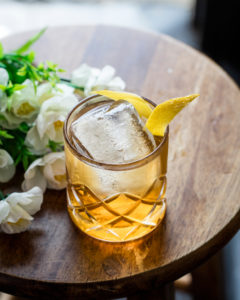 Ingredients:
1.5 oz Shiitake Mushroom infused Suntory Toki Whisky*
0.5 oz Bertoux Brandy
1 tsp Cane Syrup (2:1)
1/2 tsp Rothman & Winter Orchard Apricot Liqueur
2 dashes Miracle Mile Yuzu Bitters
Directions:
Stir all ingredients and strain into an old fashioned glass over block ice. Garnish with a lemon twist.
Alex Jump – Bar Manager, Death & Co, Denver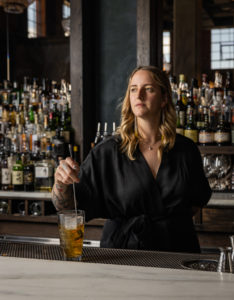 The cocktail I'm the most proud of from my career is the Lover's Knot. The drink is inspired by a Tuxedo #1, and was one of the more challenging recipes I've written. I wasn't quite sure what I wanted the drink to be, but I had been asked by our Bev. Director, Ty, to write a cocktail using a higher end mark of Grand Marnier for our menu at D&C back in 2019. The cocktail came out a lot more refined than I had ever intended it to be. In addition, I'm a nerd for a deep cut cocktail name. Since it's a Tuxedo variation, I wanted to name it after a hig-end women's clothing item. So I named it after the tiara that Princess Diana was gifted from the Queen to wear on her wedding day.
Lover's Knot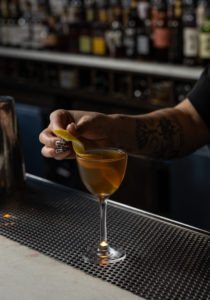 Ingredients:
1 oz Tanqueray 10 Gin
1 oz Paul Beau Hors d'Age Cognac
0.75 oz El Maestro Sierra 15 yr Oloroso
0.25 oz Grand Marnier Cuvée du Centenaire
1/2 teaspoon Orgeat
2 dash absinthe
Directions:
Stir and strain into a Nick & Nora glass. Garnish with a lemon twist.
Tiffany Nahm – Bartender, Death & Co, New York City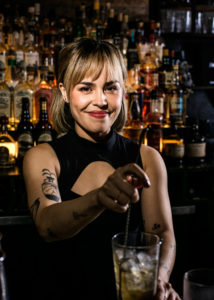 The inspiration for this cocktail came from my time spent in Southeast Asia. I wanted to showcase the funky fruit and grassy flavors that reminded me of hanging with my mom in southern Thailand. I'm most proud of this cocktail because I feel that these unctuous ingredients came together seamlessly to create a really obscure but approachable cocktail. This cocktail embodies the style of flavors I lean on most for writing drinks.
Dark Web
Ingredients: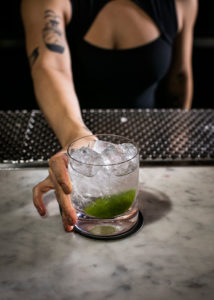 1 oz Derrumbes San Luis Potosí Mezcal
0.5 oz Clairin Vaval
0.5 oz Rhine Hall Mango Brandy
1 tsp Cor Cor Okinawan Rum
1 tsp Pandan Cane Syrup
1 Lime shoulder
Directions:
Build in old fashioned glass over ice. Stir. Garnish with a lime shoulder inserted.