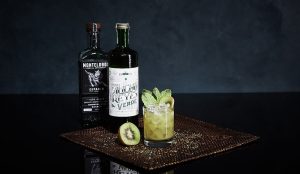 Ingredients:
1¼ part Montelobos Espadín
¾ part Ancho Reyes Verde
½ peeled Kiwi
¾ part fresh Lime Juice
½ part Simple Syrup
2 dashes Celery Bitters
Pinch of salt
Directions:
Muddle kiwi in a shaker, then combine all ingredients and shake well. Serve over fresh ice in a Rocks or divide for a share size portion in 2 Veladora glasses. Garnish with mint bouquet and kiwi wheels.
By Camille Austin, National Montelobos Ambassador