Add this warming 818 tequila cocktail recipe to your bar's menu to help your guests get through the cold winter months.
Ingredients: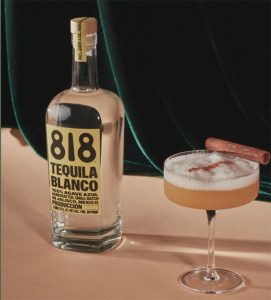 2 oz 818 Blanco Tequila
.5 oz Creme de Cacao
.75 oz Lime juice
.25 oz Cinnamon syrup
1 egg white
Angostura bitters for garnish
Directions:
Shake all ingredients together without ice for 30 seconds. Add a large cube of ice and shake for another 15 seconds. Double strain into a chilled coupe glass. Top with several dots of Angostura bitters. Run a toothpick or cocktail pick through the center of each dot to create a connecting pattern.