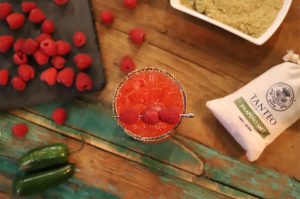 Ingredients:
2 oz Tanteo® Jalapeño Tequila
1 oz Fresh Lime Juice
¾ oz Agave Nectar
4-5 Raspberries
Tanteo Jalapeño Salt Rim
Directions:
Combine ingredients in a shaker with ice. Shake well and strain into a salt-rimmed, ice-filled Rocks Glass. Garnish with a raspberry or jalapeño slice.
Recipe and photo courtesy of Tanteo Tequila.