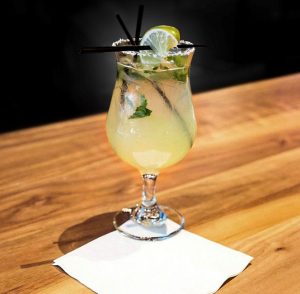 Ingredients:
6 oz. Santo Tequila Blanco
2 oz. triple sec
1 bunch cilantro leaves
3 jalapeños (2 for muddling, 1 for garnish)
1 lime, cut into wedges
2 oz. Homemade Sour Mix (recipe follows)
1 ½ cups sugar
1 cup fresh lemon juice
1 cup fresh lime juice
Directions:
For the sour mix, mix together sugar with 1 ½ cups of water in a saucepan. Allow to simmer until the sugar dissolves. Remove from heat. Once it has cooled, add the lemon and lime juice and chill it until you are ready to use it. For the cocktail, muddle the cilantro and two jalapeños in the bottom of a large pitcher. As you are muddling, add tequila and triple sec. Stir the margarita well, adding sour mix as you go. Pour into glasses rimmed with salt and garnish with a lime wedge and jalapeño slice. Substitute the salt rim with Guy Fieri's Rojo Rim by mixing ½ cup kosher salt; ½ Tbls each of freshly ground black pepper, smoked paprika and Cajun seasoning; ¼ tsp each of chili powder and cayenne powder. Yields 6-8 drinks.
Recipe courtesy of Santo Blanco Tequila.