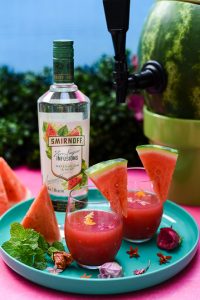 Ingredients:
16 ounces Smirnoff Zero Sugar Watermelon Mint Vodka
1 medium watermelon
8 ounces triple sec
24 ounces lemonade, divided
Directions:
Cut the top off of a medium sized watermelon. Scoop out the insides, and place into a blender, set aside the watermelon shell. Add in 8 ounces of lemonade and blend until pureed, if needed, add in additional lemonade, 1 ounce at a time. Stir in remaining lemonade, triple sec, and Smirnoff Zero Sugar Watermelon Mint vodka. Place a Watermelon Keg Tap into the watermelon. Pour in the cocktail mixture into the watermelon and place the top back on. Serve & enjoy!
Courtesy of Smirnoff