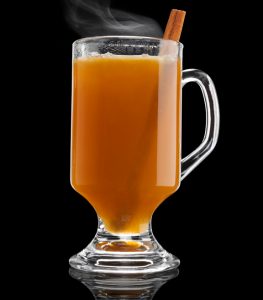 Ingredients:
2.5 parts Knob Creek® Bourbon 6 parts Apple Cider Butter Cinnamon Stick Freshly Grated Nutmeg Ginger Spice
Directions:
Pour apple cider into a medium saucepan and heat through. Add the Knob Creek® Bourbon and stir to combine. Carefully pour the mixture into a pre-warmed mug. Add a dollop of butter and stir with the cinnamon stick to combine. Sprinkle freshly grated nutmeg and a pinch of ginger spice over the top for an aromatic touch.
Courtesy of Knob Creek.