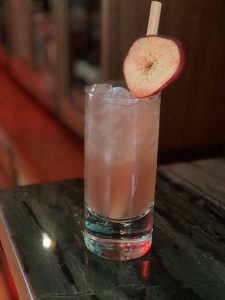 Ingredient:
1.5 oz. Vegas Baby Vodka
0.75 oz. Leopold Bros New York Sour Apple
0.75 oz. Leopold Bros New England Cranberry Liqueur
0.5 oz. Fresh Lime Juice
2 oz. Fever-Tree Ginger Beer (added after shake)
Dehydrated apple chip, for garnish
Directions:
Shake all ingredients except ginger beer in a shaker with ice. Strain over fresh ice in Collins glass. Top with ginger beer. Garnish with a dehydrated apple chip or fresh apple fan.