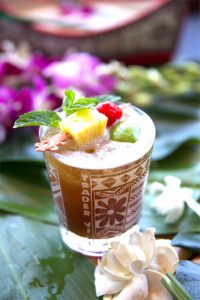 While many are familiar with the Mai Tai, a cocktail often associated with white sand beaches and tropical getaways, few know the story of its inception. In 1944, after success with several exotic rum drinks, Trader Vic felt a new drink was needed.
He was at the service bar at his Oakland restaurant, took a bottle of 17-year old Jamaican J. Wray Nephew rum, added fresh lime, Orange Curaçao from Holland, a dash of Rock Candy, and vigorously shook the mixture by hand. A garnish of fresh mint and lime added the finishing touch.
Trader Vic presented his new creation to friends visiting from Tahiti. After one sip they responded, "Mai Tai-Roa Ae" which variously translates to "Out of this World – The Best" in Tahitian and that sealed the deal. Trader Vic named the drink "Mai Tai" and while there are many variations, the original recipe can still be found at Trader Vic's locations around the world.
Ingredients:
2 oz. Trader Vic's Royal Amber Rum (Suggested rum in the absence of 17-year old J. Wray Nephew Jamaican Rum)
1/2 oz. Orange Curaçao
1 oz. Fresh Lime Juice
1/2 oz. Orgeat Syrup
1/4 oz. Simple Syrup
Directions:
Shake well with crushed ice. Pour into a double Old-Fashioned glass. Garnish with a mint sprig and spent lime shell.
Photo and recipe courtesy of Trader Vic's.