Celebrate Valentine's Day at your bar with even more Valentine's Day cocktail recipes!
Spa Girl Love Potion No. 9 Cocktail
Ingredients: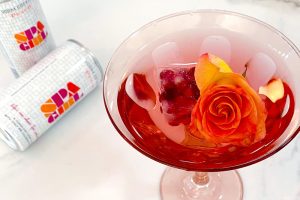 4 oz. Spa Girl Cocktail Peach Vodka Cocktail
2 oz Cranberry Juice
½ oz Lemongrass Jalapeño Simple Syrup (Check out this super simple DIY recipe)
Splash of club soda
Directions:
Pour Spa Girl Peach, simple syrup, and cranberry juice into a shaker with ice. Shake for 10 seconds. Strain and pour into your cocktail glass of choice. Add a splash of club soda. Garnish with fresh edible flowers, or pomegranate seeds.
Recuerdo Mezcal Besito
Ingredients: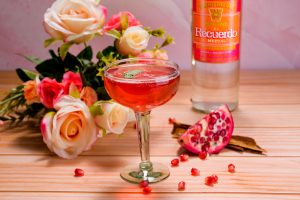 1.5oz Recuerdo Mezcal Joven
1oz pomegranate Juice
.5oz cinnamon syrup (1 cup water, 1 cup sugar, 1-2 sticks cinnamon – break apart the cinnamon sticks and heat alongside the water and sugar to a gentle boil and reduce to a simmer for 1-2 minutes while stirring. Pull off the heat and allow to sit 30-60 minutes to infuse the cinnamon. Cool and strain the cinnamon.)
prosecco
pomegranate grains
peppermint leaf
Directions:
Shake the Recuerdo Mezcal, pomegranate juice and cinnamon syrup over ice, strain into a chilled coupe glass, top with chilled prosecco, and garnish with the pomegranate grains and a peppermint leaf.
Mademoiselle Rose
Ingredients: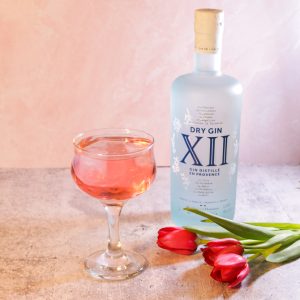 20 ml Gin XII
70 ml Rinquinquin
20 ml roses syrup
20 ml lime juice
70 ml sparkling water
Directions:
Mix all the ingredients in a shaker and top with sparkling water.
Recipe made for Gin XII by Helene Rogeon, Oenologist at Distilleries et Domaines de Provence.
Turkish Duet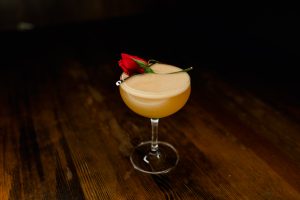 Ingredients:
1 ½ parts Redemption High Rye Bourbon
½ part Montenegro Amaro
¼ part orgeat syrup
1 part fresh lemon juice
1 dash cardamom bitters
2 dashes rose water
Rose bud for garnish
Directions:
Shake all ingredients with ice. Fine strain into a coupe glass. Garnish with a rose bud.
Russian Standard Berry Be Mine
Ingredients: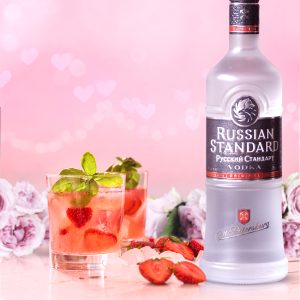 1.5 oz Russian Standard Original Vodka
1 oz Real strawberry purée
3 Basil leaves
1 oz Fresh lemon juice
Splash soda water
Strawberries and basil leaf for garnish
Directions:
In a cocktail shaker, muddle the strawberry purée, basil leaves, and lemon juice. Add Russian Standard Original Vodka and shake until combined. Strain into a Collins glass, add a splash of soda and garnish with strawberries and a basil leaf.
Chocolate Covered Strawberry
Ingredients: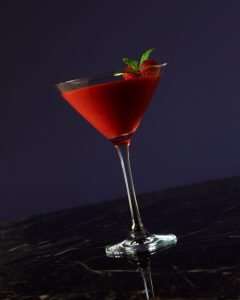 1 oz. Van Gogh Blue Vodka
1 oz. Van Gogh Rich Dark Chocolate Vodka
1 oz. The Perfect Purée Strawberry Puree, thawed
1/2 oz. POM Wonderful Juice
Directions:
Combine all ingredients into a cocktail shaker with ice. Shake, strain and serve into a coupe glass.
Recipe by Students of the Institute of Culinary Education Cocktail Lab with Jonathan Pogash. Photo by The Perfect Purée of Napa Valley.
The Crushable
Ingredients: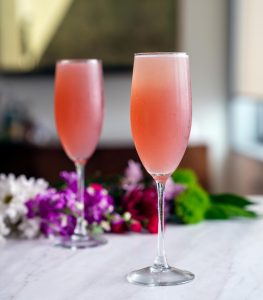 1 oz Fresh Victor Cactus Pear & Pomegranate
.5 oz Fresh Victor Lemon Sour
.5 oz Benedictine
4 oz Brut rose sparkling wine
Directions:
In a champagne flute or wine glass, add the Fresh Victor and Benedictine, then slowly top with the wine.
Purple Spring
Ingredients: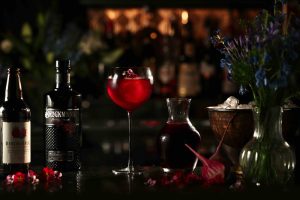 1.0 oz. Brockmans Gin
0.75 oz. Beetroot juice
4.0 oz. Wild Berry Cider
Directions:
Combine Brockmans Gin and Beetroot juice in a shaker with ice. Strain into a stemmed Copa glass (bowl glass) filled with ice. Top with Wild Berry Cider and give it a gentle stir. Garnish with a very thin slice of dehydrated beetroot and edible flowers for a touch of spring.
Brockmans Frosé
Ingredients: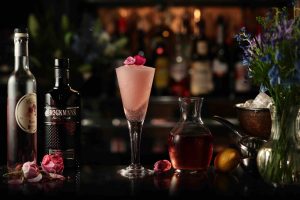 1.0 oz. Brockmans Gin
0.5 oz. Rose liqueur
Squeeze Freshly squeezed Lemon Juice
2.0 oz. Sweet Rosé Wine
Crushed ice
Directions:
Combine Brockmans Gin, Rose Liqueur, lemon juice and Rosé wine in a shaker with ice. Strain contents into a large, stemmed wine glass filled with crushed ice.  Alternatively combine all ingredients in a blender with ice. Blend until the ice is crushed and scoop into a large, stemmed wine glass. Garnish with sugared or fresh rose petals.