Valentine's Day is today. Have some Valentine's Day cocktail recipes on hand for couples or friends celebrating!
Shiso Fine
Ingredients: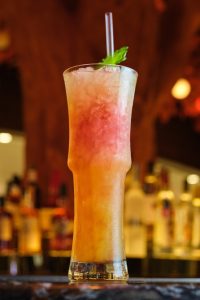 1oz/30ml Shiso leaf infused vodka
0.5oz/15ml Crème de Pêche
0.5oz/15ml Lime juice
1.5oz/45ml Apple juice
0.5oz/15ml Thai Basil syrup
0.25oz/15 ml Crème de Cassis
Directions:
Pour the first five ingredients and churn with half crushed ice. Top with the remaining crushed ice. Garnish with Shiso leaf and a drizzle of crème de cassis.
Cupid's Arrow
Ingredients: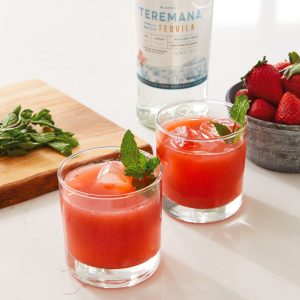 2 oz. Teremana Blanco
1 oz. Lime Juice
.5 oz. Agave Syrup
1 oz. Strawberry Puree
2 dashes of Balsamic Vinegar
8 to 10 Mint Leaves
Mint sprig
Directions:
In a cocktail shaker, add Teremana, lime juice, agave syrup, and mint. Gently muddle. Then add strawberry puree & balsamic vinegar. Shake with ice and strain into rocks glass over fresh ice. Garnish with a mint sprig.
Love That About You
Ingredients: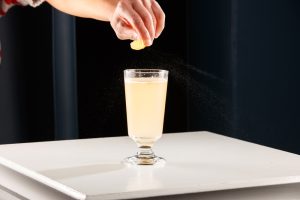 1.5 oz. Absolut Elyx
.75 oz. Ramazzotti Rosato
.75 oz. Lemon
.75 oz. Grapefruit
.75 oz. Lavender syrup
3 oz. Sparkling wine
Directions:
Add sparkling wine to the bottom of a footed pilsner. Shake ingredients in a cocktail shaker, double strain into the glass. Express lemon and discard.
Stay Cozy & Toasty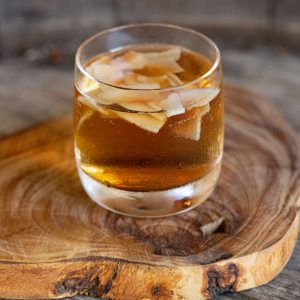 Ingredients:
1 oz. Kentucky Coffee
0.25 oz. Amaretto
0.25 oz. Coconut Rum
Garnish: Toasted Coconut Flakes
Directions:
Add ingredients into a cocktail shaker. Add ice and shake. Strain into a shot glass, and garnish with a pinch of toasted coconut flakes.
Make Me Blush
Ingredients: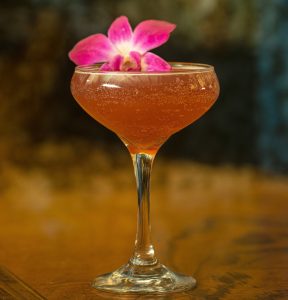 2 oz Duke & Dame
1 oz Fresh Grapefruit Juice
1/2 oz Fresh Lemon Juice
1/2 oz Red Wine
1/2 oz Agave
Directions:
Shake ingredients in cocktail shake with ice and strain into coupe glass.
Broken Pav
Ingredients: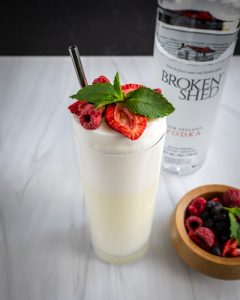 2 oz Vanilla infused Broken Shed Vodka
1 oz Lemon Juice
1 oz Simple Syrup
1 oz Heavy Cream
1 Egg White
3 drops Orange Blossom Water
4 oz Cold Seltzer
Garnish: Freeze-dried fruits
Directions:
Dry shake all the ingredients (except the cold seltzer), then shake again with ice glass, then carefully pour the cold seltzer down a barspoon into the bottom of the glass. Garnish with freeze-dried fruits.
Cuban Bishop
Ingredients: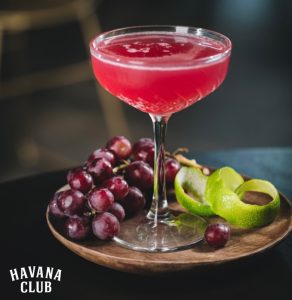 1½ ounces Havana Club Añejo Blanco
½ ounce lime juice
½ ounce simple syrup
½ ounce Sonoma Red Wine (Cabernet Sauvignon, Gamay, etc)
Directions:
Pour ingredients into a shaker with ice, shake vigorously and strain into a cocktail glass. Garnish with a cinnamon stick.
Pretty in Pink
Ingredients: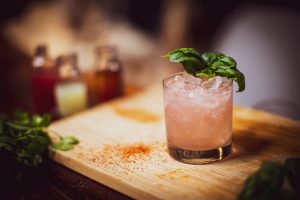 1.5 oz Lobos 1707 Joven Tequila
1 oz fresh watermelon juice
1 oz fresh lime juice
.5 oz agave nectar
Glass: rocks
Garnish: Cucumber floating inside the glass/sprig of basil
Directions:
Add all ingredients into a shaker, add ice and shake until chilled. Strain into rocks glass filled with ice and garnish.
Strawberry Lavender Sour
Ingredients: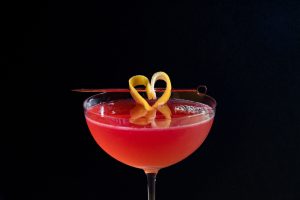 3 oz strawberry solstice
1 oz lemon juice
1 oz lavender syrup (recipe below)
Lavender syrup
1 cup water
1 cup sugar
2 tablespoons dried lavender blossoms
Directions:
For the lavendar syrup, combine ingredients in a saucepan and bring to a boil. Remove from heat, stir to dissolve sugar, and let steep for 30 minutes. Strain through a mesh strainer and let cool. Syrup should keep about one week in the fridge. For the cocktail, shake over ice, strain into a coupe or martini glass, garnish with lemon peel and lavender blossoms.
Recipe by Veso.
Strawberry Bourbon Smash
Ingredients: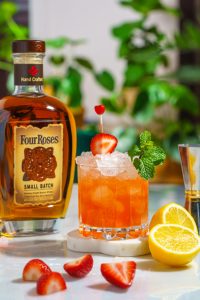 2 oz Four Roses Small Batch Bourbon
0.75 oz lemon juice
0.5 oz strawberry syrup*
Garnish: Fresh strawberries and mint sprig
Strawberry Syrup
1 cup water
1 cup sugar
1 cup sliced strawberries
Directions:
For the strawberry syrup, add all ingredients to a medium saucepan. Simmer until sugar dissolves. Remove from heat and cool, and let strawberries infuse. Strain into a vessel.For the cocktail, add all three ingredients to a shaker. Shake then strain into rocks glass. Top with crushed ice. Garnish with fresh strawberries and a mint sprig.