There's a whole lot of coffee celebrating coming up with the US and Canada marking National Coffee Day on September 29, and the rest of the world observing International Coffee Day on October 1.
Add a caffeine buzz to your bar's menu with one of these coffee cocktails to celebrate!
Egan's Irish Coffee
Ingredients: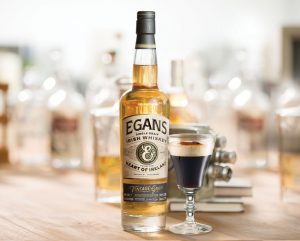 3.5 oz. freshly brewed coffee
1.5 oz. Egan's Vintage Grain
1 oz. rich demerara syrup
Hand whipped heavy cream
Nutmeg on top
Directions:
Stir ingredients into a warmed footed glass. Top with whipped cream. Garnish with nutmeg.
Belfast Coffee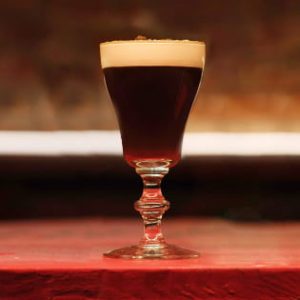 Ingredients:
3 oz cold brew coffee
2 oz Mad March Hare Irish Poitín
1 oz demerara syrup
Hand whipped heavy cream
Nutmeg on top
Directions:
Prepare the cold brew coffee. Stir ingredients in a mixing glass over ice. Strain into a chilled footed glass. Top with whipped cream. Garnish with nutmeg.
Dark Chocolate Cherry Espresso Martini
Ingredients: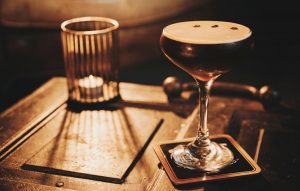 2 oz Slane Irish Whiskey
1 ¼ oz Espresso
¾ oz Organic Mixology Dark Chocolate & Sea Salt Liqueur
½ oz Dirty Sue Whiskey Cherry Juice
Garnish 1 Dirty Sue Whiskey Cherry and 3 Coffee Beans
Directions:
Pour all ingredients into a mixing tin with ice and shake vigorously. Place the cherry into a Martini or Coup Glass and strain the cocktail over it. Garnish with three coffee beans.
Recipe by Claire Mallett, Bartender at Harvard & Stone (Los Angeles).
Donut Mind if I Do
Ingredients: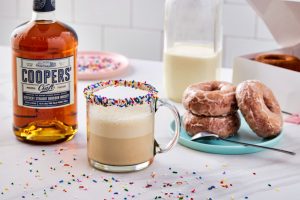 5 oz Coopers' Craft Bourbon
1 shot of espresso
3 oz whole milk (or vanilla oat milk)
.75 oz glaze
1 teaspoon vanilla paste (optional)
Glaze Ingredients:
1 cup confectioners sugar
1/3 cup heavy cream
.5 teaspoon Coopers' Craft Bourbon
Directions:
To make the glaze, combine all ingredients in a bowl and mix. To make the cocktail, add all ingredients to a shaker with ice, and shake until chilled. Strain into a mug rimmed with glaze and rainbow sprinkles or brown sugar. Serve with your favorite donut.
Courtesy of Fitz Bailey, Coopers' Craft Mixologist.
Havana Club Havana Café
Ingredients:

2 parts HAVANA CLUB Añejo Clásico Rum
¾ part MARTINI & ROSSI Sweet Vermouth
½ part Cold Brew Coffee
¼ part Demerara Sugar
Directions:
Stir all ingredients vigorously with plenty of ice until very cold. Strain into a rocks glass with an ice sphere. Garnish with a lemon peel.
The Little Easy
Ingredients:
1.5oz 1856 Uncle Nearest Premium Whiskey
.75oz grind espresso liqueur
.25oz cinnamon and juniper syrup
1 barspoon black walnut bitters
Lemon peel
Cinnamon, chicory & cedar smoked glass
Directions:
Add all liquid ingredients to a mixing glass with ice. Stir until cold. Pour into cinnamon, chicory & cedar smoked glass over one large ice cube. Garnish with an expressed lemon peel. To smoke the glass, take a cedar plank and place a small amount of ground chicory root and ½ a cinnamon stick on the board. Using a creme brulee torch, burn the chicory and cinnamon until smoking and place a double old-fashioned glass of them to capture the smoke.
Kilbeggan Irish Cold Brew
Ingredients: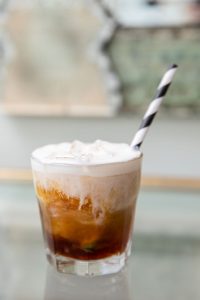 1.5 parts Kilbeggan® Original Irish Whiskey
5 parts Partners® Coffee, cold brewed
heavy whipping cream
grated nutmeg
Directions:
Make the Partners Cold Brew Coffee. Fill S'well Teakwood 16oz Mug with ice and add 4 oz Kilbeggan Original Irish Whiskey. Fill with 4 oz Partners Cold Brew Coffee. Hand-whip cream and pour genty into the mug over the back of a spoon. Top with freshly grated nutmeg.
LS Marble
Ingredients: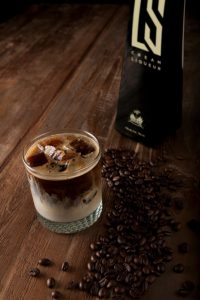 2 oz of LS Cream Liqueur
1 oz of vodka
1 oz of cream 10%
1 short espresso
Frozen espresso in a ice cube tray
Directions:
Fill a glass with the espresso ice cubes. Add the vodka. Add the LS Cream Liqueur. Slowly drop the espresso in the glass to create the marble effect.