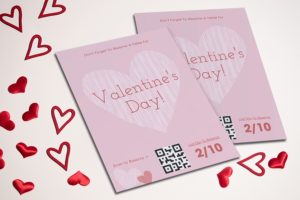 By Mark Plumlee
Love is in the air … how can you leverage it into the sweet scent of profits for your restaurant?
Valentine's Day is a heavyweight holiday for dining out and gifts — in 2022, a whopping $23.9 billion was spent on gifts and experiences in the name of love.
You need a game plan if you want a piece of those potential Valentine's Day profits. From specialty Valentine's Day menus to romantic events to clever promotions and more, here are x ideas that can help your restaurant set the mood for romance this year:
Create a Valentine's Day Menu
One of the most effective ways to attract customers on Valentine's Day? Create a specialty menu.
The key is to curate a romantic, one-of-a-kind experience for your diners. One way to do that? Offer a special Valentine's Day prix fixe menu. A prix fixe menu is a multi-course meal offered for a set price. Your limited-time-only Valentine's Day prix fixe menu might include dishes associated with romance, such as oysters, champagne, and decadent chocolate desserts.
To make the most of your Valentine's Day prix fixe menu, be sure to spread the word! Post about it on social media, reach out to local publications and create flyers to display at your restaurant or around the neighborhood. Be sure to include your contact information and how to make a reservation.
Two Words: Cocktail Upsells
Alcohol is one of the highest-margin items on restaurant menus. Did you know that the average markup for a bottle of wine in a restaurant is 200-300% over retail?
Plus, cocktails make a festive addition to any Valentine's Day feast.
Be sure to maximize your potential profits on Valentine's Day by promoting drinks to your customers.
For instance, you could offer an option to add a wine pairing to your prix fixe menu for an upcharge. Or, you could create an entire menu of Valentine's Day-themed drinks to get people in the mood for love.
For instance, Menlo Park's Oak + Violet offers a specialty menu of "Aphrodisiac Additions" on Valentine's Day, which features cocktails with names like the "Love Potion" cocktail and discounted wine bottles.
Other Romantic Upsells
Cocktails and alcohol aren't your only upsell options on Valentine's Day. To boost your sales, consider adding optional romantic add-ons to your menu.
For instance, Chicago brasserie Venteux offers a Valentine's Day prix fixe menu with plenty of options for additions. Customers can add a Seafood Tower to their appetizer course for an upcharge or score 50% off bottles of wine by purchasing the full-tasting menu.
Customers are in the mood to splurge on Valentine's Day — give them plenty of options to personalize their meals and subtly increase overall sales.
Plan an Event
People crave romantic experiences on Valentine's Day. If it's possible in your space, consider planning an event that makes for a memorable and romantic night out.
For instance, Philadelphia's Stir restaurant is well-placed for a fun event — they're located in the iconic Philadelphia Museum of Art. In past years, the museum has offered after-hours events and performances on Valentine's Day to attract people after their meal.
Offering an event or coordinating with a local business offering an event can transform a meal into a memorable experience that will keep people coming back year after year.
Give Customers an Incentive
When it comes to dining out on Valentine's Day, the competition can be fierce. Give customers a reason to choose your restaurant over others.
For example, you can sweeten the deal with a special offer, such as a free glass of prosecco with the purchase of a Valentine's Day Prix Fixe menu or a coupon or gift card for a future visit.
People love feeling like they're getting a deal. Even a small offer or promotion can help separate your restaurant from the other options out there!
Offer a Takeout Option
The specter of the pandemic still looms large, so some people prefer to dine at home. Help them make it romantic while simultaneously boosting your sales by offering a takeout option on your Valentine's Day menu.
Don't be afraid to get creative. For instance, you could offer a Valentine's Day package featuring your prix fixe meal for two plus roses and candles to help customers set the scene. Or, you might create meal kits that make it easy for customers to cook a romantic meal at home.
Don't Forget the Singletons
Not everyone is partnered up for Valentine's Day. However, single people still need to eat! There are plenty of clever ways to market your restaurant to those who aren't celebrating Valentine's Day in the traditional way.
For example, Las Vegas eatery Hearthstone Kitchen & Cellar created a "Galentine's Day" brunch a few years ago — a decadent girls-only affair featuring brunch favorites and the option to add bottomless mimosas for an upcharge.
Ready to Get Romantic?
Valentine's Day can be an extremely profitable holiday for restaurants. However, it does require a little advance planning and preparation. Give these seven clever ideas for boosting sales a try this year — you might love the results!
Have you ever tried any of these Valentine's Day ideas? How did they work out for you?
Mark Plumlee is the Senior Content Manager for musthavemenus.com.