Kick off for the Big Game is at 6:30 pm ET on Sunday, February 13. Whether you're rooting for the Bengals or the Rams, make sure your bar is ready to toast every play with these football cocktail recipes.
The Black & Stormy Diamond
Ingredients: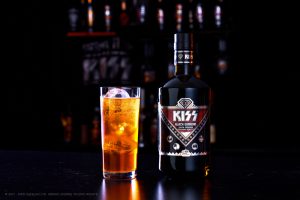 50 ml KISS Black Diamond Premium Dark Rum
50 ml ginger beer
40 ml fresh red grapefruit juice (blood orange)
30 ml freshly squeezed lemon juice
20 ml simple syrup
Few dashes of Angostura bitters
1 slice of red grapefruit (blood orange) for garnish
Directions:
Pour all the ingredients into a Highball glass (start with the Ginger Beer). Stir gently and fill up with ice cubes. Add dashes of bitters to your liking. Garnish with a wedge of red grapefruit or lemon zest.
Recipe by Drink It Up by KISS.
Dano's Tequila Touchdown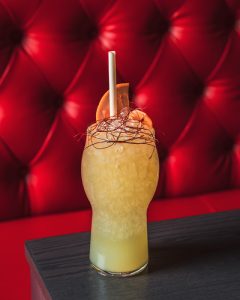 Ingredients:
.25 oz. Maple syrup.
.5 oz. lemon juice.
1 oz. Dano's Tequila Blanco.
IPA beer
Directions:
Shake maple syrup, lemon juice, and Dano's Tequila Blanco. Pour into a pint glass. Top with IPA beer. Garnish with a grapefruit slice, sal de gusano rim and dry red pepper.
Let's Get It Started
Ingredients: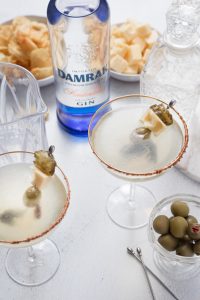 2 oz Damrack Gin or VirGin
.5 oz pickle juice
.5 oz olive brine
.5 oz lemon juice
2 cubes swiss cheese
3 olives
2 pickle chips
2 slices of sundried tomato
1/2 tsp mix of chili-lime seasoning and sugar
Directions:
Half rim a coupe with the chili-lime sugar mixture. Place sun-dried tomatoes on bottom of coupe. Combine liquid ingredients in a shaker with ice. Shake and strain into coupe. Garnish with a skewer of the olives, Swiss cheese, and pickle chips.
Recipe by Paula Lukas for Damrak.
Hard Ball
Ingredients: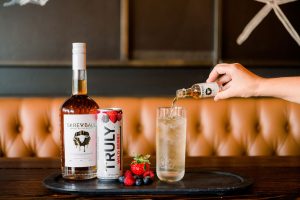 1 ½oz. Skrewball Peanut Butter Whiskey
4oz. Black Cherry or Mixed Berry Hard Seltzer
Directions:
Pour ingredients over ice.
First Down Rhum
Ingredients: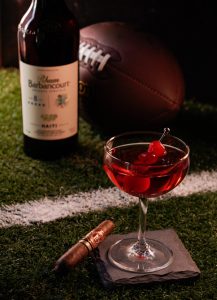 2 oz Rhum Barbancourt 5 star
1 oz Martini and Rossi Sweet Vermouth
1 stopper Scrappy's Aromatic Bitters
1 stopper Fee Brothers Cranberry Bitters
Cherries
Directions:
Add everything except the cranberry bitters to a mixing glass and stir with ice. Strain into a glass, add cranberry bitters, and garnish with cherries.
Recipe created by @housepoured for Rhum Barbancourt.
Recuerdo Mezcal Lombardi
Ingredients: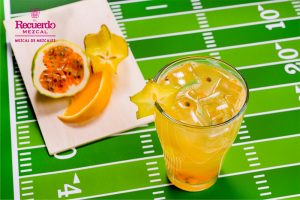 1.5 oz Recuerdo Mezcal Joven
1 oz passion fruit juice
1.5 oz orange juice
.5 oz lime juice
.25 oz simple syrup
club soda
Directions:
Shake all the ingredients except for the club soda over ice, strain and serve into a highball glass with fresh ice, top off with club soda, and garnish with a slice of star fruit.
Mama Loves Me Best
Ingredients: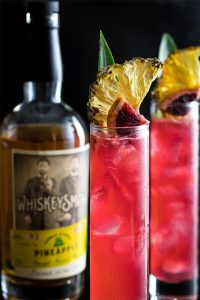 1.5 oz. Whiskeysmith Pineapple
0.5 oz. Coconut Rum
0.25 oz. Mezcal
0.75 oz. Fresh Blood Orange
Juice
0.5 oz. Lime Juice
Ginger ale to top
Garnish: dried pineapple,
pineapple spear, blood orange
Directions:
Combine all ingredients in a highball glass. Stir, add ice and top off with a quality ginger ale. Garnish with dried pineapple, pineapple spear, and blood orange slice.
Sailor Jerry Pre-Game Punch
Ingredients: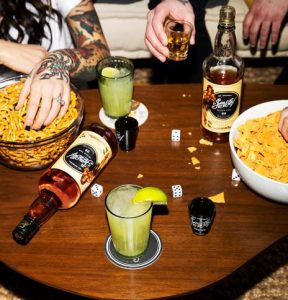 6 parts Sailor Jerry Spiced Rum
1 part lemon lime soda
6 parts spicy ginger beer
3 parts pineapple juice
1½ parts lime juice
Directions:
Combine all ingredients in a punch bowl or pitcher, fill with ice. To serve, pour into highball glasses and garnish with a lime wheel.
Stolen Night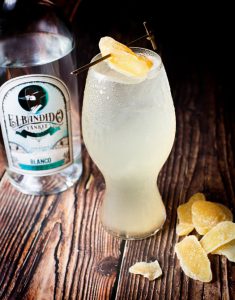 Ingredients:
2 oz EBY Blanco Tequila
.50 oz Fresh Lime Juice
.25 oz Liquid Alchemist Ginger Syrup
4 oz Club Soda
Candied Ginger for Garnish
Directions:
Combine all ingredients except the soda in a highball glass and stir for 5 seconds with a bar spoon. Top with club soda and add ice. Garnish with candied ginger.