Duke & Dame, a salted caramel whiskey with just 1g of sugar per serving, launched in 2018. The fast-growing, independently Black-owned business is celebrating its fourth year and is available for online purchase throughout most of the country. Duke & Dame is also available in select bars, restaurants, and retailers in Michigan, New York, and Florida. Just this past year, Duke & Dame achieved over 150% growth in cases sold.
Duke & Dame Co-Founders and friends Amani Macaulay and Chima Burey both worked in the corporate finance world before deciding to pursue their passion of creating a whiskey for everyone.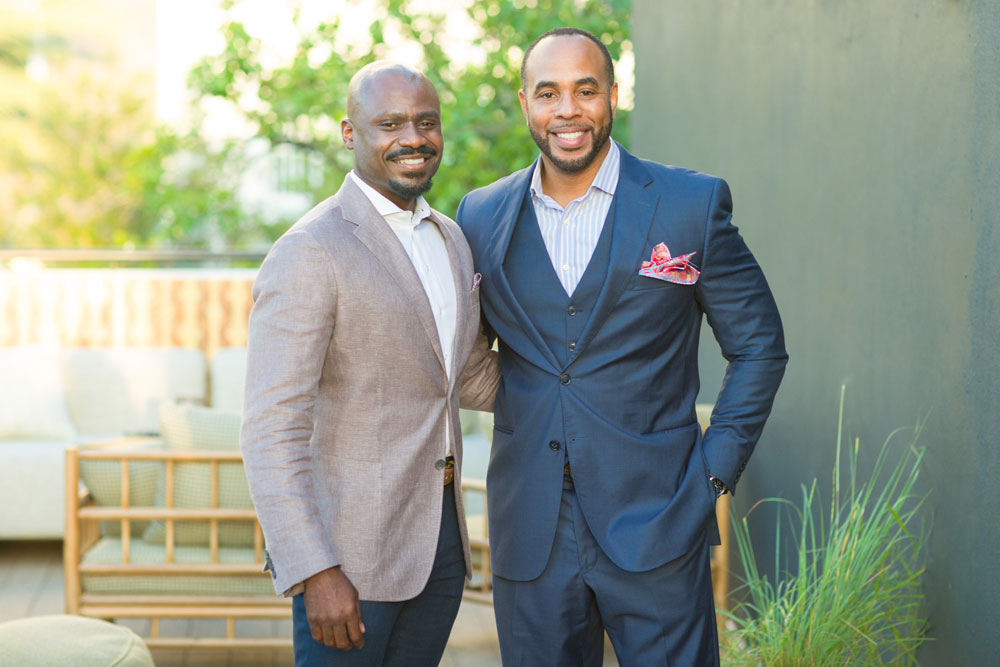 Amani holds an MBA from Columbia Business School and a BS in Policy Analysis & Management / Consumer Economics from Cornell University. Prior to Duke & Dame, Amani spent 11 years as an investment banker in New York and Sydney, Australia. Chima earned his BS in Finance from the University of Florida and holds a Series 3 License. Prior to Duke & Dame, Chima worked as a trade advisor to private equity groups and family offices.
We spoke with the two founders about the company, whiskey, and Black-owned brands. Read on for the full Q&A!
Bar Business Media (BBM): What led you both to launch Duke & Dame back in 2018?
Amani Macaulay (AM) & Chima Burey (CB): Years ago, when Fireball Cinnamon Whiskey was growing in popularity, I was at a dinner with friends and someone ordered a round of Fireball shots. Then someone asked the question, "If you could make your own flavored whiskey, what flavor would you make?"
Just as Fireball reminds you of the Atomic Fireball candy or Big Red Gum, my idea was that I would make a whiskey that tasted like the Werther's Original or Sugar Daddy candies.  Years later, when Amani had left his career in finance and we were discussing his next move, I threw out my crazy idea that we should make a caramel flavored whiskey, and the whiskey and business began to take shape from there.
At the time, many of the flavored whiskeys in the market were overly sweet and syrupy, made with lower quality whiskeys, and often had an artificial aftertaste. So, we saw a great opportunity to disrupt the category and redefine the flavored whiskey drinking experience for the consumer.
Why should you have to give up quality just because you want a little flavor in your whiskey? Why can't you have a flavored whiskey with a balance and complexity that you would find in your favorite bourbon or scotch? And why can't you have a whiskey that puts a smile on your face every time you experience it? We thought that consumers should have this unique whiskey experience, so we created Duke & Dame Salted Caramel Whiskey.
BBM: What separates Duke & Dame whiskey from other whiskey offerings?
AM & CB: Duke & Dame comprises a premium blend of 100% corn whiskeys, including a two-year aged bourbon that introduces notes of slightly charred orange, toffee, and spice. This premium whiskey base is perfectly complemented by natural caramel aromas and flavors, with only 1 gram of sugar per serving (in comparison, Jack Daniels Tennessee Honey contains 5 grams of sugar per serving).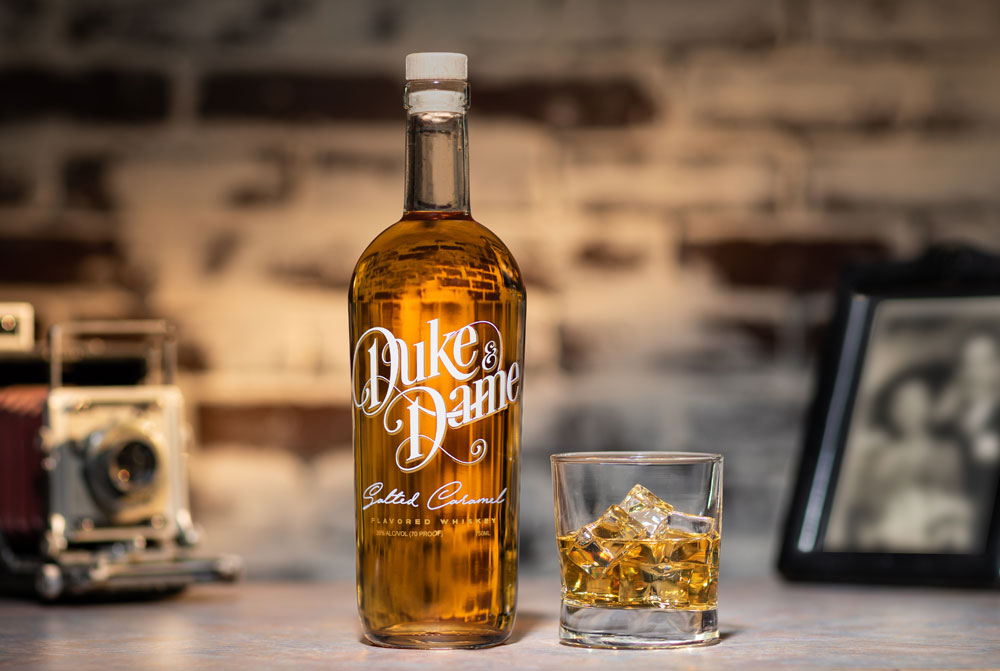 Additionally, Duke & Dame offers a unique layered tasting experience featuring robust caramel aromas and flavors in the first sip, followed by distinct bourbon notes (e.g., hints of oak and spice) in subsequent sips. This layered tasting experience is precisely why Duke & Dame is universally popular, as it offers something for everyone. Whiskey newcomers are enticed by the amazing aroma, flavor, and smoothness, without the traditional whiskey burn. Whiskey enthusiasts are attracted to the quality of Duke & Dame and are surprised to find a flavored whiskey with a complexity typically associated with premium whiskeys.
In fact, the name Duke & Dame, with its representation of a man and woman, signifies that this is a whiskey for everyone. And given the prevalence of women whiskey drinkers, we are proud to be one of the first whiskey brands to include women in its branding. Lastly, the honorific titles of "Duke" and "Dame" represent the emotional connection consumers have with the whiskey. When you drink Duke & Dame, you don't make the "whiskey face" or cringe – you feel amazing, magnificent, royal and regal.
BBM: The popularity of flavored whiskey has exploded. What do you think is behind this increased interest?
AM & CB: We think the explosion is linked to the growth in popularity of whiskey overall, with flavored whiskeys offering consumers a new, fun, playful, and tasty way to explore the whiskey category. For many consumers, flavored whiskey is their first real introduction to whiskey, so flavored whiskeys are expanding the whiskey audience. And for others, flavored whiskey provides a nice alternative and allows them to experiment away from standard whiskey.
Additionally, we think some of the same factors that are driving the growth of ready-to-drink (RTDs) premixed cocktails are impacting flavored whiskeys. The average consumer is not a mixologist, so options that offer a delicious alcoholic drink with little effort are very appealing.
BBM: Have you observed any other recent whiskey trends?
AM & CB: We have seen a trend towards premiumization, not only in whiskey, but across the spirits landscape. This really picked up during the pandemic when consumers were becoming kitchen "mixologists" as they tried to recreate craft cocktail experiences at home.
Consumers are also becoming more conscious of what they are drinking and willing to pay more for quality—and premium spirits are a relatively affordable luxury compared to other luxury items. We have definitely experienced that phenomenon with Duke & Dame. Duke & Dame is a premium flavored whiskey and priced higher than some of our competitors, but we've seen consumers respond very well to paying a little more for a premium drinking experience.
BBM: What does it mean to you to be one of the few independent Black-owned and operated liquor brands?
AM & CB: We can't help but feel some responsibility to do well, and represent well, as one of the few Black-owned spirit brands. We know that demonstrating that we can succeed can help open doors for other Black spirit entrepreneurs. Also, just being present and visible in the space can provide other entrepreneurs and future entrepreneurs who look like us an example and blueprint, and the confidence that building a spirits brand is something they can do also.
When we first started the business, we didn't know of other independent Black-owned spirits brands. Today, we are happy to see a number of Black-owned brands across different categories that are thriving. We are proud to be a part of that growth and community.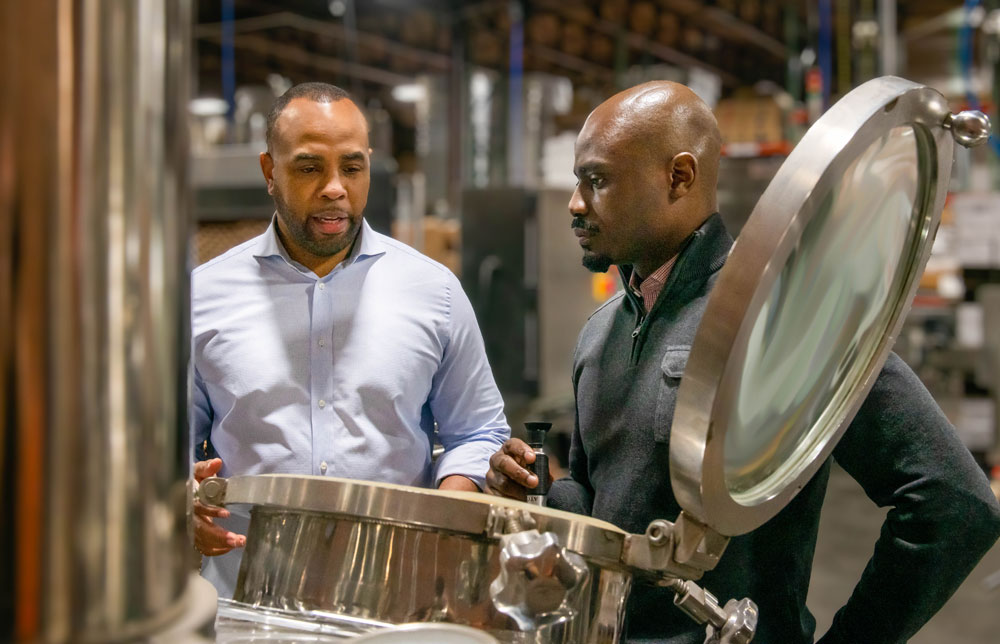 BBM: Can you share your favorite Duke & Dame recipe with us?
AM & CB: One of our favorite cocktails is called Make Me Blush. It's a refreshing, aromatic, and delicious cocktail that really demonstrates the versatility of Duke & Dame. It's easy to make and made with easy-to-find ingredients, but the finished product looks and tastes like a premium craft cocktail. Your friends will definitely be impressed!
MAKE ME BLUSH
Ingredients: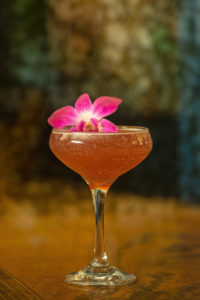 2 oz Duke & Dame
1/2 oz Red Wine
1 oz Fresh Grapefruit Juice
1/2 oz Fresh Lemon Juice
1/2 oz Agave
Directions:
Shake all ingredients in cocktail shaker with ice and strain into coupe glass.