Independence Day is around the corner, and we've rounded up some red, white, and blue cocktails for you to add to your 4th of July cocktail menus.
Rocket Pop Cocktail
Ingredients: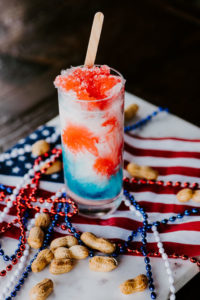 1½ oz. Skrewball Peanut Butter Whiskey
½ oz. Lime Juice
1 oz. Coconut Water
½ oz. Blue Curacao
½ Grenadine
Directions:
Shake Skrewball, lime juice and coconut water with ice. Pour blue curacao into a Collins glass, then add crushed ice to shaken Skrewball cocktail and top with grenadine. Garnish with a popsicle stick.
Van Gogh's Flame
Ingredients: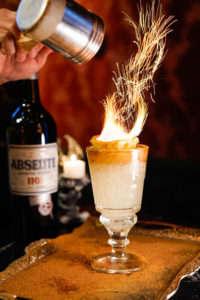 0.5 oz Absente Absinthe Refined 110
1.25 oz Mezcal
0.25 oz Passion Fruit liqueur
0.25 oz Orgeat
Directions:
Whip shake. Top with pebble ice in Julep glass. Garnish with a lime peel cup
holding .25 oz absinthe. Light absinthe and shake ground cinnamon over to flame.
Recipe courtesy of Absente Absinthe Refined 110. Made at Cafe de L'Enfer.

Cherry Bomb Sour
Ingredients: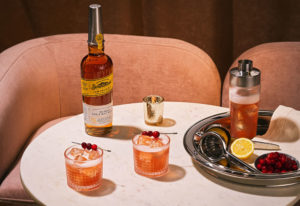 1.5 oz Stranahan's Original
.5 oz Sweet Vermouth
.75 simple syrup
.75 oz lemon juice
2 bar spoons cranberry preserve
Egg white
Italian bitters
Lemon oil
Cherries
Directions:
Combine Stranahan's Original, sweet Vermouth, simple syrup, lemon juice, cranberry preserve and egg white in a shaker. Shake and strain into glass over ice and garnish with cranberries on prick and lemon oil. Add a dash of italian bitters and stir. Pour into coupe glass and garnish with brandied cherry.
NEFT Watermelon Julep
Ingredients: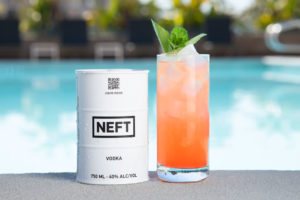 1.5 oz NEFT Vodka
1 oz Fresh watermelon juice
0.5 oz Lemon juice
0.5 oz Mint simple syrup
1 Splash of soda water
Directions:
Shake all ingredients in a mixing tin with ice. Pour into Collins glass. Top with soda. Garnish with watermelon and fresh mint.
Improper Bramble
Ingredients: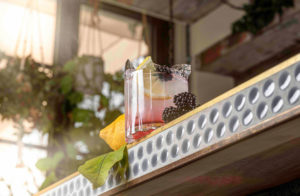 2 parts Brockmans Gin
Splash of Raspberry eau de vie
1 part Fresh lemon juice
½ part Black currant leaf syrup
Directions:
Combine ingredients in a shaker with ice. Shake vigorously and strain into a rocks glass. Garnish with a slice of lemon and fresh raspberries.
Oaxacan Fireworks
Ingredients: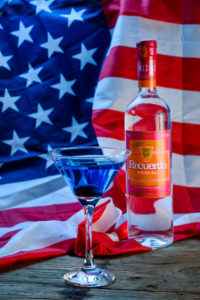 1.5 oz oz Recuerdo Mezcal Joven
1 oz blue curacao
.5 oz lime juice
.25 oz simple syrup
1 maraschino cherry
Directions:
Mix all ingredients in a shaker filled with ice and serve in a martini glass. Garnish with the maraschino cherry.
Ube Colada
Ingredients: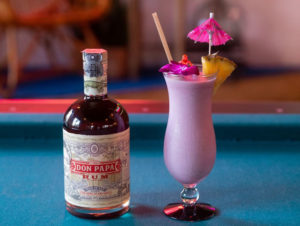 2 oz. Don Papa Rum
1 oz. coconut cream
1½ oz. pineapple juice
Dash of nutmeg
Dash of bitters
3 drops of Ube extract
2 cups of ice
Directions:
Add all into a blender and blend into smoothie consistency. Pour in to glass and Garnish with an edible flower.
Summer Spr11tz
Instructions: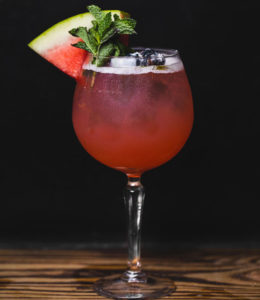 1 ½ oz E11EVEN Vodka
cucumber slices
8 mint leaves
3 tbsp watermelon cubes
Blueberries
2 oz Brut Rosé
Club Soda
Directions:
Muddle cucumber, mint, & watermelon. Add ice & E11EVEN Vodka. Shake vigorously. Double strain over goblet filled with fresh ice. Add Brut Rosé & top with club soda. Garnish with watermelon slice and/or mint sprig and blueberries.
Photo: Lionel Photography. Recipe created by Julia Melucci, Tampa, Florida.

Red, White & Duke
Ingredients: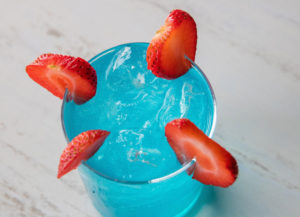 1 oz Duke & Dame
3/4 oz Hypnotiq
1/2 oz Blue Curaçao
Club soda
Fresh strawberry slices
Directions:
Shake Duke & Dame, Hypnotiq, and Blue Curacao in cocktail shaker and pour into rocks glass over fresh ice. Top off with club soda. Garnish rim with strawberry slices.
Independence Rey
Ingredients: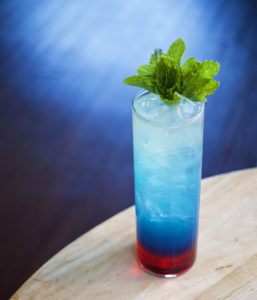 .75 oz Pomegranate Syrup
1 oz Lime juice
2 oz SelvaRey White rum
.5 oz Blue Curacao
Mint
Directions:
Pour .75 oz Pomegranate Syrup (Grenadine) into a glass. Next, add ice to that same glass. In a separate glass, shake, strain, & pour 1 oz Lime Juice and 2oz SelvaRey White Rum down a bar spoon into the original glass. After, pour .5oz Blue Curacao on top of the lime and rum mixture. Add a Mint Bouquet Garnish to the rim. Lightly stir all ingredients in the glass before enjoying.
Inspiro She's A Firecracker
Ingredients: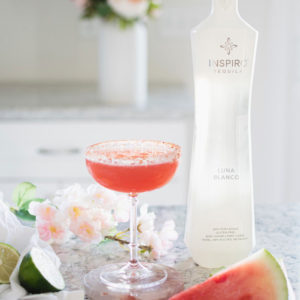 2 oz Inspiro Tequila
2 oz watermelon juice
¾ oz lime juice
¼ oz agave nectar
Sugar and chili lime salt, to rim
Directions:
Chill coupe. Meanwhile, add all ingredients to cocktail shaker with ice. Shake until cold. Rim chilled coupe with sugar and chili lime salt. Strain cocktail into glass and enjoy!
Blood Orange Sparkler
Ingredients: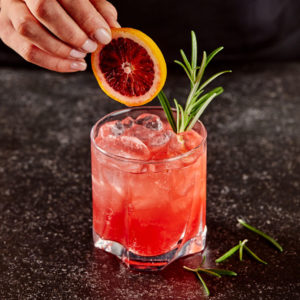 1 1⁄2 oz of Dirty Devil Vodka
3 oz freshly squeezed Blood Orange Juice
1 tbsp of Rosemary simple syrup
1 dash of orange bitters, or the bitterness of your choice
Directions:
Add ice. Fill with sparkling water.
Red, White, & Blue Gancia Spritzer
Ingredients: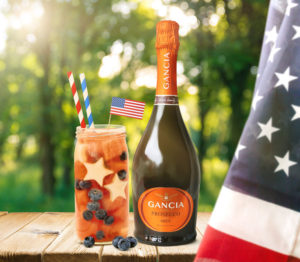 1 bottle of Gancia Prosecco D.O.C.
3 large apples
4 cups club soda, well-chilled
4 teaspoons of sugar
1 cup fresh strawberries, hulled and sliced lengthwise
½ cup fresh raspberries
½ cup fresh blueberries
Directions:
Place apples on a cutting board and slice 2-3 large pieces on either side of the core. Cut the
pieces into ¼" thick slices and use a small star cutter to cut out star shapes from the apples. In a large pitcher stir together Gancia Prosecco D.O.C., club soda, and sugar until sugar is dissolved. Add apple stars, strawberries, raspberries, and blueberries and serve.
Recipe courtesy of Gancia.