Desert Door Texas Sotol is releasing Pollinator, the third spirit variation in its Conservation Series bottle program, inspired by saving native bees, on July 7. The Conservation Series is made to support the conservation work of Wild Spirit Wild Places (WSWP), a nonprofit established by Desert Door. WSWP creates connections and builds communities committed to protecting the expansive wild lands of Texas through conservation and education efforts.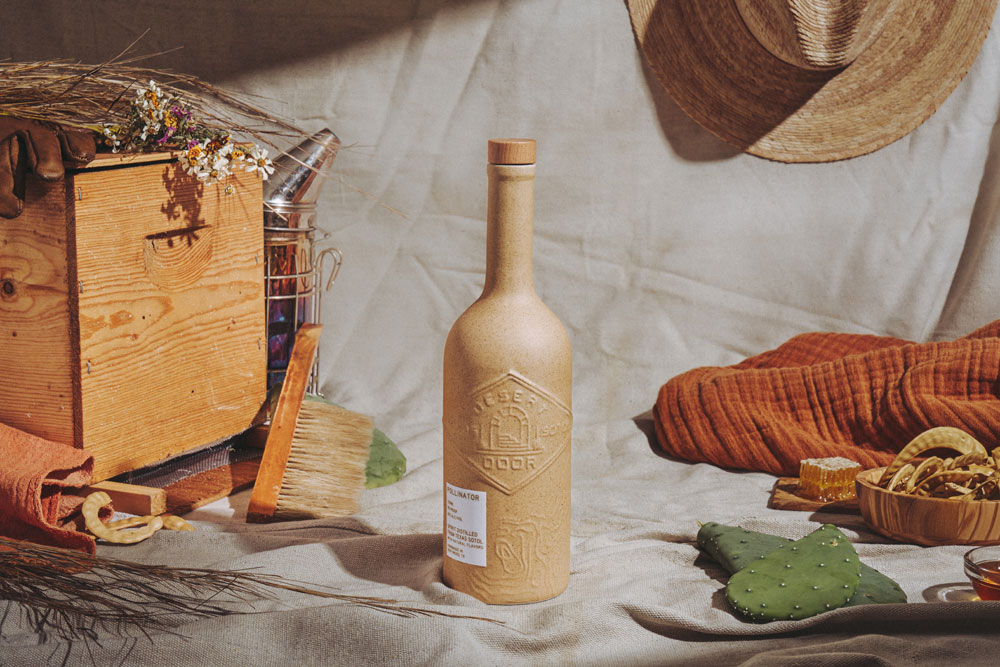 Pollinator is available at select retail locations in Texas, Tennessee, Georgia and Colorado and at the Desert Door distillery, priced at $49.99 for the 750ml bottle.
The Conservation Series highlights individuals and organizations taking remarkable action in conservation and land stewardship, and this year's release celebrates the recent designation of Austin as an official Bee City by the Xerces Society for Invertebrate Research. Pollinator was created with mesquite, persimmon and honeysuckle, which are native plants that are pollinated by Texas bee species.
"At Desert Door, conservation is at the core of what we do," said Ryan Campbell, CEO of Desert Door Texas Sotol. "We believe deeply in making sure wildlands – like the desert where we wild-harvest the sotol plants for our spirit – are preserved for future generations,
and one of the best ways we can do that is by supporting the pollinators that keep this ecosystem thriving."
Pollinators, including native bees and honeybees, are vital for the preservation of ecological balance and biodiversity in nature, and are responsible for the reproduction of almost 90% of the world's flowering plants. They play a major role in our existence. WSWP and
Desert Door worked in partnership with the City of Austin Parks and Recreation Department, and the Austin community to pass a resolution in March 2022 designating Austin a Bee City. In support of the partnership, Desert Door and WSWP are implementing a variety of events to help maintain this designation and uphold Xerces Society's Bee City USA requirements by creating pollinator habitats on public and private land, increasing the abundance of native plants which provide nest sites, hosting pollinator awareness and
education events, and publicly acknowledging the Bee City USA affiliation in all efforts.
"Wild Spirit Wild Places is proud to have the ongoing support of Desert Door as they created this one-of-a-kind expression of their Texas Sotol celebrating the humble bee," said Dr. Karen Looby, CEO of Wild Spirit Wild Places. "With the help of the community, we
look forward to ensuring Austin's Bee City designation is maintained so pollinators across the country are supported for generations to come."
The 750ml Conservation Series bottle was inspired by the rugged desert lands where West Texas sotol plants grow. Designed by in-house designer Carolina Colantuoni, the bottle is textured like sand, and gives the tactile experience of the desert. The topography
of the Chisos Mountains wraps around the bottom, a map of where sotol grows in abundance. Each Pollinator bottle will feature a tag on the neck that directs people to the WSWP website, where they can redeem seeds to grow native plants and further support the effort.
Desert Door and WSWP invite all to get involved in conserving native pollinators by providing them with a healthy habitat rich in a variety of native plants and nesting sites. Together, they have identified public and private locations for additional pollinator gardens
in the Austin area and invite the community to attend upcoming workshops and seminars focused on building support for this cause. More public initiatives will be announced in the coming weeks. In the meantime, individuals and organizations interested in partnering
in this effort and/or donating a space to host a pollinator garden can email [email protected] for more information.