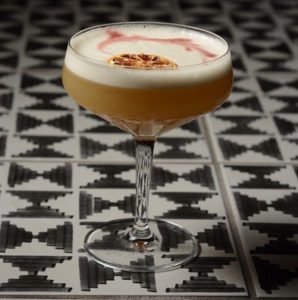 Ingredients:
1.5 oz Hendricks Gin
.75 oz Zamaca
.5 oz Yuzu
.5 oz Demerara Ginger Syrup
Egg white
Directions:
Combine all ingredients in a shaker, add ice, and shake vigorously. Double Strain into a Cocktail Glass. Garnish with lemon zest discard then Angostura Hearts, Dehydrated Lemon.
Glass: Cocktail Glass
Courtesy of DÔA's Bar Manager Josh Gonzalez.