By Tara Milburn
COVID-19 was a catalyst for change, and for months, the changes that it brought about were daunting. Unsure of the duration of the virus and associated social isolation, businesses faced a steep climb with no real view of the top peak. Few industries had a steeper climb to normal than the food and beverage industry, when in-person dining became impossible, and when bars, lounges, and performance venues became some of the first locales to shut their doors.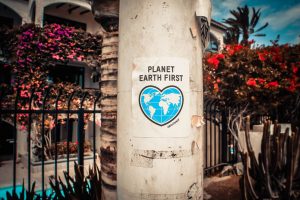 In this phase of recovery, change remains constant. The new normal is in constant negotiation, with new shifts and developments taking place every day. But these changes come less with a sense of dread and more with a sense of hope, urgency, and responsibility. The vaccine rollout has put some of the control back into the hands of business owners, and food and beverage professionals have the opportunity to take an active part in this era of change; a positive force of conscious transformation.
To guide them, consumers have unanimously named the most pressing area of focus; market standards for sustainability have never been so high. Whether it was taking more conference calls on nature walks, or noticing for the first time an improvement in air quality due to less people being on the road, the pandemic has heightened our collective awareness around environmental issues. Climate change has taken its rightful place, alongside the COVID-19 pandemic, as a global health and safety reality. And like the recent pandemic, it will demand our attention, adjustments, and investments. Below are a few places for food and beverage professionals to begin on the path to sustainability.
People First
Developing a more responsible corporate operation means understanding the effect you're having on the planet and on its people. Energy, time, and human well being are non-renewable resources. The last year and a half asked everyone to care for their communities in a way that was more direct than it has been in generations. With that lesson, the public has kept its eye on how companies are treating their employees, and consumers are more likely to frequent businesses that commit to socially responsible, beneficial practices.
The sustainability overhaul is daunting, but beverage professionals can begin with simple actions taken toward improving their company culture and opening themselves up to the feedback of their team. Now is the perfect time to understand how employees are finding their work life balance, how the benefits and health plans offered compare to the market average, and what "improvement" would look like in the eyes of the team.
These are questions easily answered if a healthy, two-way dialogue is available to employees—employers who take the necessary steps to establish that connection and prioritize those changes will see that the results pay dividends.
Local Next
Having turned to your immediate team, look next to your surrounding community. A real recovery will be a shared recovery, and it's more than likely that small vendors, farmers, and providers in your local area are somewhere on their climb to recovery as well.
The COVID-19 pandemic made the flaws in the generic supply chain strategy obvious. Sourcing products locally whenever possible would not only be more environmentally friendly, reducing the carbon footprint that comes with packaging, transporting, and delivering, it would make for a more resilient and reliable supply.
The post-pandemic inflection point is a great opportunity to explore your local ecosystem of vendors, to get to know nearby farmers and suppliers personally, and to seek new symbiotic relationships across different aspects of your supply and fulfillment strategy.
Minimal Materials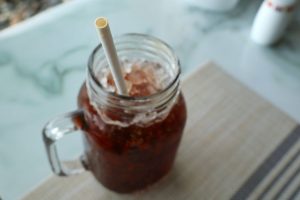 For most businesses, true environmental neutrality can feel like a far-off goal, out of reach enough to prevent initial action. But in truth, making progress toward more sustainable operations looks like a series of small steps.
Owners can engage in an audit from an accredited company like B Labs to see where they stand and what could be improved. Simple steps like minimizing single-use plastics at the bar, replacing dish-cleaning appliances with more eco-friendly options, and purchasing drink ware or place settings from sustainable manufacturers can make an incredible impact.
Constant Communication
Moving in the right direction is every business's responsibility, and it's clear that neglecting that responsibility has life or death consequences en masse. But on a more individual level, taking real and sustained action toward a better way of operating will offer a quick, much-needed economic advantage that can create the margins that allow owners to make their next investment.
Consumer support has been high and unwavering when it comes to patronizing sustainable companies. 75% of millennial consumers will pay more for sustainable products and services. Further, 54% of Generation Z respondents—still entering their high-earning years—would be happy to pay up to 10% more.
It's important, then, that owners find resonant ways of communicating their journey toward green operations, updating their consumer network on their solutions and their future plans. Having a segment of your website dedicated to providing more information about your vendor partnerships, your sourcing strategies, and your supply chain footprint is a great way to set the tone for true transparency.
Engaging your employees and asking what they'd like to see as far as local involvement, carbon offset programs, and charity initiatives is another important step. Find new ways to make the journey part of the experience.
Add physical notes to customer place settings that explain a sustainable material, promote a local vendor, or offer more information about a composting strategy.
When this is done correctly, it's more than marketing. It's taking a more transparent approach in the post-COVID corporate normal—a new era that might really be our last second chance.
Tara Milburn is the Founder and CEO of Ethical Swag, a sustainable branding company that makes it easy for hospitality brands to offer personalized promotional products that they can stand behind. Certified as a B-Corporation, Ethical Swag has been audited to the highest global standard for sustainability.