Hudson Whiskey, hailing from the distillery that started the New York whiskey revival, introduced its oldest release to date – Four Part Harmony, a four-grain bourbon whiskey aged a minimum of 7 years.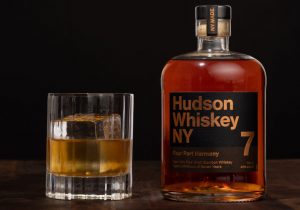 Just like the cultural tapestry of its eponymous state, Hudson Whiskey's new, matured bourbon offering is a sum greater than its parts. Featuring the rich sweetness of corn, sharp peppery notes of rye, the smooth subtlety of wheat, and the light fruitiness of malted barley, the flavors work together like a jazz quartet—a perfectly harmonious combo that ends on a high note every time.
At the forefront of the American craft spirits movement, Tuthilltown Distillery was the first New York distillery to open post Prohibition. This is where Hudson Whiskey was born out of the bold intention to make the state's first bourbon ever, and celebrate the creative and unrivaled spirit of New York. Years later, the brand's original four-grain bourbon came out as a 2010 limited edition release, fostering a huge fan base before selling out. Now, having been cultivated long enough to release considerably-aged offerings of refined character and taste, Four Part Harmony signals the start of a new era.
"Hudson Whiskey has been looking forward to this moment ever since our humble beginnings upstate, so we're thrilled to unveil our oldest release to date," says Paul Coffey, Senior Brand Manager of Hudson Whiskey. "Four Part Harmony is ready to 'wow!' dedicated Hudson fans and turn other whiskey drinkers' heads with its bold, yet refined taste. This release shows Hudson Whiskey's intent to continue pushing boundaries and paving the way within this pivotal time in the American craft whiskey movement."
As the first legal distillery in New York State following Prohibition, the brand has firm ties to the region and continues to source 100% of its grains proudly from neighboring farms. The Kosher Certified whiskey is ​​pot-distilled from a mash of 60% corn, 15% rye, 15% wheat, and 10% malted barley. "I am so proud of this liquid," says Brendan O'Rourke, Hudson Whiskey's Chief Distiller. "The locally-grown mash bill produces a deep amber color and nose of sweet corn, rye bread, rich vanilla and dark cherries. Drinkers will find that every grain plays its part to create a complex whiskey with a lasting finish."
Ever evolving and always exciting, Hudson Whiskey's reinvented portfolio recently rolled out nationwide with a new look and feel inspired by the New York subway system. Flagship variants include Bright Lights, Big Bourbon and Do The Rye Thing, with perennial favorite Short Stack, a rye whiskey finished in maple syrup casks, and Back Room Deal, a one-time limited-edition finished in peated Scotch barrels. Now rounding out the new offerings is Four Part Harmony, the newest limited-edition release at 92 proof (46% ABV) and SRP of $69.99 (750ml).