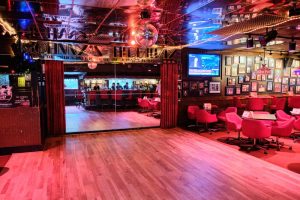 Johnny's Hideaway has been guaranteeing good times since 1979, and the popular Atlanta restaurant and dance club isn't going to let COVID-19 change that. Despite the state's strict capacity limits and other mandatory safety requirements, Johnny's owner Chris D'Auria has managed to retain all of his employees and keep his business successful by engaging guests virtually in the early days of the pandemic and implementing extensive cleaning measures to keep staff and patrons safe upon reopening.
"We've been able to keep our business at 70% of what it was pre-COVID," says D'Auria, who wisely pivoted to livestreaming events when non-essential businesses had to close and has even seen a 20% increase in food sales during the pandemic.
D'Auria attributes Johnny's success in the spring to Nancy Tardo, one of his managers, who came up with the idea to pivot to a virtual nightlife experience during Georgia's shelter-in-place orders. Every Saturday night for eight weeks, Johnny's DJ Spencer Pearson would livestream a set on Twitch from 8 p.m.-midnight so patrons could pour themselves a drink and party from their living rooms. The virtual dance parties attracted more than 150 attendees each weekend.
Once he was safely able to reopen the Buckhead nightspot in June, D'Auria went above and beyond the state-mandated requirements with the help of CleanWell Services, the Southeast's certified applicator of MonoFoil D®, which is a nanotechnology-based cleaner that molecularly bonds to surfaces and kills microbes for more than 30 days. MonoFoil D® is an EPA-approved, safe and non-toxic product that is effective against over 100 different strains of bacteria, fungi and viruses, including the SARS-CoV-2 pathogen. Johnny's was the first nightclub in Atlanta to utilize this sanitizing and disinfecting cleaner.
In addition to the MonoFoil D® treatment, which is done monthly, Johnny's also put the following protective measures in place to ensure the safety of employees and patrons:
All staff members are required to wear masks at all times.
Employees undergo daily temperature checks upon arrival and before departing the nightclub.
Nightclub capacity is managed using tally counters.
Guests are asked to hold their identification cards when showing to doormen at entrance.
A partition was installed around the dance floor to create one entry point and one exit point so staff could limit the capacity to 20 people.
Johnny's Hideaway is located at 3771 Roswell Road, NE in Atlanta. For updates on the restaurant and upcoming events, follow Johnny's Hideaway on Instagram and Facebook. For additional information, call 404-233-8026 or visit johnnyshideaway.com.