Contactless has gone from buzzword to necessity in the hospitality industry as bars search for ways to reduce interactions between customers and staff. The payment and ordering process is just one area that has been revolutionized by technology.
"I think overall the service industry has been somewhat reluctant to adapt technology, but now with the current situation, they're starting to see this technology actually can save you money, and it actually is a little bit easier for the customers as well," says Joe DePinto, director of Sales for Barpay, a contactless ordering and payment platform.
According to Shift4 Payments, a leader in secure payment processing solutions, technology has helped enable establishments to actually increase transactions. Shift4 has been making its transaction data public on Shift4Cares.com since the beginning of the pandemic, and while it saw the lowest transaction volumes at the end of March, transactions have been steadily increasing since then.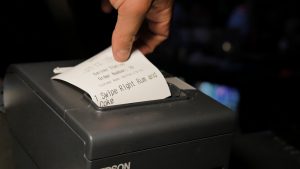 In a September press release, Shift4 noted that 47 states increased transaction volumes in August compared to the beginning of the summer, with more than half of all states showing an increase of greater than 20%. As of September 15, since the lowest point in late March, restaurant transactions were up over 190%.
"This data suggests that restaurants, bars, and hospitality businesses have successfully adapted to the situation by implementing social distancing practices, contactless payments, online ordering, QR Pay, and other measures to safely engage in commerce with their patrons," says Nate Hirshberg, vice president, Marketing, Shift4 Payments.
More recent data showed that, despite an anticipated seasonal slowdown, payment volume was relatively consistent between August and September throughout the majority of the country, suggesting continued recovery. Some states even grew transaction volume month-over-month in September, including Arizona, Nevada, Utah, California, Louisiana, and New Mexico.
"The hospitality industry typically experiences a seasonal volume decline in the fall. The seasonality was less pronounced in our data," said Jared Isaacman, Shift4's Founder and CEO, in a press release. "These positive trends are very encouraging."
Shift4 also found that transaction volume is increasing in suburban areas with more stay-at-home workers. However, states that heavily depend on tourism continue to be impacted by COVID-19.
Shift4's end-to-end payment volume in Q3 was up over 20% when compared with the prior year, which the company says can be attributed to many new merchants adopting contactless payment solutions such as SkyTab and QR Pay.
SkyTab is Shift4's mobile ordering and pay-at-table solution, and at the start of the COVID-19 pandemic, the company adapted the product to work for curbside pickup and delivery with the addition of 4G cellular connectivity.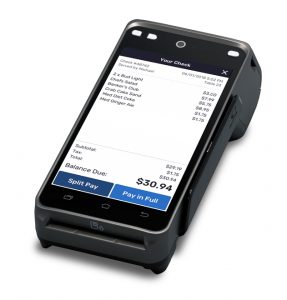 "Every SkyTab terminal includes built-in 4G connectivity so that it can operate outside of the business, whether that's curbside or on-the-road for delivery orders. SkyTab also supports contactless NFC payments to enable a completely touchless payment experience," says Hirshberg. "We also unveiled SkyTab Online, a completely free, integrated online ordering solution for our customers. Both of these offerings help facilitate a seamless transition to takeout and delivery for restaurants and bars."
In addition, Shift4's QR Pay and new QR code ordering system enable customers to order and pay by simply scanning a QR code at their table.
To further benefit bars/restaurants, Shift4 has partnered with Uber Eats, a third-party integrations app available within the Shift4 Marketplace. This partnership enables food orders placed through Uber Eats to sync directly with Shift4's POS software so all orders can be managed from one central location. "This ultimately saves the restaurant money, frees up counter space, and streamlines overall operations," says Hirshberg. "In addition to increased operational efficiency and cost savings, this integration also greatly improves the merchant's reporting data since all orders are being handled by a single system."
Barpay also offers QR code-based contactless ordering and payment in an "app-free" platform. Interested bars fill out a form, implement and upload their menu, and receive two Epson thermal receipt printers, which print out the orders.
The platform also supports takeout by generating a link that can be put on a website or social media. The link takes customers though the same ordering and payment process as if they had scanned the QR code in the bar. The only difference is they receive a notification at the end of their order saying when it will be ready. "It's an extremely simple way to be able to offer takeout without having to build out a completely new system," says DePinto.
For venues still considering contactless tech, DePinto says to weigh the risks of new technology against the risk of sudden closures due to COVID-19. "If you have staff members who end up getting sick and testing positive, once you hit a certain number—out here in California it's three—you have to close your venue for a certain amount of time, you have to bring in a sanitation crew, and there's bad press involved with that," he says. "[With Barpay,] you're reducing the amount of interaction between the staff and the customer, so in essence you're protecting yourself and making sure you're going to stay open."
DePinto says contactless payment and ordering also leads to greater efficiency and the ability to reduce staff per shift, which is important at a time when venues are operating at reduced capacities. "If you're operating a restaurant at 50% capacity and you're still having the staff the same, your margins are just gone," he says.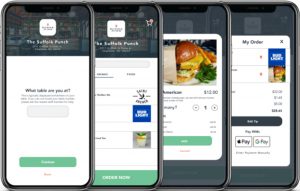 DePinto recognizes that reducing servers can be a divisive topic, but he says technology like this doesn't eliminate positions, it just enables servers to be shifted less while still making the same amount of money. "With our system, we have a default 20% gratuity," he explains. "Instead of having four people on the floor four days a week, you might only have two people on the floor three days a week, but the overall tip amount is going to be the same. Now it's just getting distributed in larger amounts to fewer people but across the board it actually comes out to be where the servers are working less shifts but making the same amount of money."
Even after the pandemic ends, DePinto believes that contactless payments will stick around. "Owners are doing things that they otherwise probably wouldn't have tried, but now they are trying it and having success," he says. "They're telling us, 'I don't see why I wouldn't keep using this once things go back to normal.'"
By Ashley Bray
Photos (top to bottom):