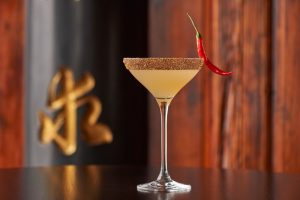 Ingredients:
1.7 Stoli Vanilla Vodka
.5 Giffard Lichi-li
.85 Lime juice
.5 Honey syrup
1 Crushed sichuan peppercorns, rim
1 Dried Thai chili segment
1 whole Thai chili
Directions:
Pick a martini glass. Rim coupe with peppercorns. The grind should be coarse and fresh. Peppercorns expire after being ground. Combine liquid ingredients and dried chili
in a shaker with ice. Shake and double-strain into glass. Slice fresh chili pepper on the outside of the curve and wedge onto the rim of the glass with the tip pointing outward.
Recipe and photo courtesy of Hutong Miami