By Megan Prevost
With the holiday season fast approaching, it's time to start thinking about your marketing strategy. Reworking your strategy during the holiday season is a great way to increase revenue and draw in a bigger audience. By switching up your marketing tactics with new menus, parties, and partnerships, you can establish your bar as the place to meet up with friends and family during the holidays this year.
1. Create a Festive Cocktail Menu
With Christmas and New Year's Eve approaching, it's the perfect time to get festive with your cocktail menus! Use this time to think up some new, fun, creative drink options for your bar. These seasonal options are a great way to convince regular customers to stop in and try something new.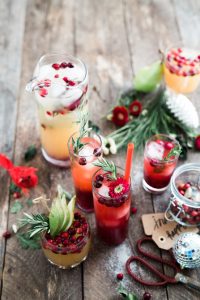 You can even create a new menu (either from scratch or by using a menu template) to showcase your new cocktail options. Whether you're hosting a holiday happy hour or looking for a way to display your new seasonal beverages, designing a new menu is a great way to share some holiday cheer with your customers.
2. Don't Forget to Advertise on Social Media
Social media marketing is incredibly valuable for restaurants and bars, allowing businesses to share updates quickly and connect with customers in a meaningful way.
To create an awesome social media campaign for the holidays, start with a specific thing you want to advertise. Are you holding any promotions, parties, or trivia nights? Do you want to showcase new cocktails or food options?
Once you've made these decisions, you can begin planning out your social media content for the month. For the best results, plan out your social media calendar, deciding when you're going to post what content each day or week.
Build out content that makes customers want to engage by checking out what other restaurants are doing in your area. Look at the successful efforts and the not-so-successful ones. What are they doing right that you can apply to your own strategy?
3. Partner with Local Vendors
To increase your brand awareness, and help others do the same, you can partner with local vendors, such as pop-up shops and food trucks. As many bars don't have extensive food menus, this can be a great way to get more customers in the door. By offering food options for holiday parties, trivia nights, and more, you'll benefit from your own traffic and the customers of the vendors you partner with. Anyone who comes out to visit the food truck will learn of your business and potentially stop in for a drink!
4. Have a Trivia Night
Embrace the holiday season with holiday-themed trivia nights! Offering prizes (both large and small) is a great way to draw out a crowd. You could host regular holiday trivia or choose a specific movie for trivia. Cult favorites are great for this, like Elf!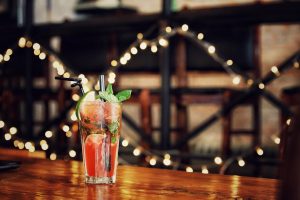 Trivia nights can draw large crowds and boost sales of high-margin items like drinks and appetizers, and the cost of the prize is often minimal when compared to the revenue accumulated from a busy night! Not only that, but trivia nights are also great for marketing. You can easily advertise them on social media or flyers.
Not only are trivia nights fun for the guests, but they're fun for your staff as well. It's important to keep your staff happy during the holiday season. Many staff members experience burnout during the holiday season, so it's important to keep them engaged with fun events. They deserve to enjoy the holiday season just as much as your customers! Plus, a happy employee will always provide better service.
5. Throw a Holiday Party
And of course, the best way to market your restaurant for the holiday season is by throwing a holiday party. By throwing a holiday party, you give your customers a reason to get out of the house and a place to meet their loved ones to make cherished holiday memories.
Holiday parties also give you something to advertise on social media, lending well to a marketing campaign. You can also feature special drinks, partner with local vendors, and have live music. A holiday party is really a catch-all, a great way to bring all of these marketing ideas together for a successful night.
Whether you're looking to drum up some business, throw a fun party, or give friends and family a place to make cherished memories, try out these fun marketing tactics this year!
Megan Prevost is a marketing content writer for MustHaveMenus. Her work has appeared in PMQ, App Institute, The Daily Fandom, and FanSided.