We recently featured the book Mixology and Murder by Kierra Sondereker in our 2021 Bar Industry Holiday Gift Guide. The book features cocktails inspired by infamous serial killers, cold cases, cults, and other true crime stories, but if you're looking for hair-raising, scary-good cocktails for Thanksgiving and the holidays, the book has you covered as well.
Check out the recipes below and consider adding one to your bar's menu—if you dare.
Baker's Buttered Rum
Ingredients:
For the Batter: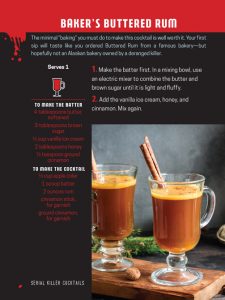 4 tbs butter, softened
3 tbs brown sugar
1/2 cup vanilla ice cream
2 tbs honey
1/2 tsp ground cinnamon
For the cocktail:
1/2 cup apple cider
1 scoop batter
2 oz rum
cinnamon stick, ground cinnamon for garnish
Directions:
Make the batter first. In a mixing bowl, use an electric mixer to combine the butter and brown sugar until its light and fluffy. Add the vanilla ice cream, honey, and cinnamon. Mix again. Transfer the mixture to a sealable container and store in the freezer until the mixture is mostly solid, about two hours.
For the cocktail, heat the apple cider in a small saucepan until it boils. Remove from the heat. Place a scoop of the almost-frozen batter in an Irish coffee glass. You'll have extra batter, which you can store in the freezer and keep until you want to make this drink again. Pour the rum over the batter, and then top off the whole thing with hot apple cider. Garnish with a cinnamon stick and a sprinkle of ground cinnamon.
Big Muddy Mulled Wine
Ingredients: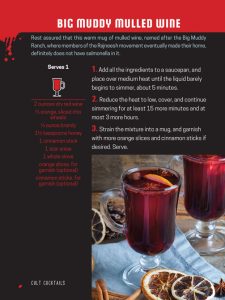 2 oz dry red wine
1/2 orange, sliced into wheels
1/2 oz brandy
1 cinnamon stick
1 star anise
1 whole clove
orange slices, for garnish
cinnamon sticks, for garnish
Directions:
Add all the ingredients to a saucepan and place over medium heat until the liquid barely begins to simmer, about five minutes. Reduce the heat to low, cover, and continue simmering for at least 15 more minutes and at most three hours. Strain the mixture into a mug and garnish with more orange slices and cinnamon sticks, if desired.
Credit: Excerpted from Mixology and Murder by Kierra Sondereker. Copyright © 2021 Ulysses Press. Reprinted with permission from Ulysses Press. New York, NY. All rights reserved.