By Ashley Bray
On October 27, Side Bar at Ogden's Own Distillery in Ogden, Utah opened its doors to the public. The cocktail bar is located onsite at the brand-new, state-of-the-art, 32,000-square-foot distillery facility and amphitheater that Ogden's Own relocated to last summer.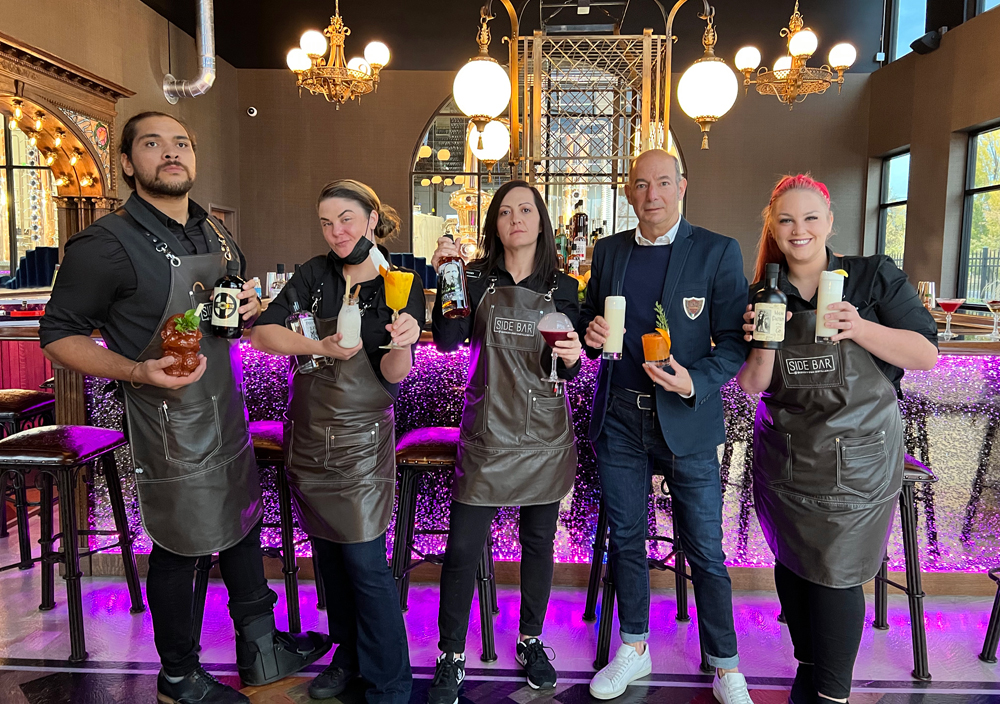 "With Side Bar, we strive to share our inspiration with consumers and industry members through creative craft cocktails that use taste and presentation to engage all human senses—including your mind and heart," said Mark Fine, President of Ogden's Own Distillery, in a press release.
Fine, who was hired in September, has been in the industry for over 30 years and has held roles at Norwegian Cruise Line Holdings, Southern Glazer's, and other industry-leading distributors, importers, and suppliers.
Fine has poured his years of experience into the beverage program at Side Bar along with support from a team that includes Emily Yett (bartending consultant who has appeared on Bar Rescue) and Brand Ambassadors and Resident Mixologists of Side Bar Brandi Strickler, Felicia Parsons, and Tommy McKeever.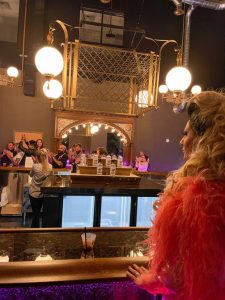 The program aims to make the ordering experience as simple as possible for guests. "Too many people go to a bar or restaurant and don't know what to order, and we wanted to rethink that experience with an environment that is fun and unpretentious but executed with the utmost precision and professionalism, helping our guests discover multiple cocktails fitting their tastes and moods at any given time," he said, in a press release.
To accomplish this, Side Bar's beverage menu is categorized into four flavor groups: Sweet & Fruity, Sour & Tart, Spicy, and Spirit Forward. Each category will feature Ogden's Own's core portfolio of spirits:
Five Wives Vodka (flavors "Sinful" and "Heavenly");
Porter's Whiskeys (Porter's Small Batch Rye and flavors Peanut Butter, "Fire," Huckleberry, Apple, Peach);
Madam Pattirini Gin; and
Underground Herbal Spirit
"We'll actually make cocktails with each of those as the main ingredient," explains Fine, who says the cocktail selection will rotate every two to three months and use seasonal ingredients from the local area.
The menu will also include non-alcoholic options alongside the cocktails. "We really want people to be a part of the experience, whether they're drinking alcohol or not drinking alcohol," says Fine. "I don't want them to feel that their only choices are water, soda, juice, or just a non-alcoholic Piña Colada or Shirley Temple. I want them to have something that really tastes good but also looks good—with a cool glass or a cool garnish."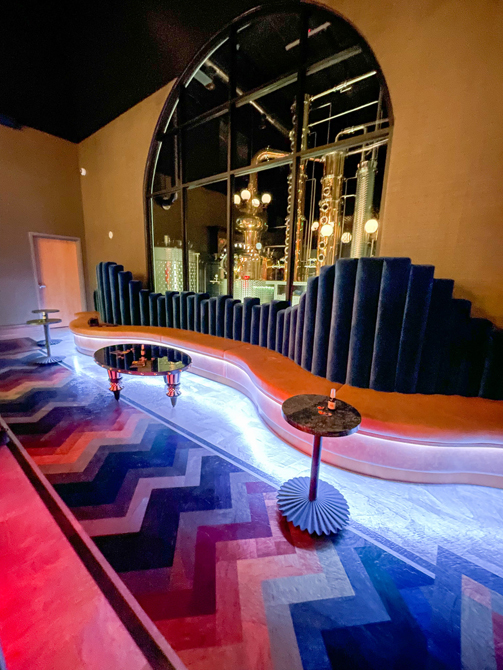 These "cool" aesthetics are something that Fine has carried over into the entire beverage program so that the cocktails are just as visually interesting as the beautiful view of the Wasatch mountains outside the bar. "We want to touch more than [taste]—we want it to be visually appealing, we want it to touch your heart, your mind, to be thought-provoking, to really have something that wows," he says.
To make the cocktails an "Instagrammable" experience, Fine has focused on different aspects of presentation, including garnishes, crafting cocktails tableside, and the selection of glassware. "A lot of people don't think about glassware. I've been to cocktail bars, and I'll be with eight people, and we will have five or six different types of cocktails, but they are probably in two different glasses. And they may look different, but they're still in the same glassware, and maybe not even the appropriate glassware, for the best way to smell, taste, and be a part of that experience of what that cocktail is," says Fine. "So we're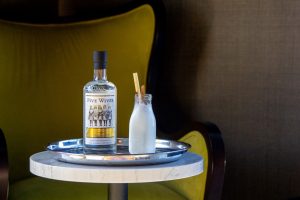 looking into cool vessels that you may see in Tiki bars, or you may not see in any bars."
The selection of vessels will also tie into the bar's sustainability initiatives, which include eliminating single-use plastic straws and plastic cups. The bar aims to reuse items like soup cans or glass milk jugs as drinking vessels, or as Fine cited, even a honey container in its riff on a Bee's Knees. "Because it's honey based, we're actually going to put it in a honey bear container like you would see in the grocery store," explains Fine, who says the garnish will also play a role in the experience. "Again, we want them to have the full experience where we have the proper garnishing. With the Bee's Knees, we're going to garnish it with freeze-dried honey. So it's something cool, unique, and different."
Another example is how the bar plans to serve its Porter's Peanut Butter Whiskey. "We are going to make a peanut butter cup. We have found these dark chocolate shells that actually have the ridges just like a Reese's Peanut Butter Cup, and we're going to serve our Porter's Peanut Butter Whiskey in those dark chocolate shells. So you can drink it, taste it, sense it, and feel it," says Fine. "And then hopefully these are ideas that not only we create at our cocktail bars, but we want to share with bartenders, bar managers, and others. Let's think outside of the box and think how do we use something unique and different that makes customers say, 'This is a memorable experience.'"
Collaborating and engaging with other bar owners/staff is something that Fine emphasizes is a priority for Ogden's Own and Side Bar. At the end of the day, the bar's focus is on brand awareness and education. "It is a fine line because we're also a distillery, and we want to sell our liquor to all the bars and restaurants in Utah and beyond. So we don't want to take business away from our neighbors that are promoting our products as well," he says. "We will have a great team that are really great mixologists, bartenders, and bar managers that are seasoned professionals that can educate and entertain, they can 'edutain' if you will, and they can give you the stories behind the labels and the recipes of the cocktails."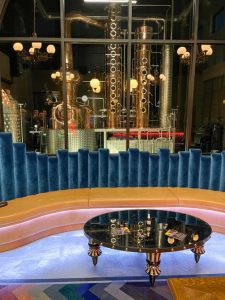 Fine notes that Side Bar is also aiming to host monthly cocktail classes on spirits, garnishing, and other topics, and that they will also be giving out complimentary recipe cards to guests so that they can recreate the cocktails at home. Fine hopes that the recipe program will also include submissions from bartenders around the country using Ogden's Own brands.
In fact, one of Fine's top priorities in his new role as President is fortifying relationships with some of Utah's best bartenders, not only by incorporating them into Side Bar, but also as brand ambassadors. "Sometimes you have sales people out there representing a brand, and they've never bartended in their life. They probably can't even tell you how to make cocktails with the brand they're trying to sell. So we are hiring groups of people that understand what the cost of goods is and what your pouring costs are," says Fine, who also mentions that a bartender competition is in the works for next year, part of which will be hosted in the distillery's new amphitheater.
Speaking of events, Ogden's Own is hoping to take advantage of its amphitheater in 2022 to host events like music festivals and yoga classes.
Food pairings may also happen as the bar is partnering with local vendors to bring in snacks. "In Utah, a bar is required to have food for sale, but it can be as simple as finger foods. So we're actually working with local vendors," says Fine, who notes that they're considering doing things like cupcakes and cocktail pairings or popcorn and cocktail pairings. "We're really trying to think outside of the box."
Try this recipe from Side Bar:
Doctor's Orders
Ingredients: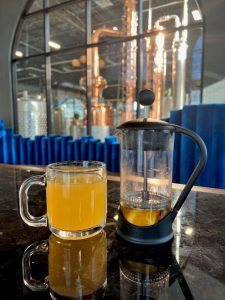 .25 oz Apple Vinegar
.25 oz Honey Syrup
.25 oz Ginger Syrup
.5 oz Lemon Juice
1.5 oz Porters Peach Whiskey
2 oz Apple Juice
2.5 oz Hot Water
Glassware: Coffee mug, French press
Garnishes:
In French press: 2 scoops apple pie filling, cinnamon, 2 orange slices, 2 lemon slices, and star anise
In glass: Candied ginger or dehydrated apple slice
Directions:
Pour all ingredients into French press with French press garnishes. Top with hot water. The longer the mixture sits before pouring it into a mug, the sweeter and more cooled it gets. Less sitting time means the drink will be stronger and hotter.