Make your holidays merry and bright with one of the holiday cocktail recipes compiled below. Looking for even more holiday cocktails? Check out this post.
Pomegranate Moscow Mule
Ingredients: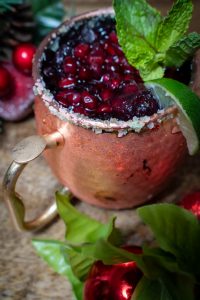 1.5 oz. premium vodka
.5 ounce fresh lime juice
3 ounces of pomegranate juice
Crushed ice
Ginger beer
Copper mug
Twang-A-Rita Unwind Lime
One fresh lime
One mint sprig
Directions:
Rim a copper mug with Twang-A-Rita Unwind Lime. Add crushed ice to the mug. Combine
1.5 oz of premium vodka, .5 oz. of fresh lime juice, and 3 oz. of pomegranate juice and add to the mug. Top off with ginger beer. Garnish with lime and mint sprig.
Recipe courtesy of Twang.
Recuerdo Mezcal Christmas Sour
Ingredients: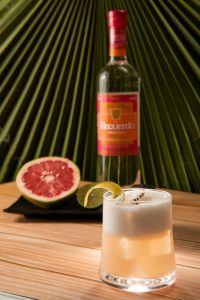 1.5oz Recuerdo Mezcal Joven
2oz Grapefruit Juice
Grapefruit twist (harvest before juicing)
.25oz lime juice
1 egg white
1oz simple syrup
4 basil leaves
3 drops of orange cardamom bitters
Directions:
For the cardamom bitters, preheat the oven to 200 degrees Fahrenheit. Peel 4 large oranges with a vegetable peeler and place them on a baking sheet. Dry them in the oven for approximately an hour, stirring them every 20 minutes or so – when they're ready they should have lost the majority of their moisture. Add them to an airtight jar with 3 cardamom pods that have been gently crushed alongside 2 cups of vodka. Allow to infuse for 2 weeks in a cool, dark place and shake once daily. Once infused you can strain out the cardamom and orange peels using a coffee filter. For the cocktail, dry shake all ingredients except for the bitters. Shake again with ice and serve in an old fashioned glass with ice. Carefully drop the bitters on top, garnish with a sprig of basil and a grapefruit twist.
Spicy LS Coco
Ingredients: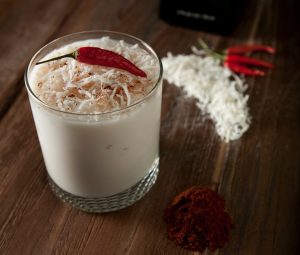 2 oz LS Cream Liqueur
1 oz mango flavored rum
1 oz milk
1/4 oz coconut flavored rum
Crushed Thai chili beans
Directions:
Add all the ingredients into a shaker. Fill with ice and shake vigorously. Strain into an old fashioned glass filled with crushed ice. Add grated coconut. Sprinkle some ground chili on top. Add a red Thai chili pepper on top for decoration.
Grace's Hot Whiskey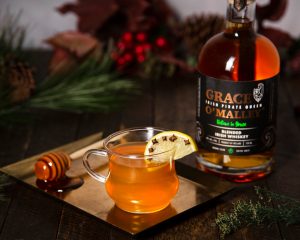 Ingredients:
¾ cup water
1½ ounces Grace O'Malley Whiskey
2 teaspoons of honey
1 lemon round studded with cloves (for garnish)
Directions:
Pour Grace O'Malley Blended Irish Whiskey into a glass. Add two teaspoons of honey and leave the honeyed spoon in the glass to stop it cracking. Pour in boiled water and stir. Add a slice of lemon studded with cloves.
Casillero del Diablo Blood Orange Mulled Mint Toddy
Ingredients: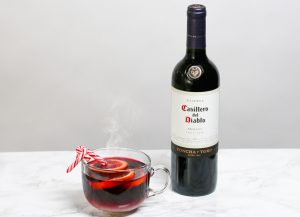 1 ½ cups spiced rum
1 bottle Casillero del Diablo Merlot
4 cups water
4 bags peppermint green tea (or herbal peppermint tea)
¼ cup lemon juice
¼ cup agave nectar
3 tablespoons mulling spices
2 blood oranges
Directions:
In a large pot bring water to a boil then add mulling spices and tea. Turn off heat, let steep for 10 minutes, then carefully strain to remove tea bags and mulling spices. Return strained liquid to the pot, add lemon juice and agave, and stir until fully incorporated. Slice blood oranges into wheels and stir into the hot liquid. Add Casillero del Diablo Merlot and spiced rum and stir until fully incorporated. Keep warm on low heat. Serve in mugs garnished with fresh mint and a peppermint stick.
Recipe created for Casillero del Diablo by Dan Magro, mixologist and author of "Suck It Up: Extraordinary Cocktails for Everyday People."
LSpresso
Ingredients: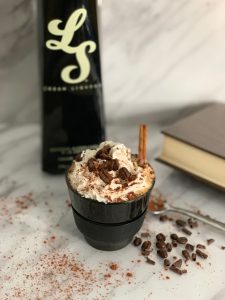 1 shot LS Cream Liqueur
1 shot vanilla vodka
2 shots espresso coffee
2 tsp. powdered sugar
Directions:
Shake coffee, vodka and sugar together with cubed ice. Strain into a small cup or martini glass.
Recuerdo Mezcal de Navidad
Ingredients: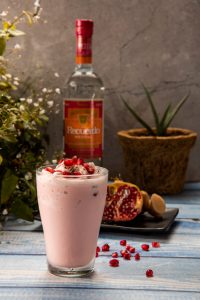 1.5oz Recuerdo Mezcal Joven
1.5oz Calahua (cream of coconut)
1 small slice of fresh ginger
1oz evaporated milk
.25oz grenadine
Pomegranate seeds
Mint
Ice to taste
Directions:
Add the ice, Recuerdo Mezcal, calahua (cream of coconut), ginger, evaporated milk, and grenadine to a blender and mix until the consistency of ice cream. Serve in an old fashioned glass, garnished with the pomegranate seeds and a sprig of mint.
Cafe de Managua
Ingredients: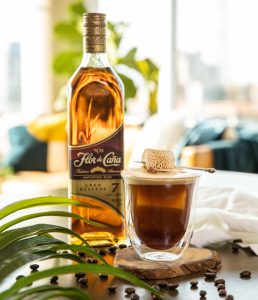 2 Parts Flor De Cana 7
1 ½ Parts Espresso
½ Part Salted Caramel Syrup
Top with Barista Edition oat milk (froth the milk)
Directions:
Shake & Strain, pour into iced latte glass. Garnish with toasted marshmallow.
Recipe courtesy of Sebastien Derbomez, William Grant & Sons Brand Advocacy Manager.
The Hive Toddy
Ingredients: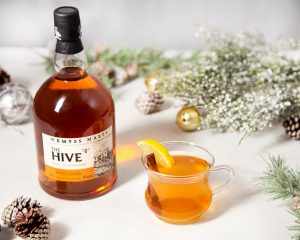 1½ ounce Wemyss The Hive
1 tablespoon honey
½ ounce lemon juice
1 cup hot water
Lemon wedge, cinnamon stick and star anise, for garnish (optional)
Directions:
Combine the first four ingredients into the bottom of a warmed mug. If desired, garnish with the lemon, cinnamon stick or star anise.