It's time to deck the halls—and your bar's cocktail menu! We've rounded up some festive holiday cocktail recipes to help your guests celebrate the season.
Blake's Holiday Pick
Ingredients: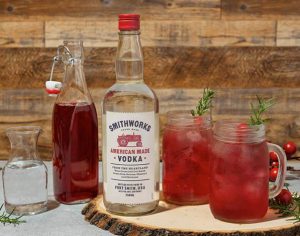 1 part Smithworks Vodka
2.5 parts Cranberry Juice
2.5 parts Diet Lemon Lime Soda
Directions:
Build in glass filled with ice. Stir together and garnish with a rosemary sprig.
Recipe by Blake Shelton's vodka Smithworks.
Brockman's Fiery Side
Ingredients: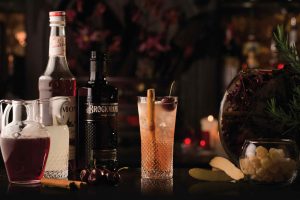 2 oz. Brockmans Gin
0.5 oz. Cinnamon syrup
Ginger beer
0.25 oz. Cherry Brandy (a capful)
Directions:
Fill a highball glass with ice, add the Brockmans Gin and cinnamon syrup and top with ginger beer. Drizzle the Cherry Brandy over the top. Garnish with a stick of cinnamon and a cherry.
Negroni Sbagliato
Ingredients: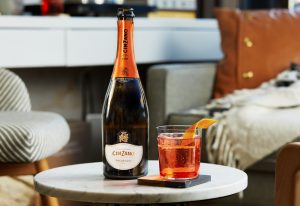 1 oz. Cinzano Rosso
1 oz. Campari
Top with Cinzano Prosecco
Garnish: orange slice or twist
Directions:
Pour the ingredients directly in a glass filled with fresh ice. Stir and complete with a half-wheel or twist of orange.
Recipe courtesy of Cinzano.
Buñuelo Old Fashioned
ingredients: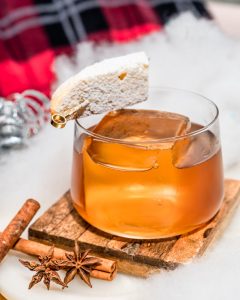 2 oz. Dano's Añejo
.5 oz Spiced Cinnamon Syrup (Cinnamon, Anise, Lime Oils)
4 Dashes Bitters
Directions:
Stir and strain, garnish with lime peel or Buñuelo.
Rum Hot Toddy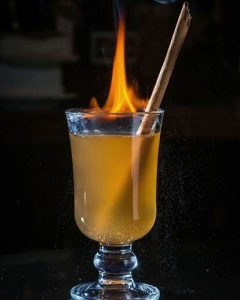 Ingredients:
1 ½ ounces Santa Teresa 1796
1 spoonful honey
½ ounce lemon
4 ounces boiling water
Directions:
Combine ingredients in a mug, then garnish with lemon peel, cinnamon, cloves, star anise, or other spices.
Seagram's Classic Bloody Mary
Ingredients: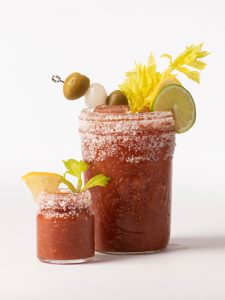 2 oz. Seagram's 80 Proof Vodka
4 Dashes Worcestershire Sauce
1⁄2 oz. Olive Juice
1⁄4 oz. Balsamic Vinegar
1-2 Dashes Tabasco
1⁄2 oz. Tomato Juice
1⁄2 oz. Lemon Juice
1⁄2 tsp. Horseradish
Black Pepper
Garlic Powder
Directions:
Rim a pint glass or mason jar with salt and fill the glass with ice. Combine all ingredients in the glass over the ice and stir with a cocktail spoon. Garnish with a celery stalk, skewered cocktail olives & onions, lime and lemon rounds.
Jolly Joel Spritz
Ingredients: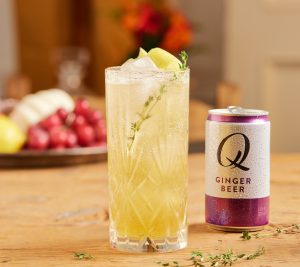 2 oz Bourbon
0.5 oz Lemon Juice
1 Thyme Sprig
5 tsp Maple Syrup
4 oz Q Ginger Beer
1 Thyme Sprig and Lemon Peel Garnish
Directions:
Remove the leaves from one sprig of thyme. Muddle the leaves in bottom of mixing glass and add the remaining ingredients except for the Q Ginger Beer. Shake and then strain into a large rocks glass. Top with Q Ginger Beer and garnish with another thyme sprig.
Recipe by Chief Happy Hour Officer & Comedian Joel McHale for Q Mixers.
Midnight Martini
Ingredients: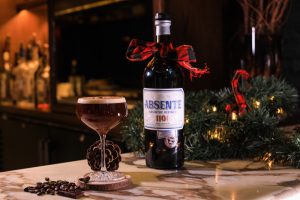 1 shot espresso coffee
1 oz Mr. Black Cold Brew Coffee Liqueur
1 oz Absente Absinthe Refined
0.5 oz simple syrup
Directions:
Add the espresso, Mr. Black, absinthe, and simple syrup to a shaker with ice and shake. Double strain into a chilled coupe glass. Garnish with coffee beans and shaved semisweet chocolate (optional).
Recipe created at Bubo Restaurant by Bartender Madeleine Kestler-DeWan.
Ginger Rum Toddy
Ingredients: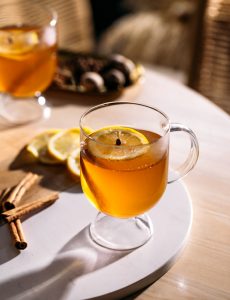 ¾ oz St-Germain Elderflower Liqueur
1 ¼ oz Aged Rum
¼ oz Allspice Dram
2 bags Ginger Tea
½ oz Lemon Juice
Directions:
Steep tea bags in hot water, remove tea bags, add rest of ingredients, and stir. Then, garnish with cinnamon sticks, clove, and lemon wheel!
Home for the Holidays
Ingredients: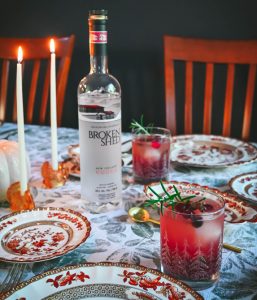 2 oz Broken Shed Vodka
0.75 oz Cranberry Juice
0.5 oz Cinnamon-Clove Simple Syrup*
0.25 oz orange curaçao
1 dash orange bitters
Optional: blood orange seltzer
Cranberries, rosemary, cinnamon stick and star anise for garnish
Directions:
For the cinnamon-clove simple syrup, dissolve 1 cup sugar in 1 cup hot water. Add 2 cinnamon sticks and 10 whole cloves. Let steep for 30 minutes. Strain out solids and store in a glass bottle in the refrigerator.
For the cocktail, combine all ingredients except soda in a shaker over ice. Shake to chill. Strain into a rocks glass over a large ice cube and top with seltzer. OR double-strain into a chilled martini glass. Garnish as you see fit. For a more festive feel, freeze cranberries
into your ice cubes the day before making the cocktail.
Brockmans Six Bells
Ingredients: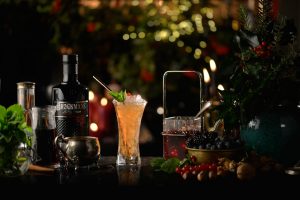 2 oz. Brockmans Gin
2 oz. Cream sherry
1 tsp. Red currant jelly
Directions:
Shake all ingredients with ice and strain into a highball glass filled with crushed ice. Garnish with a few seasonal berries, a sprig of fresh mint (if available) or a sprig of rosemary. To finish, sprinkle some ground cinnamon or mixed spice.
Snow Bird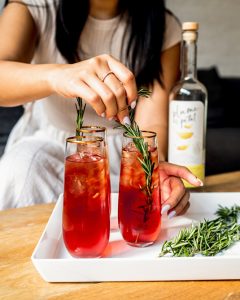 Ingredients:
2 parts Plume & Petal Lemon Drift
1 part pomegranate juice
3 parts soda water
Garnish: rosemary sprig
Glass: Collins
Directions:
Combine all ingredients in a Collins glass with ice. Stir slightly to combine.
Dano's Coquito Recipe
Ingredients: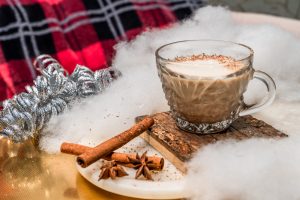 4 parts Evaporated Milk (48 oz.)
4 parts Condensed Milk (56 oz.)
3 parts Coconut Cream (36 oz.)
2 parts Dano's Reposado (25 oz.)
4 Dashes Vanilla Bitter
Grated Cinnamon & Nutmeg
Directions:
Blend all together, chill and serve, garnish with cinnamon stick.