By Elyse Glickman
Los Angeles is home to one of the most robust and resilient (not to mention innovative) bar scenes in the U.S. A mix of beautiful year-round weather, an innovative bartender culture, many creative iterations of "cocktails-to-go" programs, and a can-do attitude allowed many landmark bars to stay in business during the pandemic. Among those, there were a few who were able to chart a new course in order to continue their growth.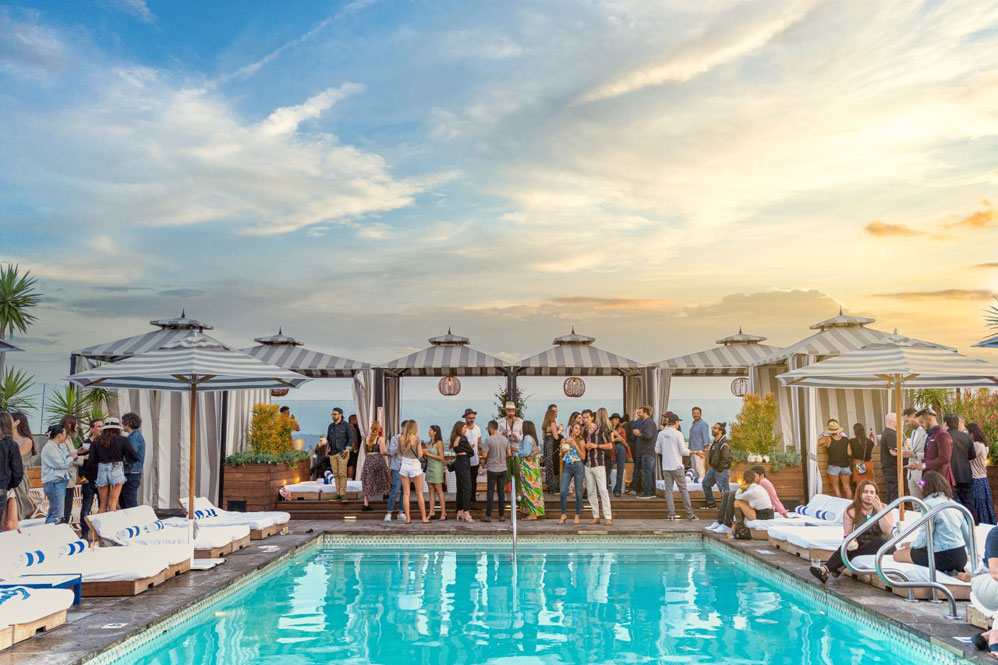 The Umbrella Hospitality Group is a prime example of a company whose bars and lounges have survived the industry's winds of change since 2013, years before the watershed of the pandemic. It's apt tagline, "When it Rains, We Pour," pretty much sums up the way company Founders Austin Melrose and Zach Patterson approach every project, whether opening up something new (this summer, The Umbrella Club at the Hotel SIXTY in Beverly Hills), bringing existing venue concepts (Melrose Umbrella Co.; Lono Hollywood; The Corner Door Culver City) back to life, or coming up with branded solutions (Umbrella Taco; Umbrella at Home) to keep loyal customers connected with their favorite social spots when they can't be there in person.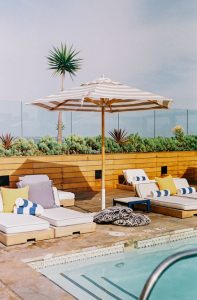 "I believe that [our success is tied to] a curated selection of partners and collaborators in restaurants, nightlife, art, and design," says Jason Pomeranc, hotelier and co-founder of SIXTY Collective, on his collaboration with Umbrella. "As SIXTY Hotels has historically been a formidable source of innovation in the hospitality industry, we are trying to live up to our own standards at the new property. What we plan to accomplish with Austin and Zach is a creative food and beverage program catering to a broader clientele through an authentically local concept, marrying a genuine and relaxed Southern California vibe with the sophisticated element of Beverly Hills. I have been following the Umbrella Hospitality Group's accomplishments over the past few years, and I couldn't think of better partners to breathe life and creativity into our rooftop venue, especially after a tough year for the hospitality industry."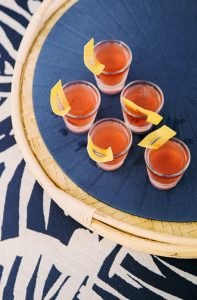 The home of Hotel SIXTY Beverly Hills has had many lives since the building was constructed. It has served as a solid meeting place for locals and visitors through all the different hotel iterations. However, this collaboration does one better than allow the space to pick up where things left off pre-pandemic. In late summer 2021, the new venue was in "soft opening" mode, with a limited food and beverage menu tapping into the other Umbrella venues.
Judging by hotel guests filling up the tables and pool deck chairs in the afternoon and the number of locals filing in later—even with social distancing measures in place—the new "Umbrella" feels like it has been around a long time in the best way possible. While the rooftop pool/patio area of the property always had a fashionable cache, the revitalized space feels completely fresh and in tune with today's design trends, adding in plants and elements of beach house and wine country chic to achieve a vacation-flavored mood.
Austin Melrose describes the layout as, "a stylized study in indoor-outdoor living with panoramic views of LA as the main character." The juxtaposition of summer stripes and warm wood makes a venue guests want to savor. He adds that the elevated casualness is rather intentional, as he and Zach observed that customers' glamour and style has shifted in the last few years, "while we want to keep things simple, we obsessively analyze every detail so that the whole experience is always unforgettable."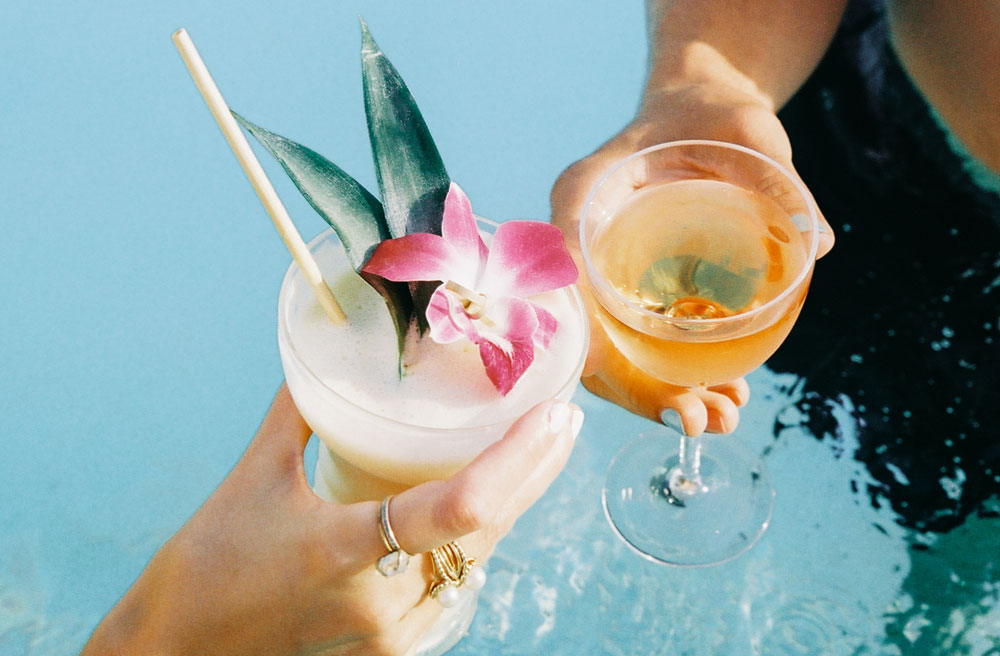 Continuing with that focus in the conversation, Melrose shared photos of the renovation of the soon-to-open downstairs restaurant in progress, noting that the ultimate goal is to facilitate connection between people in a way that's natural, relaxed, and snobbery-free.
"The whole concept of the Umbrella Club at SIXTY BH is quite unique," he explains. "We started with the Swim Club around the beautiful rooftop pool that leads guests into the Social Club, which is our cocktail program. It culminates in the Supper Club with the food concept and the full restaurant downstairs. The cocktail program is centered on refreshing and creative libations drawing inspiration from California's year-round 'summer' staples to devise unique flavor profiles, such as blueberry and lavender, passion fruit and Serrano chili, and caramelized pineapple and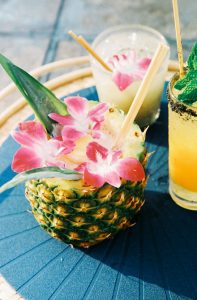 habanero. Even in its finished form, the cocktail menu will be as easy as summer, teaming season paired with premium spirits. I have several favorites that I gravitate towards, but I think our 'Extended Stay Pina Colada,' served in an entire pineapple, is one of the best on offer."
According to Melrose, keeping a pulse on current cocktail trends, including the recent embrace of simpler cocktails with classic origins and low-ABV cocktails, will inform what will be added on the roof and in the restaurant downstairs. He stresses all of the bar professionals working at the Umbrella lounges have endeavored to create enticing 'no-to-low' ABV offerings for the guests as well as an increasingly more health conscious local public. He points out that during opening phase of the Umbrella Club at SIXTY BH, the bar will offer guests an opportunity to have the bartenders create something special based on personal flavor preferences incorporated with whatever seasonal produce is available.
"We will, of course, have some more food menu staples coming soon with the opening of downstairs for folks who may be just popping in for a lunch meeting rather than enjoying a full day off," Melrose continues. "The overall food concept, meanwhile, will be fully unveiled in due course. That said, the shareable plates that we have on the menu now are light, nutritious bites made with locally sourced and organic ingredients. Our reputation is built on an openness to always experiment with our collaborators, especially based on how we've adapted and develop our to-go cocktails and kits during the past year-and-half. We will, of course, have something special for the unveiling of our cocktail program at the Supper Club for guests to take back to their room or home after visiting in the coming months. Stay tuned!"
All photos courtesy of SIXTY Beverly Hills.