By Jessica Grant
Attention to detail is key for anyone opening or updating a bar, and there are many decisions to be made. Great thought and consideration are paid to interior design. Will the design be traditional, modern, industrial, glam, boho, or a mix for eclectic? In order to make the space unique, options for everything from the seating arrangements, upholstery, colors, shelving, glassware, lighting, etc. are selected. What is sometimes overlooked, and ultimately what should be at the top of this list, is flooring.
Bar floors should be attractive and fitting to the overall design, but flooring is a significant decision that takes more than aesthetics into account. The safety of patrons and employees are directly impacted by the floors in a facility. The immediate concerns should be to address and meet Occupational Safety and Health Administration (OSHA) regulations. Floors need to be safe, clean and dry, but what other benefits should be considered?
Before deciding on available flooring options, it is smart to look at form and function. Bar floors are subjected to various forms of "abuse." Picturing an average night at the bar will help determine what types of abuse the floors may see. People will walk on the floor, so slip resistance and eliminating tripping hazards are considerations. There will be splashes and spills of alcohol, sugars, and syrups, which are acidic, so chemical resistance is needed. Since wet floors are also a slipping hazard, that is another check for slip resistance. Carts, bar stools, and chairs will be pushed or dragged across the floor, and realistically, a glass or dish or two may hit the floor, therefore durability, abrasion, and impact resistance should all be considered. For bars that have a kitchen with ovens and fryers, these same considerations apply, and heat resistance and strength to withstand thermal cycling need to be added to the list.
Resinous flooring is one option that not only checks all the boxes on the list above, but it also addresses additional concerns like hygiene, drainage, and thankfully, aesthetics, too. They are available in many colors, designs, and blends to match any décor.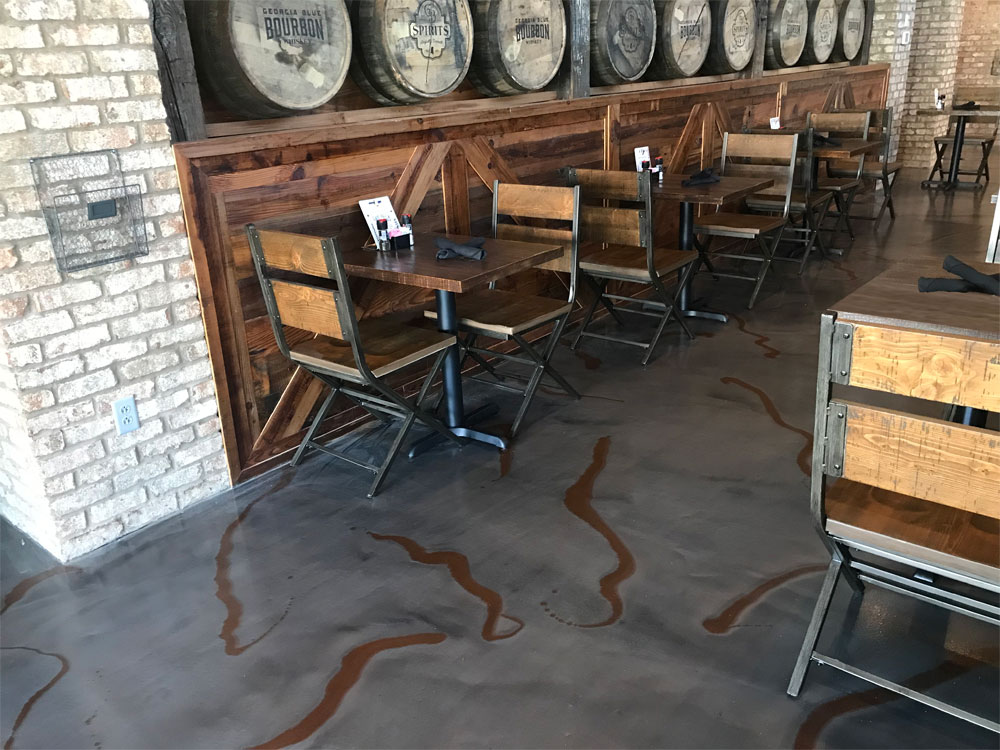 What are resinous floors?
Resinous floors are seamless flooring systems. These systems are applied in layers and are built to meet the needs of the individual environments they are being installed in.
"Unlike other hard flooring options, this approach enables the floors to meet the specific needs of your bar or kitchen," says Mark Edinger, a territory sales manager for Dur-A-Flex Inc. Dur-A-Flex has been manufacturing resinous flooring systems for over fifty-five years and has created solutions specific to the food service industry.
Resinous flooring is a cost-effective, long-term solution that won't deteriorate the way grout will, or warp the way wood or laminates may. The floors are built to last, however, any flooring material can eventually be degraded from chemicals, dirt, and grime. It is imperative to keep the floors clean with a regular maintenance schedule — and don't forget to remove any mats to properly clean the entire floor.
The seamless nature of these floors increases the ease of cleaning and sanitizing. Using an integral cove base to tie the system into the wall also increases the hygienic values of resinous floors. Edinger explains that integral coving doesn't have seams for food particles, moisture, or debris to get in between. "The ability to run the product up the wall, four to six inches, helps with cleaning too. It prevents water from leaking through and the floors can be gently sloped to flow the water toward the drains."
How to select a resinous floor?
Resinous flooring systems not only address the needs of the space on the surface level, but they can also address the needs from the substrate up. Resinous flooring comes with options for moisture mitigation and making floors watertight. For these needs, it is best to discuss the space with a flooring contractor to determine what type of flooring system would work best.
There are several chemistries available for resinous flooring. Epoxy and cementitious urethane are well known, but there are several other chemistries to consider, such as methyl methacrylate (MMA), hybrid systems, and more. Edinger stresses the need to determine what is right for your facility before settling on a chemistry.
He offers this advice when choosing floors, "Don't be confused by the term epoxy floors. Many contractors use this term as a generic term for resinous floors. But epoxy is only one available chemistry, and in many instances, such as kitchens with thermal cycling, you'll want to use Poly-Crete, not epoxy."
Poly-Crete is Dur-A-Flex's cementitious urethane product, which was originally developed to meet the challenging needs found in food and beverage facilities.
In closing, resinous flooring should be at the top of the list for flooring considerations for any bar. They offer many benefits including safety, durability, and are aesthetically pleasing. These long-lasting flooring solutions, with proper cleaning, will continue to look and perform as they did when they were first installed.
By Jessica Grant, Content Development Manager, Marketing, Dur-A-Flex, Inc.
Contact Dur-A-Flex at 860.528.9838 xt 3015, directly at 860.282.419, or visit dur-a-flex.com.