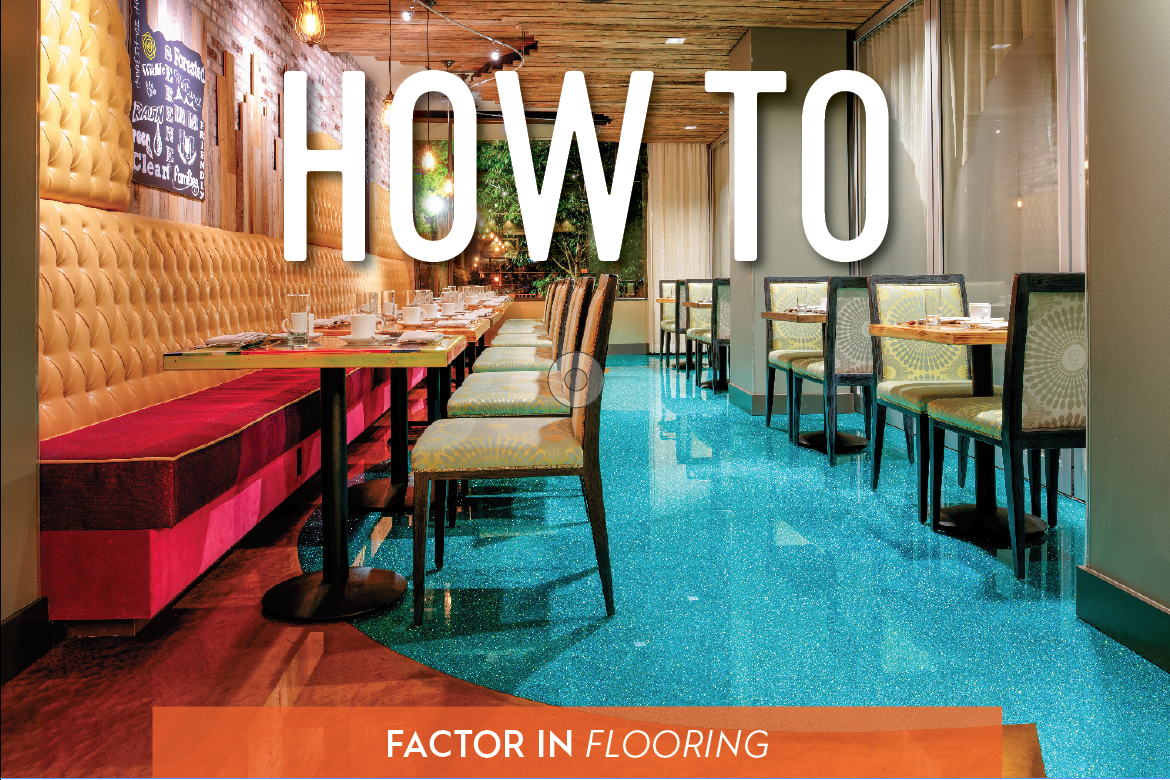 A guide to seamless and slip-resistent floors.
By Ashley Bray
Your bar is made up out of a lot of components, but what about the floor that all of that equipment sits on and that your employees and customers traverse day after day?
We spoke with some flooring manufacturers about the products they offer, the current trends, and what a bar or restaurant should consider when choosing flooring.
Topping the list of considerations is slip resistance. The key is to look for flooring with long-lasting slip resistance. "A lot of manufacturers will tell you their floor is slip resistant, which it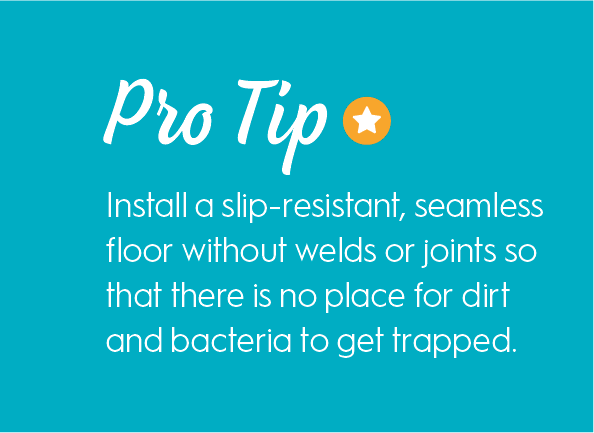 likely is, but for how long?" asks Greg Veale, President of Altro, which provides safety floor and wall solutions for commercial sectors. "Many floors will be slip resistant when first installed, but that slip resistance will wear away over time, long before the floor should need to be removed.
"For areas prone to spillages and slip hazards, you need to install flooring with sustained slip resistance, meaning a floor that guarantees the same slip resistance from when it was installed throughout its useful life. This is one of the benefits of 'resilient' flooring, such as vinyl. The composition of the product can allow for slip-resistant particles throughout the material and not just on the surface, ensuring good traction for the life of the floor."
Just as important is a floor without any seams. "Seamless floors—which means a poured-in-place floor with no welds or joints—delivers a sanitary solution, critical to food environments," says Kendall Ellis, Marketing Manager at The Stonhard Group, a manufacturer and installer of seamless floors, walls, and linings. "Without seams, there is no place for dirt and bacteria to get trapped."
Other flooring options, like tiles with grout, will eventually break down. "Grout in a tiled floor installation will wear away over time, leaving water, dirt, and bacteria behind," says Veale.
(Note: While considering floors, bars may also want to invest in seamless walls with impact resistance. "In busy kitchens and bars, impact resistance is key," says Veale. "One ding in a wall can become a bustling apartment complex for bacteria, germs, and fungi. Health inspectors don't take kindly to those kinds of tenants, so one tiny hole in a wall can spiral into a giant hole in your wallet.")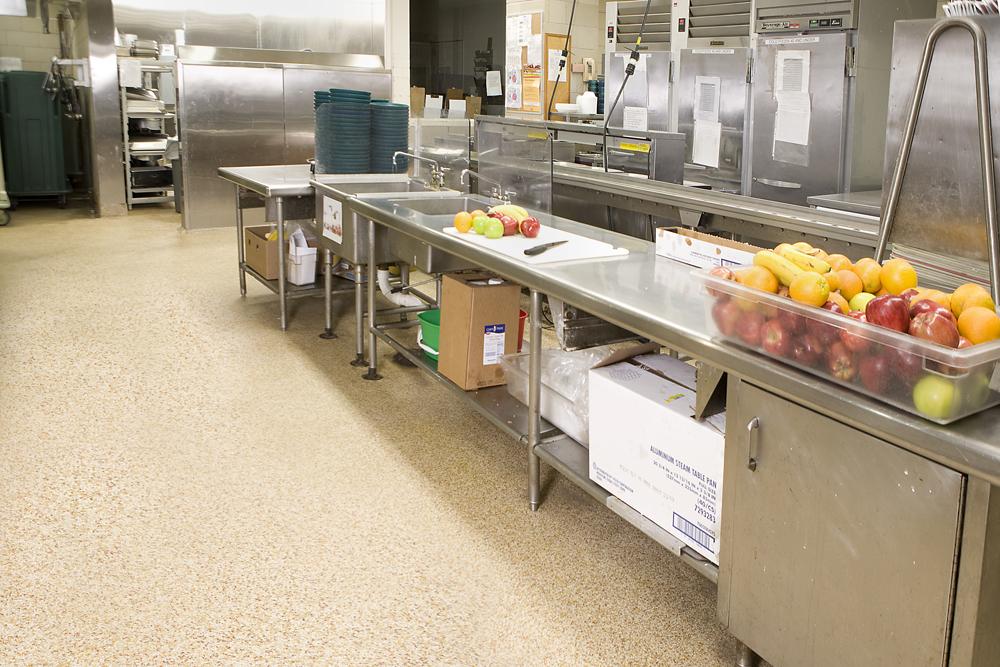 For seamless floor installations, Altro has a number of flooring options to cater to different environments. Altro recommends its Altro Stronghold 30 for behind the bar and in kitchens, a 3mm slip-resistant safety floor that works best in environments with frequent spillages. The flooring has a 12-year warranty.
Altro's floors can be installed over existing substrates, concrete, metal, wood, and even existing quarry tile, which makes for an easier and faster installation by a network of recommended and trained installers. "A typical kitchen installation of any product can take between 48-72 hours, factoring in removal of equipment, the old flooring, and allowing for adhesives to set," says Veale. "While we recommend a similar time frame, we can do installation in stages to minimize disruption. We also offer adhesive-free options that can be welded and walked on in under 24 hours. So a kitchen or bar-area renovation can be completed any day the business may be closed."
Bars looking for a fast installation can also turn to JetRock, Inc., an overnight flooring replacement solution ideal for back-of-house areas. "The JetRock product consists of a proprietary blend of quartz aggregates and specially designed epoxy resins," says Jed Riopelle, Senior Vice President of Sales, JetRock, Inc. "The components are mixed together and troweled by hand in a single application to a uniform thickness. The JetRock installation does not require a primer coat or a topcoat, which allows for quick turnaround and eliminates ongoing maintenance issues."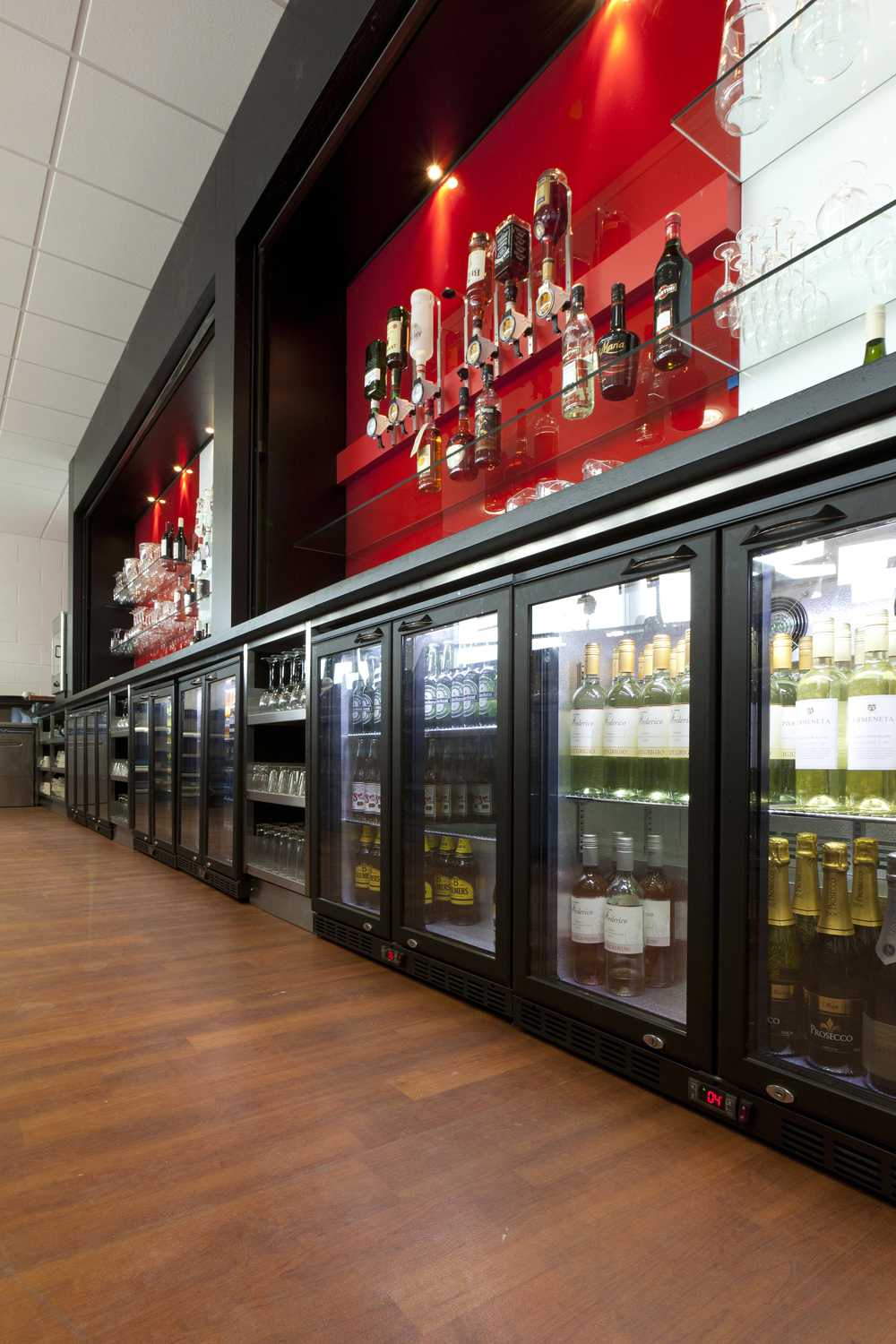 The JetRock product is installed by a network of certified installers, and it can be applied directly over the existing flooring surface including quarry tile, wood, concrete, or failed thin-milcoating. "Installation requires preparation of the existing surface, which consists of thoroughly cleaning and grinding the existing floor and filling low spots or areas where tile is severely compromised. The JetRock cove base is then installed four, six, or eight inches up the wall followed by installation of the flooring material. This creates a watertight, monolithic flooring system," explains Riopelle. "The JetRock flooring system is installed quickly with roughly 100-150 square feet being able to be completed per hour. This installation is followed by a roughly four-to-six hour curing time at which point the restaurant or bar can resume operations."
The installation is typically done at night so that the bar has no down time or lost revenue. JetRock's flooring can withstand the fatty acids, extreme temperatures, and heavy foot traffic found in the back-of-the-house areas of restaurants and bars. It comes with a full three-year warranty for both the product and the installation.
The Stonhard Group carries a wide range of flooring options under four brands. For bars and restaurants it recommends Stonclad UR, Stonclad UT, and Stonshield URI in its Stonhard line. As part of its Liquid Elements collection, Smooth, Reflect, Crush, Capture, and Polished are recommended for bars. In its Expanko line, CorkCore LVT, Heirloom, and XCR4 are suggested for bars. "Most of our Stonhard products are formulated to stand up to chemical spills and splashes, thermal cycling, and frequent cleanings," says Ellis. "In addition, they are slip resistant, impact and stain resistant, and seamless so there are no joints and seams to trap dirt and bacteria."
The Stonhard Group manufactures and installs the floors and offers a single-source warranty on them. The company can handle both new construction and rehab work. "Our installation crews are skilled at preparing a surface for our floors, this ranges from blasting existing concrete to removing existing and damaged quarry tile," says Ellis.
Depending on the floor chosen, installation can take only a few days, while other floors require more time.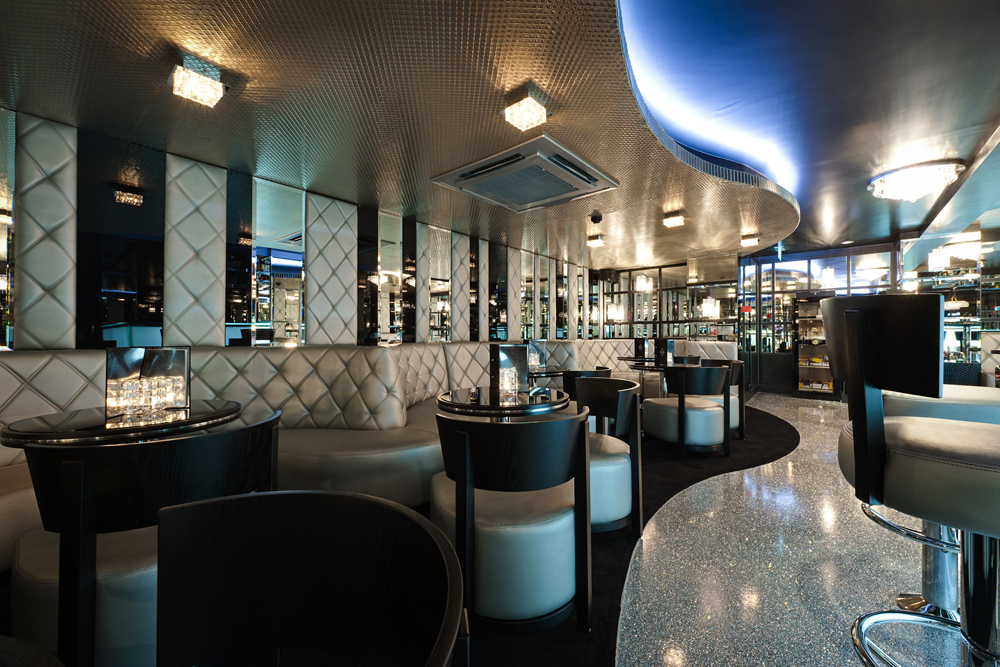 "Our installation teams work with other trades and will work with your schedule so service is not interrupted," says Ellis. "We recognize the need to be flexible to accommodate the hours and demands of the hospitality industry."
While many of the above products are utilitarian floors, companies also offer options for the front of the house, where aesthetics matter more. "The atmosphere, theme, or desired look of the restaurant dictates front-of-house designs, and we recommend smooth sheet or tile products," says Veale.
For front-of-the-house projects, luxury vinyl tile (LVT) is proving to be a popular finish. "Bars, and other food and drink establishments, are beginning to prefer products that look like real wood without the hassle or expense of actual wood," says Veale. "A popular LVT texture is a registered emboss, which mimics the cuts of real wood grains and is the most realistic LVT emboss on the market. Unlike real wood, vinyl is unaffected by water, so it won't warp or rot. This makes it a popular choice for bars and restaurants.
"Altro Lavencia LVT mimics the look of real wood in sheet and plank form, and with their extensive ranges of color and look, can fit near-any restaurant atmosphere."
Altro's LVT flooring comes with a 20-year warranty and offers a fast installation. "With our click-together LVT flooring, we can install these areas sometimes overnight, and they can be walked on right away," says Veale. "That allows a business to close and have a new floor when it opens."
" Bars, and other food and drink establishments, are beginning to prefer products that look like real wood without the hassle or expense of actual wood "
The Stonhard Group also offers LVT options. "LVT is still a big trend, and our CorkCore LVT is a fabulous combination of cork and LVT with a wood look. It's water resistant, quiet, and easy to install. And the colors and wood visuals make it a favorite for restaurants and bars," says Ellis.
Custom orders are also proving popular for bars looking to stand out. Altro can provide custom options like corporate logos cut out of the flooring.
The Stonhard Group has the ability to color match floors and create custom logos and designs. Their Liquid Elements series lends itself well to front-of-the-house installations. "Our Liquid Elements Reflect comes in the Artist Series where we partner with an artist to create a one-of-a-kind design," says Ellis. "Our Capture product offers a great deal of artistic freedom as well, as it incorporates inanimate objects in rich, thick resin to produce a unique and eye-catching floor."
Ellis also says that natural looks, sustainable designs, and unique surfaces are trending with bars.
No matter what flooring your bar chooses, it's important to properly maintain and clean it. Most manufacturers recommend a deck brush versus the common cotton mop. "Throw away those gross cotton mops that just spread slop, dirty water, and bacteria around until it nestles into a hard-to-reach spot," says Veale. "A deck brush combined with our Altro-44 cleaner ensures your Altro floor stays clean and hygienic."
JetRock also recommends using a deck brush along with a squeegee and a non-enzymatic cleaning solution when cleaning JetRock floors.
The Stonhard Group provides
its customers with detailed instructions on how to maintain their floors,
and it recommends using its Stonkleen line of cleaning products, which
include products like heavy-duty degreasers, stain removers, and green general cleansers.
Interested in more content like this? Click here for a free subscription to our monthly magazine.