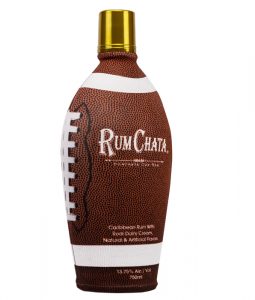 Following a successful test in select markets during last year's football season, the RumChata Football bottle is now available nationally in time for this year's kickoff.
The RumChata Football bottle is wrapped in a reusable sleeve that looks just like a pig skin. RumChata's highly recognized oblong shaped bottle uniquely lends itself to look like a football when covered with the promotional sleeve, making it the perfect football party centerpiece.
"The reaction to our test last year during the playoff season was outstanding," said Charlie Maas, RumChata Chief Marketing Officer. "Retailers loved the football themed displays while RumChata fans enjoyed being able to hand off a RumChata Football bottle when arriving at a party or tailgate."
Regardless of the team someone roots for, the one thing that fans agree on is that RumChata needs to be poured while watching the game on television or celebrating at a pre-game tailgate. Its versatility allows you to it enjoy straight as a refreshing chilled shot on a hot game day or mixed with your favorite whiskey, coffee or hot chocolate for those cold kick-offs. Now RumChata fans are being given something special to add to their football season traditions by wrapping the bottle in the fun football sleeve.
Suggested retail for the 750ml RumChata Football Bottle is $19.99