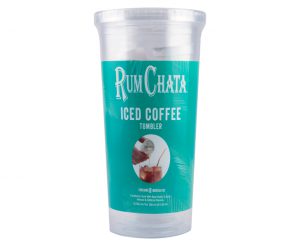 The RumChata Summer Tumbler is available now for iced coffee and cold brew lovers who enjoy RumChata in their favorite refreshing summer coffee drink. The 26-ounce plastic thermal tumbler comes filled with eight MiniChatas. Each MiniChata is a handy 25ml peel-top cup filled with real, 100% award-winning RumChata rum cream inside.
"While delicious on its own and in hundreds of cocktails, one of the most popular ways consumers enjoy the one-of-a–kind flavor of RumChata is simply mixed in their favorite iced or cold brew coffee," said Tom Maas, RumChata founder and master blender.
Consumption of iced and cold brew coffee continues to grow every year. Traditional iced coffee has experienced a growth rate of 33% on menus since 2007, according to Datassential (Datassential – Nestle Professional Newsletter 2018), with a big bump in interest in recent years due to the introduction of cold brew.  Datassential has the four-year growth of cold brew at 424.5% (44% in 2017 alone), and is a favorite of the all-important millennial customer base. RumChata's delicious blend of Caribbean rum, real dairy cream, and spices has a third less fat content than traditional cream liqueurs, making it the ideal addition to create a light and refreshing cold coffee cocktail.
The RumChata Summer Tumbler is available in all 50 states at an average retail price of $9.99. Find out more about RumChata including food and drink recipes and where it is available.