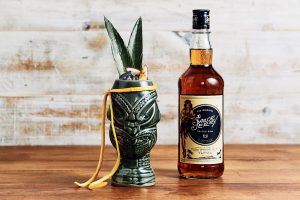 Ingredients:
1.5 parts Sailor Jerry Spiced Rum
.50 part peach schnapps
.75 part lemon juice
.75 part simple syrup
.75 part passion fruit juice
2 parts iced tea
Directions:
Add ingredients into mixing glass with ice. Shake. Strain into rocks filled Collins/highball glass. Garnish with skewered orange wedge, cherry, lemon wedge.
Courtesy of Ashley Thomas, West Coast Sailor Jerry Ambassador