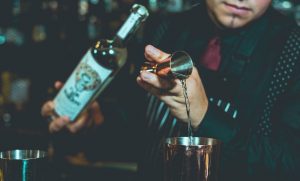 The USBG National Charity Foundation (USBGNCF) Board Member and Director Kim Haasarud gave her fourth weekly Instagram Live update on the Bartender Emergency Assistance Program (BEAP).
This week, Haasarud started off by announcing that an additional $1.6 million in grants has been disbursed, which is more money than was disbursed in the entire month of April. In fact, $900,000 was disbursed in just the last few days alone. This brings the total number of grant disbursements to $4 million currently.
This is all thanks to the increased rate of screening and vetting of apps by the 500 volunteers working with the USBGNCF. Haasarud said these volunteers have already clocked 11,000 hours of work, which is equivalent to working 24 hours a day for a year and a quarter.
The other big announcement from this week's update was that the USBGNCF is dedicated and hyper focused on raising another $10 million in donations. Currently, the donation pool stands at a little over $8 million from over 4,100 donors. "While that seems like a lot, we still have a long way to go," said Haasarud.
The USBGNCF projects that out of their total pool of applications they're going to receive 60,000 viable applications that are eligible for grants and show a demonstrated need. This means they will need to have raised a total of $18 million to service all of those applications—so another $10 million is needed in addition to the current $8 million that's been raised.
Haasarud also noted that applicants are getting more savvy at filling out applications and there have been fewer errors. "This industry is resilient, and the applications that we're getting now have a lot better information and more verifiable information," she said.
Haasarud spent the second half of the session answering a few questions. One related to how the grant amounts are determined. Haasarud explained that grants range from $150-$500 and the specific amount given is based on the need demonstrated in the application. So things like medical documents and bills, bills in default, etc. are all taken into consideration.
Another viewer asked if receiving a grant would affect their eligibility for unemployment. Haasarud says it was hard to say because every state's unemployment eligibility and guidelines differ. She did advise letting the unemployment office know that the grant comes from a legitimate charity, which will make a difference in determining eligibility for unemployment funds.
Haasarud concluded by thanking applicants who had sent in thank you notes. She said notes like these encourage herself and all of the volunteers working on the BEAP.
Finally, to reiterate: Current and future applicants should check the respective FAQs pages for more information about the BEAP and the application process.